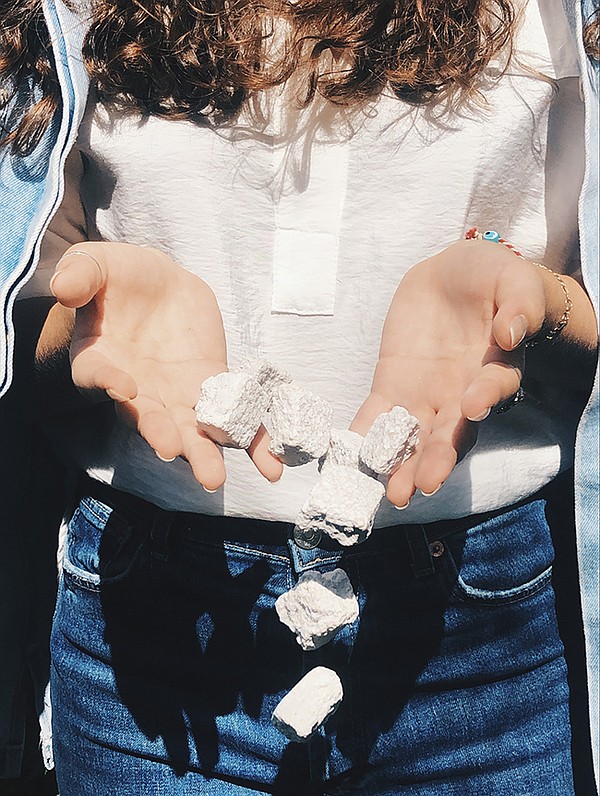 CLEANER DENIM
Beyza Baykan Relies on the HMS Family Stone to Create Cleaner Denim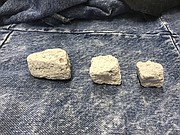 As Beyza Baykan pursued her applied-and-computational-mathematics and international-relations studies at the University of Southern California in Los Angeles, she planned for a career combating the negative impacts of climate change in developing countries. Baykan's family, however, has deep roots in Turkey's denim trade, and she couldn't resist building upon the work of her father, Yavuz, a nearly 30-year industry veteran and agricultural engineer and the founder of Baytech Sustainable Technologies.
"I would go to the factory and see all the machines and denim. My mom worked there as a company nurse; my aunt worked there as the accounting head," said Baykan.
Founded in 2019 and located in Lüleburgaz in Turkey's Kırklareli district, HMS by Baytech reduces the negative effects on workers and the environment that stem from traditional pumice-stonewash applications. By the time Baykan had created the company, which was based on her father's patented stone alternative to pumice, her parents had retired, but they decided to help their daughter cultivate the new business while she finished her final year at USC.
"People were super interested in the stones, and I thought there was great potential to take it global," explained Baykan.
Baykan now splits her time between Turkey and Los Angeles while overseeing the HMS business. Yavuz serves as the HMS chief technology officer, performing research and development as he explores new ways to use the stones, in addition to ensuring quality control to produce the consistency for which HMS is known. Ayse, the family's matriarch, manages the company's accounting and export, while Baykan's sister Beril Doga contributes to marketing.
Set in sustainable stones
Using pumice dust that is blended with biodegradable polymers, HMS—short for Hand Made Stone—creates recyclable stones that can serve as an alternative to traditional stonewash processes. The traditional pumice stones must be replaced often, and they break down into pollutive sludge that contaminates wastewater.
"The environmental benefits of using alternatives to pumice also include a reduction in the carbon footprint that comes with transportation, the mining and optimizing the natural resources you're using," Baykan said. "None of our natural reserves are infinite, and the amount of pumice that the denim industry uses is insane. A mid-size company can use 100 metric tons [110 U.S. tons] of pumice a month. That is too much."
Passionate denim enthusiasts are concerned about the environment, but they also want to invest in vintage-inspired styles that have been achieved without the harmful ecological threats. Denim makers have faced challenges when developing a greener process but that falls short on aesthetics.
"My father tried every pumice alternative, but he wasn't satisfied. That is the reason he started to do something like this," Baykan explained. "People try to do plastics, but there is the microplastic release and, in physics, for something to abrade [another object] it needs to be abraded itself. Plastic doesn't abrade."
The HMS process can be applied alone or combined with existing technologies its clients have in place, replicating nearly any practice that was formerly performed with pumice. Baykan noted that HMS is compatible with water-free enzymes and foam technology.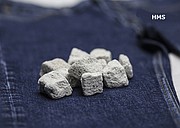 Improving EIM scores
HMS has prioritized supporting denim makers that seek to improve their Environmental Impact Measurement score. The Jeanologia software that measures sustainability for laundries, garment finishers and brands takes into account water consumption, energy usage, chemical products and worker health. On the scale that ranks companies from zero to 100 and in color-coded green, orange and red to reflect low, medium and high impact, HMS's original stones yield a zero.
"One of the first questions companies ask for is if HMS is going to improve their EIM scores," said Baykan. "It's difficult for them to attain those [improved] results. Pumice is in the red range with 100 points. Synthetic stones are also in the red range with 100 points because they release microplastics. HMS is in the green range."
According to HMS, the stones reduce water usage by 20 percent per load when compared to traditional pumice. Despite requiring less time to complete the process, they achieve the vintage looks sought by consumers without the harmful processes.
The company was primed for success as one of its first clients was the Italian laundry Everest. From there, HMS has grown over the last four years to build a client list of denim leaders, but blue jeans are only the beginning, according to Baykan.
"I am not talking only denim. I am also talking non-denim," Baykan said. "You can only see the advantages of HMS once you use it on a large scale."