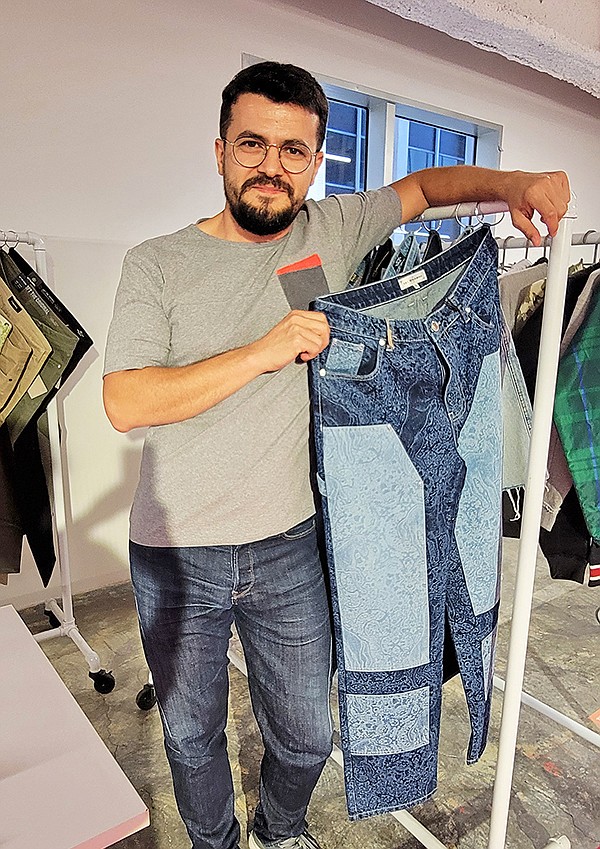 TRADE-SHOW REPORT
National Textile and Apparel Sourcing Trade Shows Launch in Los Angeles
Two preeminent East Coast textile and apparel sourcing trade shows made their debut in Los Angeles July 25–26. Messe Frankfurt, organizer of Texworld New York City and Apparel Sourcing New York City, launched Texworld Los Angeles and Apparel Sourcing Los Angeles at the California Market Center in downtown L.A. A second well-known show, The Fabric Shows, with editions in Dallas, New York, Philadelphia and San Francisco, held its first-ever Los Angeles Fabric Show at downtown's The New Mart.
Three shows in one
Texworld Los Angeles and Apparel Sourcing Los Angeles offered attendees three shows in one: textile, apparel and print-source exhibitors featuring textile design as well as color and trend services. West Coast buyers had access to a strong showing of international textile manufacturers and suppliers from 17 countries including the U.S., China, Canada, France, India, Turkey, Spain and Vietnam.
"There was an overwhelming desire from exhibitors and local buyers to bring our international sourcing trade show to the West Coast," said Jennifer Bacon, vice president, fashion and apparel shows, Messe Frankfurt Inc. "The smaller format that we provided was an instant success and gained lots of positive feedback from both sides."
Featured were the Lenzing Textile Pavilion, with finished apparel, contract manufacturing and private-label development for ready-to-wear and accessories, plus a trend section curated by Kai Chow containing four categories: Virtue, an organic feel in beiges and browns; Post-Classic, with an updated version of preppy plaids; Nostalgic floral prints with vibrant pattern play; and Mesmeric, glitzy, moody prints with a combination of deep shading and soft colors.
The Lenzing seminar series included topics from the Doneger | TOBE trend presentations to the future of textiles, where experts discussed alternative materials such as microfiber and natural-based polyester and the continued rise in consumer awareness and higher demand for improved performance without hurting the environment or sacrificing sustainability. The consensus was that there needs to be a concerted effort on all levels to ask the tough questions of what is truly sustainable and having the proof to back up those claims.
Martin Flora, founder and president of global business development at Green Theme Technologies Inc. in Albuquerque, N.M., said that the fashion industry is not shrinking but that it's the "Wild West" right now with a lot of opportunity for companies to learn and get into the game. "If you produce a synthetic product that is compostable, you have to ask yourself, 'How much energy is going into producing the product, how long is that product going to last, and is it worth the energy and the carbon used to generate and build the product?'"
"Biodegradability means it's going to disintegrate, and compostability is that it will disintegrate and add positive nutrients back into the environment for the rebirth of new organisms," said Erica Redd, business development manager at Lenzing Fibers, Inc. "Everything that is compostable is biodegradable, but everything biodegradable is not compostable."
"We will be back in 2024! Date and time TBD. Now that we have experienced the first edition, we have further knowledge on what the market is looking for and we aim to bring it!" said Bacon.
Meeting the need
The Los Angeles Fabric Show featured American, Canadian and European textile and trim suppliers with global production including Made in USA, low minimums, stock programs, and small- and large-lot production in the Americas.
"We launched the show now because most of our exhibitors in New York wanted us to come to Los Angeles," said Susan Power, producer of The Fabric Shows, who noted the dates were chosen to make it more convenient for buyers who wanted to attend both textile shows. Participants were happy with the location, layout and convenience.
The list of exhibitors included Lafayette, Mond Lace, Spirit Lace, Subbarow and Zentex. "I've always found that some of the very large names in the industry do their small lots here, so I like to make it more convenient for the buyers who sometimes need larger quantities from Asian production and some domestic with lower minimums. We service both."
The show held seminars from "Local vs. Offshore Ethical Production" to "Key Factors for Successful Sourcing in Today's Marketplace" plus the featured presentation, "AW24/25 Trend Overview" by Trendhub.
Power noted that she looks forward to the Los Angeles Fabric Show returning to The New Mart in early 2024.