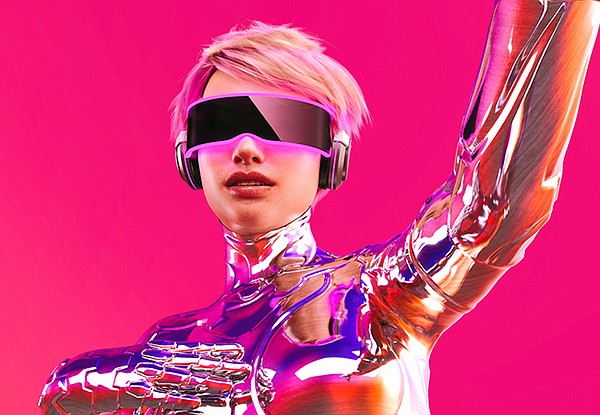 INDUSTRY FOCUS: TECHNOLOGY
Picking the Right Apparel Technology to Take Business to the Next Level
Advancements in apparel technology are occurring faster than many designers, brands and retailers can keep track of, but these tools are necessary to engaging in today's business. Apparel professionals must invest in tools that suit the distinctive needs of their businesses.
Apparel professionals must choose their investments carefully and also consider the types of upgrades that will be needed as the technology evolves. The technology priorities of a designer are vastly different than the needs of a retailer.
By examining the many different types of technological tools that are available to ease the different areas of the apparel business, professionals can identify the challenges they must solve and the tools that will provide the solutions. With this in mind, California Apparel News asked technology experts: What technology do you feel is the most important to move the fashion and apparel industry forward?
Shahrooz Kohan
Chief Executive Officer
AIMS360
 Business software used in back-office operations acts as the growth backbone for any fashion brand. After brands design a fashionable product, they must be able to produce, sell and deliver it on time. In the current business environment, scaling sales and operations is vital for survival. Technological advancements in AI automation have heightened customer expectations, leading to a low tolerance for inaccuracies and delays. Without software featuring AI automation, managing such tasks becomes not only laborious but nearly impossible, considering the involved complexities.
At AIMS360, we've redesigned our latest software to utilize AI automation for coordinating various functions like production, customer management, style management, multi-channel order handling, shipping, invoicing and payments.
Jason Wang
Chief Operating Officer
Alvanon
 The fashion industry has a sustainability issue with regard to the environment and its profitability.
While the buzz on generic AI like ChatGPT is taking up all the air space, industry-specific AI technologies that allow our industry to produce the right goods at the right time in the right quantities are the most important. One example is AI technologies that allow customers to create and use digital bodies of themselves to get product sizing and fit advice while providing important feedback to the product-development teams. This feedback loop will allow for better decision-making for product and sizing mix or even uncover business opportunities for new sizing ranges that were previously ignored.
If the industry can leverage such new technologies, it will lead to much better sell-through and profitability while reducing the waste and pollution we create through overproduction.
Roberto Mangual
General Manager of Americas Discrete Business
Aptean
 From predicting fashion trends to streamlining production, AI is helping the industry become more efficient, sustainable and consumer-centric. Its data-driven insights and predictive capabilities position AI as a pivotal technology for the industry's future growth.
AI can predict if a particular weight of fabric will sell optimally in the Northeast, considering the last two years' weather data and future predictions, social-media searches, and sell-through data from websites and retailers on similar products. This efficiency then extends to production and replenishment processes, aligning raw materials and other resources effectively—all of which drive topline and bottom-line growth.
Despite its tremendous potential, AI alone is not a solution. It needs to work in conjunction with other systems, asking the right questions and driving crucial business decisions.
Minesh Pore
Co-founder and Chief Executive Officer
BuyHive
 AI is revolutionizing the way manufacturers operate, enabling data-driven decision-making and optimizing various aspects of the industry.
Demand forecasting, a critical component in the apparel sector, has witnessed significant improvements with AI. By analyzing historical sales data and market trends, AI-powered forecasting can reduce errors by up to 30 percent, leading to reduced excess inventory and stockouts. The ripple effect of accurate predictions also translates into a remarkable 10 percent to 20 percent increase in sales revenue.
AI's influence extends to supply-chain optimization, streamlining operations and enhancing overall efficiency. Integrating AI-driven supply-chain management can result in a notable 15 percent to 20 percent reduction in costs, including transportation and warehousing expenses. Moreover, AI optimizes routes, ensuring up to 25 percent more on-time deliveries, thus elevating customer satisfaction.
Sustainable practices have become a paramount concern for the industry. AI plays a crucial role by optimizing fabric cutting, reducing waste by up to 30 percent. This not only lowers costs but also contributes to a potential revenue growth of 5 percent to 10 percent.
Additionally, AI empowers the industry to remain agile through market and trend analysis, leading to a 10 percent to 15 percent increase in sales of trending items and a 20 percent improvement in market share.
Paul Magel
President, Business Applications Division
CGS
 The most important technology solves fundamental business challenges and supports strategic priorities. There are exciting technology advances in artificial intelligence, APIs and decision support systems that will enable companies to efficiently meet competitive challenges, optimize cost, and meet environmental, social and governance requirements.
End-to-end solutions connecting the entire supply chain give apparel businesses crucial transparency and the ability to report on all the links in that chain. Gone are the days of blind spots between POs and receiving docks. Regulations like the UYGHUR Forced Labor Prevention Act and other government regulations along with expanding retailer requirements are putting heavy responsibility on brands, manufacturers and suppliers to do business. Using AI, APIs and data analysis, technology systems today can automate the creation of supply-chain digital twins, which are digital representations of extended supply networks. This allows for centralized chain-of-custody documentation and helps ensure it is accessible, accurate and current. Connected ERP-PLM solutions give internal and external stakeholders visibility to certifications required or to view the origins of raw materials or validate the compliance of a supplier network. This visibility can extend all the way to consumers via smart labels attached to the garments.
It's all about the collection and analysis of data. AI speeds analysis of data from both inside and outside the business, from retail customers, trend services, suppliers, government agencies and third parties such as customs agents, 3PLs and shippers. Companies benefit when they can quickly parse through information for actionable intelligence. What does this intelligence look like? It can take the form of a breakout fashion trend or an emerging issue in the supply chain, which AI is faster to recognize than older analytics software or manually generated reports. Another example, predictive analytics also can reveal subtle variances on the factory floor.
Michelle Eichner
Chief Executive Officer
Digitile
 AI enables brands and retailers to gain valuable insights into consumer preferences, predict fashion trends and personalize the shopping experience. By analyzing vast amounts of data from social media, e-commerce platforms and customer interactions, AI-powered algorithms can understand consumer behavior better than ever before. As a result, retailers can offer tailored product recommendations, curated collections and personalized marketing campaigns to meet individual shoppers' needs.
A prime example of AI-driven technology improving the shopper's experience is the virtual styling assistant. Virtual assistants leverage AI and machine learning to act as fashion advisers for customers. Shoppers can input their style preferences, body measurements and event details through a chat interface. AI curates personalized outfit recommendations, considering the latest trends, the shopper's taste and the occasion. Virtual styling assistants provide a convenient and interactive way for consumers to discover new styles, experiment with fashion and find clothing that suits their preferences.
AI has the potential to transform the industry, but for this transformation to take place retailers must embrace AI by prioritizing their highest needs. Whether improving the customer experience or streamlining operations to improve margins, reduce overhead and expedite time to market, integrating AI into strategic areas can drive significant advancements.
Grace Ryu
Head of Business Development
FashionGo
 At the ground level, trends start and exist when the masses adopt and consumption happens. Designers, brands and retailers play a vital role in the fashion and apparel industry as they develop and discover items to sell to their consumers. This is made possible through fast and accurate search coupled with data-driven tools, which are by far the most important technology needed to move the fashion industry forward.
Discovery happens when brands and retailers come together in a dynamic market and technology. We see about a million registered retailers come through our online marketplace year-round to shop across 12 fashion and apparel categories. The most immediate place they go is our search bar and "New Arrivals," a section where real-time newest arrivals from brands are featured. Tools that allow users to reverse search for the exact or similar items they are looking for using an image or photo reference, expanding product discovery, are also popular. Through technological tools and data that empower retailers to make faster, more-accurate and more-informed decisions, we believe meaningful and valuable discovery is enabled.
Tirsa Parrish
Co-founder and Managing Partner
Fashion Index
 The mass adoption of 3D design/patternmaking with the addition of artificial intelligence will propel our industry light-years ahead. 3D technology and virtual fittings are revolutionizing the industry. 3D renderings allow teams to visualize garments on avatars prior to sampling. These avatar images translate into 3D patternmaking and beyond. Viewing the silhouette and colorways on an avatar and making edits before creating physical samples reduces the number of iteration samples, saving time, money and waste.
AI in fashion seems counterintuitive because we often think that only the human brain can be creative when it comes to design. AIs will interact with the user in a conversational way after simple text prompts, and many accept images or video as input.
Additionally, AI algorithms can predict trends and analyze customer preferences. With this information, brands can create designs that are more likely to be popular with their target market and reduce the risk of producing designs that don't sell. The technology can also help reduce marketing costs, hyper-personalize customer communications and speed up processes. These technologies allow for multiple facets of the industry to make use of it.
Ana Friedlander
Industry and Solution Strategy Director for North America—Fashion and Retail
Infor
 Product life-cycle management is a technology that can be easily integrated into existing systems to create a unified, user-friendly platform that tracks operations from start to finish. PLM can optimize end-to-end business processes, from brainstorming and sketching to supply-chain and manufacturing management. By adopting technologies that approach the full product life cycle, organizations will be better equipped to make informed decisions quickly, ensure compliance and unify data to meet the demands of an ever-evolving industry.
When considering consumer and legislative demands around sustainability requirements and supply-chain disruption, technology in the fashion and apparel industry will need to provide full transparency into the manufacturing process. PLM technology enables the unification of processes from sketching to manufacturing stages to provide reliable insights in real time. With improved transparency, organizations can easily detect where supply-chain operations can be optimized to improve sustainability efforts and adapt to uncertainty.
Scott Pearson
Vice President of Sales and Marketing
Jesta I.S.
 Data as a Service emerges as a pivotal technology that holds the potential to propel the industry forward. DaaS is a concept that revolves around delivering data on demand to businesses, allowing them to access, analyze and utilize vast quantities of information without the need for maintaining complex data infrastructures. By harnessing the power of DaaS, the fashion and apparel industry can revolutionize its operations, enhance customer experiences and drive innovation like never before.
Through the analysis of big data, including purchase patterns, social-media interactions and browsing habits, fashion companies can gain a deep understanding of what customers truly desire. This knowledge allows for more-informed decision-making regarding inventory management, product design and marketing strategies. By predicting trends and staying ahead of consumer demands, companies can minimize overstocking issues and reduce waste.
Moreover, DaaS enables personalized experiences, a feature highly sought after by modern consumers. By leveraging customer data, fashion brands can tailor their offerings to individual preferences, sizes and styles. This level of personalization enhances customer loyalty and fosters a deeper emotional connection with the brand. As a result, customer-retention rates increase, and the overall shopping experience becomes more enjoyable and engaging.
Furthermore, the fashion industry heavily relies on supply-chain management and logistics. DaaS can significantly optimize these processes by providing real-time data on inventory levels, production status and shipping information. With a more transparent and data-driven supply chain, companies can identify potential bottlenecks and inefficiencies, making the entire process smoother and more cost effective.


Robert Zoch
Global Content Manager
Kornit Digital
 The most important technology to move the fashion and apparel industry forward is anything you might classify under the umbrella of digitizing the end-to-end fulfillment process—creating a transparent, accountable digital trail from design to purchase to the routing of that order to its appropriate production floor to the production mechanism itself to shipping logistics and on to the tracking of that shipment to its final destination, whether that's a retail store, a consumer, or the designers or brands themselves.
Anything that streamlines the process for efficiency, maximizes visibility and control, and eliminates the waste that has long plagued this industry presents a clear step in the right direction. Digital design applications, productization applications and e-commerce itself have given consumers and creators the expectation that anything they desire is available quickly, is responsibly made and is of superior quality, without compromising on specifications. Digital-production mechanisms are necessary to meet that expectation from the fulfillment side, and the explosion of connectivity touchpoints—from metaverse to gamification to the Internet of Things and whatever's yet to come—present a wealth of product and growth opportunities for those fulfillers. Furthermore, as both public sentiment and regulations increasingly demand sustainability, digitizing operations makes it easier to comply with these demands while the efficiency and new opportunities such digitization enable more than make up for any burdens such a transition would impose. It also gives producers more power to localize production and establish visibility and consistency across multiple production sites and regions, as a strategy incorporating both onshore and nearshore operations can be critical for mitigating risk as well as complying with diverse regulatory regimes.
Alison Bringé
Chief Marketing Officer
Launchmetrics
 In today's dynamic landscape of the fashion and apparel industry, the key to long-term success for brands lies in harnessing the power of data analytics. In the digital age, data has become the cornerstone of strategic planning, customer understanding and staying ahead of ever-evolving market trends.
Through this seamless integration of data-driven insights, brands can gain the power to unravel the most-effective and organic strategies, to create a positioning that sets them apart in the industry. Having this visibility enables fashion businesses to measure the impact of their brand in various aspects, starting from inventory management to audience engagements, media buzz, and influencer or celebrity endorsements, shedding light on what resonates with their audience, what drives authentic engagement and what improves brand performance.
Data analytics has emerged as the transformative technology propelling the fashion industry into a new era of innovation and efficiency. As the industry continues to evolve, the brands that stay ahead of the curve and leverage this opportunity can maintain a competitive edge over their rivals, optimize their investments and create a lasting impact in the fast-paced and ever-changing apparel industry. Embracing data is not just a trend anymore; it is key to unlocking the future of business.
Leonard Marano
President of the Americas
Lectra
 The fashion industry is rapidly evolving, and with increasing demands manufacturers are finding themselves combating challenges such as labor shortages, supply-chain issues and an increase in focus on sustainable production. Industry 4.0 technology will be pivotal in the progression of the fashion and apparel industry, being that it's what ties together data across various platforms throughout your ecosystem.
Being able to manage inventory is top of mind for fashion companies today. Having a better understanding of how to reduce assortments and sell more products at full price is one reason why brands are looking for 4.0 technology. AI-powered competitive-intelligence data will help brands gain insights into competitors' collections by monitoring their assortment sizes and individual product characteristics to identify gaps in collections and new trend opportunities. Having this real-time data enables brands to proactively set the right prices, build winning product assortments, optimize discount strategies and make sure they stand out in the market.
Keeping up with the demands of the consumer means being agile in your production cycle. By connecting and automating production from reception to cut, piece manufacturers are able to streamline the production process and adjust quickly to changing requirements. This has enabled fashion companies to produce smaller lot sizes with less equipment downtime and shorten their production cycles to handle just-in-time production fluctuations, unplanned orders, and short- and mass-production runs with ease.
Platforms that enable traceability throughout the entire manufacturing and shipping process will also grow in importance as the demand for sustainable products increases around the globe.
Chris Walia
Chief Operating Officer
Tukatech
 One important technology that will move the apparel industry forward is 3D. Yes, we know that 3D has been around for some time now. However, "band-aid" solutions are not an ideal solution for the overall business and, in many instances, only benefit certain people within the process. This is not working.
3D software is a must to visualize how a garment will look before it is cut and sewn—with very little technical skill required. More importantly, we need to use 3D to eliminate making physical samples. For this to happen, four items are needed: information for a fit model, real-fit specifications from CAD, actual physical fabric properties and real-time motion simulation.
Going virtual reduces product-development time from months to days and increases the first-sample acceptance rate. In one case we saw an increase from about 93 percent to 99.8 percent.
Ashley Crowder
Co-founder and Chief Executive Officer
VNTANA
 Real-time 3D technology is the most important to move the fashion and apparel industry forward. Having 3D designs on the web and in game engines allows brands to replace physical samples, reducing costs and increasing speed to market in addition to creating better buying experiences for wholesalers and consumers, leading to increased sales. Brands who are creating a scalable 3D workflow for real-time environments are seeing huge impact to the bottom line. As we continue to enable more-realistic fabric physics we will see much greater adoption of the technology in all aspects of the fashion life cycle.
*Responses have been edited for clarity and space.