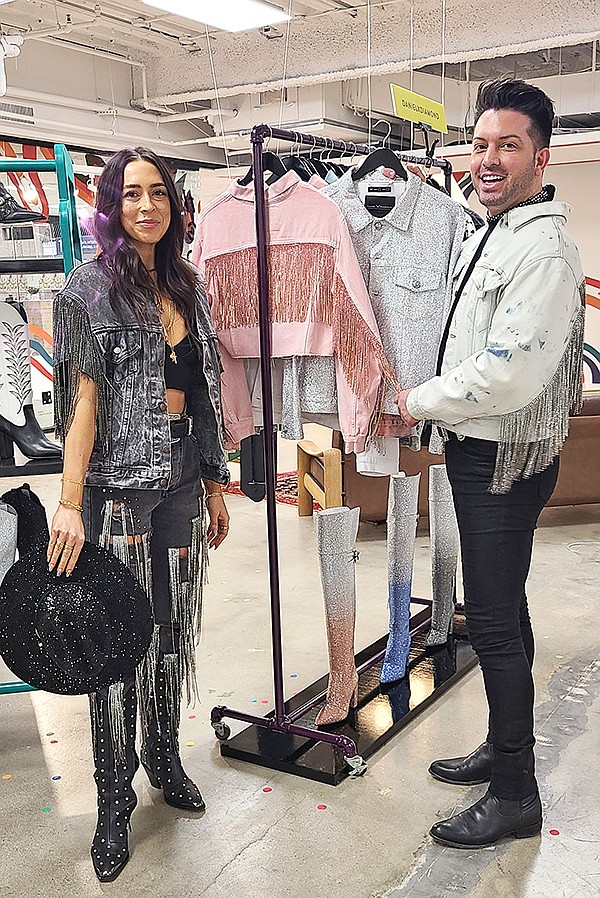 TRADE SHOWS
Dallas Apparel & Accessories Hosts Largest Market in Its History
They say everything is bigger in Texas, and that was certainly the case at the Dallas Apparel & Accessories Market, which ran Jan. 10–13. The 5 million–square–foot World Trade Center broke all records with the expansion of exhibitors and the addition of The Goods by Brand Assembly.
EVP of Retail Development and Leasing Eva Walsh said, "We have become the largest marketplace in the country by offering more brands to more buyers. This show was the largest in our history, and we welcomed thousands of boutiques as well as majors and multilocation retailers. We continue to see growth in first-time attendees and buyers from across the Southeast, upper Midwest and West."
The energy was felt immediately as buyers worked the show from top to bottom. Both new and established multi-line showrooms were busy. The L&A Showroom was packed with buyers reviewing lines from six brands, from Vintage Havana sneakers to L.A.-based Hidden Denim, where hot styles were the blazer at $30 and the jumpsuits priced at $42. Another L.A. brand, Recycle Karma, saw strong response to its vintage brand of licensed tees. Showroom owner Marty Leon is continuing the business his father, Eddie, started 50 years ago. "My father taught me well," said Leon. "I took what my father started and ran with it. My manufacturers listen to my feedback, and I work with them on design direction, knowing what my stores are looking for."
Glitz and glitter was a central theme that resonated throughout the market, and glam with a capital G was the DNA at Queen of Sparkle in the Reeves & Co. showroom. Designer Jaime Glas takes it to another level: whimsical and full of humor. Donald Reeves, showroom owner, said, "The brand has garnered over $10 million in sales in less than two years in business, and we can see why. It's so special." Patty Hoffpauir, owner of The Garden Room boutique in Austin, Texas, recounted a recent experience with the line. "It's amazing. I sold six sweatshirts while unpacking the box—before they even hit the floor. People are ready for fun, color and sparkle. My customers love this line."
At Brad Hughes & Associates, a new brand launched less than a year ago, Emily Shalant, is taking glamour to another level with easy luxurious separates meant to be mixed and matched. Whether worn with a ball skirt or jeans, these knit tops feature pearls, crystal cap sleeves or snap-off marabou shoulders and range from $130 to $350.
The many new and temporary showrooms drew buyers including Michelle Labrier of the Scarlet Peacock Boutique in Amarillo, Texas. "We haven't been at this show for three years, but we love being able to shop gift and apparel in one place."
Kim Ahlers and her daughter Maddie, of Kajoma's Boutique in Nebraska, were working Fall '23 and found great reinvented denims at Tribal of Montreal.
Many buyers were in search of newness. Kristi Pittman, owner of A La Mode in Sioux City, Iowa, said, "Each market I try to find a new line. At this show I discovered Weisinger Designs, and I'm able to customize their jewelry specifically for my clientele."
Among the temporary showrooms, many were young-contemporary fashion brands from Los Angeles, where the trend of sequins, embellishment and crystals took on a Western slant. Joel Lee, sales manager for Peach Love, said, "We definitely considered Dallas in the design process as this is a very important show for us and is an indicator of what the other markets will be like." His rhinestone cowgirls speak to how Western is back for the trendy consumer regardless of what part of the country she's in.
Brand Assembly showcased Daniel X. Diamond in its curated space. Daniel Musto and partner Lani come from a background in celebrity styling, and their rhinestone-fringed jackets can be seen on A-listers from Diplo to Gwen Stefani. The collection has now expanded to hats and boots, all with Musto's mantra of "Bling It Out!" Jackets range from $275 to $475. Hillary France, founder and CEO of Brand Assembly, launched this pop-up showroom in Dallas to build awareness in this market. "There are many shades in the Western spectrum," she explained. "We offer the contemporary side for our range of buyers."
The show ended with cocktails and a fashion show in the atrium with the theme "Enter the Multiverse." Produced by Karl Marshall, it presented all the pizazz that was Dallas market. Models of all colors, sizes and ages were chosen by Marshall, who said he wanted to share the love. "I was thinking of the audience and wanted to inspire," he said. And it did.