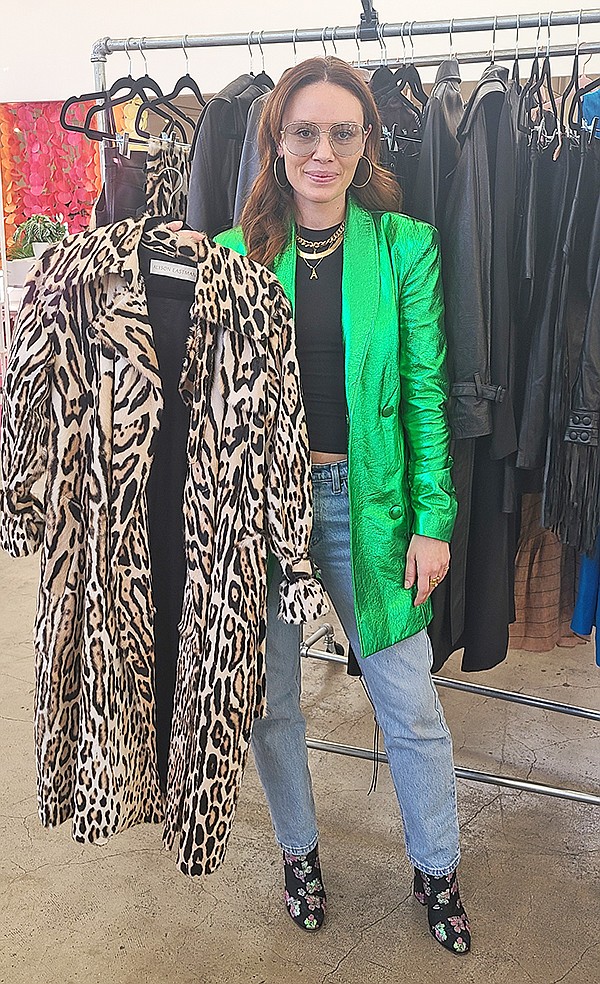 L.A. MARKET 2023
L.A. Market Rings In 2023 With New Lines and Innovation
Art and fashion converged at Los Angeles Market Week with a burst of creativity Jan. 15–19. The creative energy uplifted spirits, and the mood was positive and buyers motivated as they prowled the market's primary venues. Here are some highlights of the buzz-generating brands.
In an exclusive event at The New Mart, Marisol California hosted a fashionable cocktails and catwalk-buying event entitled "The 1102 Experience." In addition to the special pieces from the designer, collections from Victoria Mozgovaya and couture-like nonbinary creations by Cross for God walked the runway.
Aaron Gomez, Cross for God spokesperson, said, "L.A. has responded so well to this line," which is priced from $100 up to $2,000. Reacting to the show, Kristina Menajivar, owner of the Mixxes boutique, said, "I am always looking for something that will catch my eye. Cross for God is so special, like wearable art."
In the Jamie Prince Sales showroom, Xenia Design was being previewed. "This higher-end line sells so well across the country," said Prince. "It continues to blow out every season." For Fall, the use of brash color clashes and attention to details are what buyers responded to.
At Cynthia Ashby in the Nina Perez showroom, the hot item for Summer was the linen overall at $115. This made-in-America brand uses all-natural fibers and is hand-dyed. As is the case with so much this season, "it's all in the details," said Perez.
Tom Keefer, general manager at The New Mart, saw an uptick in buyers. "There was a lot of positive energy throughout the week. It seemed buyers were scrambling for inventory, and tenants were optimistic."
From the penthouse of the Cooper Design Space housing Brand Assembly to the permanent showrooms below, January brought unapologetic look-at-me styles—ready to finally be out and be seen.
Cynthia Chamberlain, owner of The Canyon, was inspired by what she saw. "I always look forward to shopping Brand Assembly and seeing all these new and upcoming vendors. It was especially fun to peek at what's coming for Fall '23."
Creating buzz was Alyson Eastman, who was showing for the first time in L.A. Her collection wowed with orchid-fur apparel and metallic-washed leathers in emerald green. Items were made from recycled food-industry waste and priced at $350 up to $3,000.
Also new to L.A. Market was La Fuori, where designer Vidur Adlakha presented his High Summer collection. Intricate beading and embellishments enhanced floral print silks, organzas and linens priced at $125 to $299.
The buying team from Jones & Co., Elizabeth Jones and Laura Schwisow, said, "We are in here looking for elevated essentials. It's been a productive trip."
In the Marco Lebel showroom, the line TAJ met with great response. "We are having a moment with this collection," Lebel said. Inspired by Southern California, the chic printed dresses reflect iconic SoCal images and are priced from $115 to $200.
Margot Garcia, general manager at the Cooper, said, "The vibe we got this week has been all good. We saw a great group of quality retailers here, and everyone has been receiving positive feedback."
Throughout market week at the California Market Center, collections used everything from subtle updates in detailing to unexpected twists to deliver elevated style to everyday dressing.
The new line Victoria Mozgovaya reworked denim and twill styles in hot new colors such as orchid, pink and orange, then splattered them with multicolor neon paint for a glow-in-the-dark take on streetwear. "I am inspired by how powerful color can be in our emotions, moods and personalities," the designer said. "Through color, I look to empower people to express themselves." Prices ranged from $95 to $170.
Elevated-classic cotton silhouettes from Terra at the Fern Liberson & Co. showroom took on an artistic aesthetic reflective of the brand's Korean heritage with special touches and craftsman-like details. Shift dresses were priced at $65. Thea Lujan of Kioti Santa Fe said, "This is my first time at this market, and discovering this line has been great. My customers are artsy and like things that are unique."
Fenya V, a collection of everyday luxury items made in L.A., was receiving great response on its newest group of reversible neoprene jackets and coats all in bold sublimated prints of flowers and animal motifs priced from $98 to $160.
Expectations were for a somewhat quiet market; however, Matthew Mathiason, senior manager of events at the CMC, said, "We have more than met our expectations for turnout. Many of our showrooms had packed schedules all week, and we have great things planned for March."