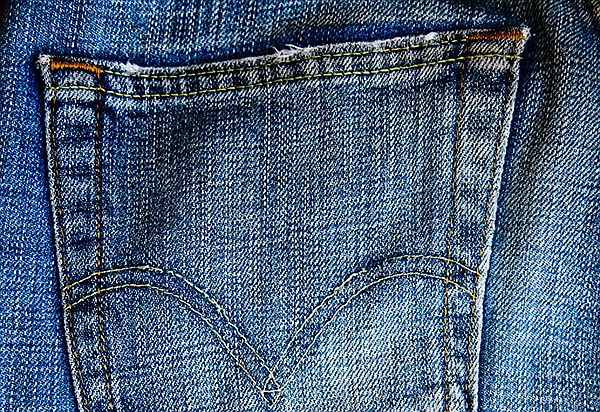 INDUSTRY FOCUS: DENIM
Embracing Responsibility While Building a Profitable Business
Clothing brands within the apparel industry have long grappled with the need to build their companies through making products that also commit to responsible practices. Approaches to building a more sustainable denim industry often include practices that bypass making new products, including recycling, upcycling and sourcing vintage pieces, as businesses seek to become less of an environmental threat and more ecologically sound. Many trusted denim brands that have been in the business for years, in addition to emerging newcomers, are using their platforms to promote cleaning up the industry, but they must also turn a profit.
As companies throughout the supply chain continue to grow their sustainable offerings but also seek business growth, California Apparel News asked some of the denim industry's most well-respected decision-makers: How are denim businesses aligning the need to sell products while also manufacturing more responsibly made, longer-lasting goods and encouraging consumers to make repairs that give new life to secondhand pieces?
Berke Aydemir
Head of Research and Development and Technical Sales
Naveena Denim Mills
We continuously invest in the latest technologies and research and development as shown by our Holistic Denim line. We also have an in-house shredding unit of five metric tons daily, using post-consumer and post-industrial waste. Thanks to our new investment we will soon be able to offer products with 20 percent recycled waste until 2024.
Consumer use stands for the majority, approximately two-thirds, of the environmental footprint of a garment. To spread the word of sustainability, we are working in close collaboration with our customers to co-design impactful storytelling from the very beginning of product-development stages.
Beyza Baykan
Founder and Chief Executive Officer
HMS Washing
Emphasizing the superior quality of products is a pattern among leading brands. This later enables their customers to give up their jeans for someone to upcycle them. Another cool trend I have seen is that the designers design with a purpose. They find ways to assemble the jeans in a way that would allow them to be disassembled at the end of their lifetime, making it easier for the garments to be upcycled and repurposed. For brands, creating jeans that are the easiest to upcycle has become one of the main concerns defining their production and marketing strategies.
Elena Bonvicini
Founder
EB Denim
Prioritize responsible practices in the production process while ensuring that the final product still meets customer expectations. For example, some brands choose to produce locally to support local businesses and garment workers, shortening lead times and carbon emissions. This allows for greater control over the manufacturing process and the incorporation of unique design elements. However, implementing sustainable and local practices in the production process can increase costs, and finding a balance between affordability and responsibility is crucial.
Additionally, limiting overproduction and protecting brand image keep secondhand-market prices high, encouraging customers to keep their pieces or sell rather than discard them.
Fabrizio Consoli
Founder and Chief Executive Officer
Blue of a Kind
As with every challenge, the quest for cleaner jeans has to be seen as a journey rather than an easy recipe. The effort should come from brands continuously scouting for more-responsible sources for fabrics and treatments, at the same time educating consumers' understanding that a jean is like skin—it becomes more interesting with scars.
Brent Crossland
Founder
5Loc
It has been amazing to see the industry come to this space. The movement seems to have made great progress in just the last couple of years. The trend toward higher-quality apparel and less "in your closet" is a real thing. When you refine your wardrobe to reflect this, you naturally want longer-lasting garments but also want to be able to repair and keep them. Forward-thinking denim brands are aligning their businesses to make this work.
It seems that there is more custom-made and made-to-order inventory with less of a "safety stock" production mentality. In addition, "responsibly made" also begins with "responsibly grown" cotton, and the demand is growing exponentially. My business is picking up because of this. It's good for the customer and good for society.
Zennure Danisman
Marketing and Washing Manager
ORTA
Denim has a long lifetime that makes it adaptable, versatile, almost immortal. It's never been temporary and it never will be.
Consumers don't just expect "more affordable" products. They want you to really contribute to their quality of life against their decreasing income. So, they are after product inspirations that will enable them to create more with less. At this point, denim provides flexibility to the consumer.
They are increasingly trying to meet their needs by renting, repairing or reselling. At this point, secondhand, recycled, upcycled or repaired denimsprovide options to the consumer, and long-lasting denim comes to the rescue of the consumer again.
Ebru Debbag
Executive Director of Sales and Marketing
Soorty Enterprises
Denim is meant to last, be loved and re-loved over generations, eras, historical highlights and cultural transformations to define that clothes are a part of our lives, our timeline. The denim-and-jeans-market landscape changed over the past 20 years where we have seen its value depreciate due to a rising demand for cheaper and faster products. We called it growth. Now we are faced with a problem of our expansion resulting in huge amounts of waste going to landfills, and our interconnected environmental and social systems demand that we produce responsibly, especially at scale.
We also engage with our stakeholders such as college students, citizens, artists as well as our customers and suppliers both digitally on our Future Possibilities platform as well as and in person at our SpaceD. We will soon launch the digital SpaceD with the intention of sharing with all of our partners as well as consumers the intricate efforts we put into the making of jeans so that keeping them will become a common practice.
Alberto de Conti
Head of Marketing and Fashion Division
Rudolf Group
The use of renewable raw materials helps the entire denim supply chain save fossil resources and can help reduce greenhouse-gas emissions. Biological materials are notable examples of renewable raw materials that are building blocks of innovative chemical auxiliaries for apparel manufacturing. The raw materials are byproducts of the food industry that would otherwise be discarded.
Chemical recycling, which is the reuse of plastics to make new chemicals, degrades plastics and converts them into new textile chemicals that are of the same quality as those made from petroleum. Together with value-chain partners, Rudolf has already successfully developed several chemical auxiliaries for textiles, some of which are made from recycled PET; one of these is an anti-back-staining agent used in denim finishing.
The chemical industry's contribution to the production of denim will become increasingly important in the coming years as the same innovations that provide interesting and new aesthetics will also enable optimization of now-scarce planetary resources.
Anatt Finkler
Creative Director
Global Denim
Brands that want to keep being relevant in this climate and thrive need to understand sustainable and circular practices are no longer a luxury and an uprising trend but rather a new ethos of making business the way forward. Consumers want brands to align with their mentality and values. That represents them shifting their mindset and culture of doing business, delivering more durability and better manufacturing and circular solutions. The end goal will always be creating profit, but the means don't justify the ends and, in this new world, the road traveled is what's most important.
It's about the stories behind the products and how they stay with the wearer through time, creating a relationship with the clothing rather than a throwaway culture. Also, with limited resources, new political regulations and a growing customer demand, a more sustainable business will ultimately mean a more profitable one in the long term.
Paolo Gnutti
Chief Executive Officer of PG
ISKO Luxury by PG
Our first mission is to produce fabrics that are of high quality and durable to allow brands to create stronger garments that last longer. In the near future we will be able to recycle garments at the end of their life cycle. This operation will allow us to create new fabrics that will enable our customers to create new garments with DNA based on the reworking of waste.
We all need to have more awareness and respect for our planet. There are no B planets, but there are plenty of plan Bs to draw from what has already been produced to create new fashion.
Adriano Goldschmied
Founder
Genious Group
There is not a formula for this—it depends on the retail price and the goals of the brand. However, at any level it is a difficult compromise and decisions are not very easy. On one side we must make a product that has appeal for the consumer; on the other side we have to make it with the lowest impact possible using all the tools that innovation and technology are giving to us. Of course, if we are too extreme the business will suffer on the one side, and if we are too traditional on the other side we never arrive at a better level.
I feel that transparency and information in all the steps of the sourcing process are the key to being able to design and have a good product. Finally, we must create business according to what the new generation of consumers is looking for. We must consider that the goal today is not only to sell but also to create value, taking care of the entire life of the product. We need to think about durability, circularity, reuse and repair but also about the end of life of the garment that has to be totally recyclable to make a new fiber or is totally biodegradable in case it goes to the landfill.
Juan Carlos Gordillo
Denim Designer
It is not easy to combine this ecological idea without affecting the main objective of a company, which is to sell. The challenge is enormous but not impossible.
We must invest in educational campaigns to inform in an easy and clear way about the ecological importance and benefits of repairing and reusing clothes as well as the importance of buying well-made denim products. Teach the consumer to question how it has been made and under what working conditions.
Governments worldwide should discuss creating standards and laws that guarantee the useful life of products, in general, and give the option for them to be recycled. Textile products should not be an exception because today consumers are faced with the following dilemma: repair a zipper on a pair of jeans versus buying a garment that is priced cheaper. Promoting the repair is excellent, but without strong information and awareness campaigns, it will not be impactful.
Simon Hong
Denim Lead
Hyosung
Suppliers to the denim industry have made significant advances in helping denim brands manufacture responsibly made jeans that last and keep these products out of the landfill, which consumers are demanding. Recycled, bio-based and recyclable materials, in addition to waterless dyes and new separation technologies, have all contributed to an eco-friendlier denim market. We like to think we've contributed to this movement with the continuous innovation with our flagship fiber, creora spandex.
Tuncay Kilickan
Head of Global Business Development, Denim
Lenzing Group
For a couple of years we have been witnessing the rise of new initiatives for secondhand jeans to be operating both online and offline. Brands are supporting this movement and support the consumer if there is such a demand in the future. So you can simply buy a pair of jeans you like, wear it for a certain time and then easily sell it. This is only possible if the brand is prestigious, and today brands who are taking bold steps for the environment are considered to be prestigious whereas in the past it was only trendsetter brands that were considered so.
If the product isn't long lasting, there couldn't be a second life with a new owner. Giving a free repair service could be considered an insurance for the life cycle of a product. It doesn't matter how much that product has been used—having this possibility could give relief to the consumer. So the surcharge of a product that is responsibly produced with long-lasting features and the availability of a repair service could be considered an advantage. This could be a good reason for standing out, which would give attention to that brand and the opportunity to sell at the same time.
Rebecca Larsen
Senior Manager Business Development
AGI Denim
The denim industry is no exception as the world moves through tough economic times. With rising raw-material and operational costs, manufacturers must take a more innovative route to production. This comes from responsible manufacturing practices, both internally and externally.
Just as we take inspiration from approaches like The Jeans Redesign Project by the Ellen MacArthur Foundation, we encourage our customers and the brands we work with to focus on reconstructing new pieces. One piece we are particularly proud of is The Scrap Poncho, unveiled during a Creative Workshop at Kingpins New York.
Denim is a versatile piece of cloth meant for much more than just wearing. We are focused on making it a force for good. For everyone.
Amy Leverton
Founder
Denim Dudes
They say the most sustainable jean is the one already in your wardrobe, yet this statement goes against the grain of our capitalist society. In order for brands to thrive they are focused on growth, but how do you grow profits without contributing to the problem? The truth is you can't.
Companies who are at least taking the right steps include Ganni, who aims to halve their carbon footprint by helping their supply chain to transition to renewable energy; Nudie, who recently announced they repurposed 6,530 pairs of second-quality jeans into 16,000 new pairs made of 20 percent recycled cotton; and Levi's, whose recent Buy Better, Wear Longer campaign video romanticizes the emotion of buying secondhand.
All these steps are commendable, but if we're being real, I'd like to make everyone uncomfortable by talking about the de-growth economy. Unless we seriously address radical new business models, we are not going to make the necessary changes to the impact on our earth in time.
Daniele Lovato
General Manager
Elleti Group
Knowledge, technology and collaboration are key requirements today to actively and positively impact the fashion market, which requires its supply chain to adapt to increasingly sustainable standards.
In order to improve and innovate current practices, we believe it is essential to join forces with different stakeholders on a path of common growth; hence, our partnership with Wiser Wash, which has led to a consolidated production network between the two companies for the laundry phases.
In the production stages, on the other hand, for more than three years we have been proposing and using only denim fabrics with a content of at least 20 percent post-consumer recycled cotton from used garments. This is to give end consumers the opportunity to choose a new garment with goals of sustainability and circularity embedded in it.
Gabriella Meyer
Owner and Designer
Denimcratic
Our focus is to reduce waste, eliminate excess inventory, keep production local and highlight our customers' individuality and style. "Designed with purpose, ruled by design"has been our mission from inception. We appreciate the beauty and life of secondhand denim. Our one-of-a-kind garments are handmade and composed of recycled materials, often through upcycling jeans.
Our made-to-order policy allows us to meet the client's specific needs while also maintaining control over our production. While there is more of a wait for custom garments, our clients understand and appreciate the amount of attention and detail that goes into making their garment.
Alaina Miller
Vice President of Full Package Operations
Star Fades International
SFI is manufacturing responsibly by continuously adopting new wash technologies and appliances that reduce the amount of chemicals, water and energy used in the denim-laundering process. Several brands we work with have sustainability requirements that encourage us to constantly be innovating and improving our production methods, and staying on the forefront of innovation helps us to maintain and grow our customer base.
We have recently been promoting upcycling via social media with posts showing our audience how they can revamp their existing wardrobe through DIY tutorials. These posts will help viewers update pieces they already own using materials that are easy to come by and are likely already in their homes.
Nantas Montonati
Group Sales and Marketing Director
Riri Group
Our search for new materials contributes to greener production, including recycled and natural materials such as recycled nylon, rice bio-resin, bio-based polyester, eco-and recycled hemp. Mono-material buttons can be easily disassembled from clothes and reused on a new garment, lending themselves to being recycled over and over again.
For example, recycled copper buttons can be easily attached and detached from garments using a simple screw system. Practicality and sustainability come together to meet the needs of both the denim producer and the end consumer. Brass and steel buttons also have high percentages of recycled material, a minimum of 80 percent and 50 percent, respectively.
Ebru Ozaydin
Strategic Marketing Director—Denim and Ready-to-Wear
The LYCRA Company
The impact of the global pandemic and, most recently, current inflationary pressures have dramatically shifted consumer behavior and shopping habits. Today, consumers are much more selective and conscious about their apparel purchases. According to our company surveys, most consumers make the connection between durability and sustainability and thus are beginning to look for more timeless, versatile and quality garments with a longer wear life.
As a result, some brands and retailers are experimenting with new business models, designing for longevity, opening repair facilities within their stores and even investing in garment resale platforms. According to a recent report by GlobalData, the resale apparel market grew by more than 100 percent between 2016 and 2021.
Designing garments for longer wear life and multiple owners presents unique challenges that start with fiber selection. To assist brands and retailers in this process, The LYCRA Company recently launched LYCRA lastingFIT 2.0 technology for the denim/wovens segment to create durable garments with long-lasting fit and comfort, delivering elevated functionality using recycled content such as 50 percent recycled PET bottles.
Baris Ozden
Product Development Manager
ISKO
The challenge is to keep our denim products as long as possible within the closed loop of the denim circular system. Denim needs to be durable and yet fashionable. Our purpose at ISKO is to ensure that our customers and indeed the end consumer have both without sacrificing a step in the circularity loop to do so. We want them to have the best of everything.
Our newest innovation is our latest material science. CTRL+Z has a lower environmental impact during production and is stronger than traditional denim and recycled-denim products on the market in terms of abrasion strength. This means that people can continue to love their favorite denim for longer and also ensures they retain their strength so they are able to be passed on to others. And, in the near future, ISKO's circularity-project hubs will allow garments at the end of their life cycle to be recycled.
Carlo Parisatto
Chief Marketing Officer and Commercial Director
Cadica
Recovering garments at the end of their life cycle and upcycling and repairing them are very important steps in the sustainable logic of exploiting what has already been produced on the market. All processes based on repair, recycling or upcycling are fundamental in a sustainable-waste perspective.
Reuse of materials is intrinsic in our company DNA, so much so that we create entire collections based on recycling and upcycling. We have produced denim paper for communications and for the packaging cover, buttons made from recycled denim and also woven labels made from recycled denim yarn.
In recent years, we have increasingly been collaborating with brands in the denim world where, by recovering their offcuts or leftovers, we are able, through our internal processes, to create labels and tags that reflect our customers' demand for circularity and sustainability.
Jose Royo
Vice President
Tejidos Royo
We are a very pollutive industry with great volume and a lot of heavy investment all over the world. There is a huge investment from all the mills to reduce water and chemicals, and every step counts. If I reduce one liter, it's one liter less used in the world that can be given to people; also, it's one liter less of waste water that needs to be cleaned. Let's keep manufacturing in a better way.
Today, 100 percent of our denim collection is made of recycled material. There is not a single article with 100 percent virgin cotton. One hundred percent of our denim production is made of Dry Indigo. It's the way we are contributing to improve Royo's footprint.
For Royo, recycle is the name of the game. Let's use the existing material all over again; leave the land for food.
Enrique Silla
Founder and President
Jeanologia
The integration of our laser, G2 ozone, e-flow, Smart Boxes and H2Zero technologies is enabling companies to increase productivity and reduce costs, and water and energy consumption, and speed time to market. It also eliminates waste and harmful emissions, guaranteeing zero pollution without losing product quality or look and obtaining authentic and fashionable finishes with infinite possibilities for garment design and finishing.
This allows a new on-demand production model to manufacture only what is sold instead of selling what is produced. In this sense, we promote the implementation of "urban factories," that is, sustainable, interconnected and automated digital finishing plants located close to the consumer that allow companies to manufacture only what is sold instead of selling what is produced, thereby eliminating stock.
Another initiative, reTECH, allows unsold garments to be given a new life without sacrificing the look by using technology to eliminate stock and contribute to the circular economy.
Adam Taubenfligel
Co-founder and Creative Director
Triarchy
If you don't sell anything then you can't make a profit and put that profit into innovating new technologies to make jeans better, so this always has to be top of mind.
When it comes to manufacturing responsibly, you need to ask tough questions of your suppliers, not just take what they say at face value and then pass that messaging along at face value to your customers. Have a third-party auditor look at your products and report back to you. Only then can you get a clear picture of your practices before you start shouting about your "responsibility" claims. This will do one of two things: show you that you are in fact doing things right or show you where the holes are that need to be plugged in order to actually have a more responsible end product.
The beauty of denim is its timelessness and strength. We always communicate to customers their ability to easily have jeans repaired before they toss them and seek out new ones. It's responsible practice for us to advise it and for customers to do it.
Alice Tonello
Marketing and Research and Development
Tonello
It all comes from proper information and communication about how a particular product is produced, the choice of materials, the process and the consumption related to it: this, in order to create awareness in people so that they can invest their money responsibly, giving value to their investment and the whole process behind an individual product.
If denim businesses succeed in providing this value, people can be more conscious about buying garments and products of higher quality and durability. In this way, a valuable garment will be able to be appealing for longer over time, including when it can be resold, at the right price, as secondhand. As a result, it will be possible to generate new business even more responsibly.
Adam and Liran Vanunu
Co-founders
Cotton Citizen/American Dye House
Our denim rethinks familiar silhouettes for every generation of customer. Inspired by our favorite archive pieces, we've created a collection of denim that has the same authentic vintage feel on the first day of wear as your favorite lived-in pair. Our customer relies on us for the quality, longevity and comfort of our products, trusting us for heritage-inspired garments with a vintage feel.
Learning from our father, our knowledge of heritage-garment production gives way to innovation. Now our factory practices are focused on creating more-sustainable steps to achieve the signature vintage look and feel of our denim.
Using updated production methods, we're able to responsibly make products that last forever without a lasting impact on the environment, giving way to reduced consumption and encouraging better buying practices.
Andrea Venier
Managing Director
Officina39
The denim industry acknowledges the importance of building a sustainable system and adopting ethical practices as well as trendsetting designs and collaborations between brands, suppliers and customers. On the one hand, brands must have the courage to go beyond special projects and capsule collections and focus on reducing the impact on the entire business. Suppliers must share knowledge of materials and processes, providing the best solutions for the future.
Specializing in fashion and sustainable chemicals for the textile, garment and denim industry, we have been proposing this kind of sharing for years through a project we initiated together with Lenzing and Meidea: "The Circle Book," an experience made of collaborations featuring multiple skills and teamwork to achieve common goals. The Circle Book is a look book designed to inspire and educate the next generation of designers in creating more-responsible and low-impact clothing, implementing a circular-economy approach.
Vivian Wang
Managing Director and Global Sales Manager
Kingpins Show
We are always looking to help denim suppliers find that balance between product, planet and profit.
The ONE DENIM initiative was conceived to show manufacturers and brands the breadth of creativity, variety and variation they can achieve using just a single fabrication. Visitors to our Amsterdam show in April will be able to view nine ONE DENIM garments, all created by designer Piero Turk and washed by Italian finishing-solutions supplier Tonello.
When it comes to sustainability, we strive to practice what we preach. It's not enough for us to offer solutions to our exhibitors and attendees for eliminating waste in the denim-production process. We also look for ways to implement these measures at our shows. Those can be small but important decisions—such as using recyclable and reusable cups, plates and utensils at our shows—or larger efforts that underscore our commitment to creating a sustainable future.
Responses have been condensed.