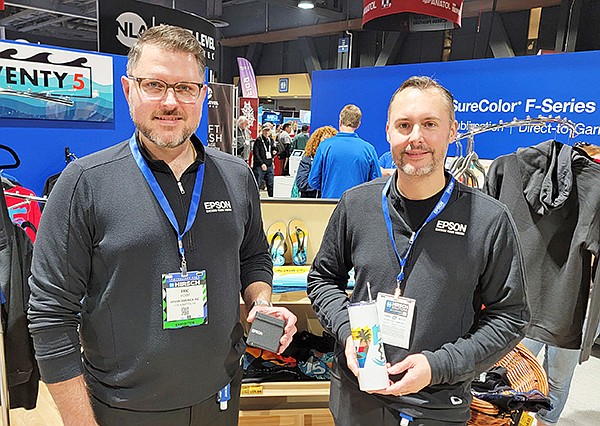 TRADE SHOWS
Impressions Expo Long Beach Delivers Next-Generation Game-Changers
Attendance was robust at the Impressions Expo, held Jan. 19–22 at the Long Beach Convention Center in Long Beach, Calif. "The response and turnout has been great," said Impressions Show Director Russ Turner, who added, "There's awesome energy and buzz on the show floor—we're back and happy to be here."
There were plenty of innovations and game-changers among the 250 imprint-industry brands showing the latest in digital design, screen-printing and embroidery, as well as direct-to-garment and direct-to-film software programs and apparel.
"This is a great show for us," said Damir Gajiani, president of the Anaheim, Calif.–based Tee Styled, who added, "We've had so much success with our industry-trending 9-oz. T-shirts that we've expanded into tank tops and long sleeves. We're also offering pigment washes and acid washes and will soon launch a youth line."
The Torrance, Calif.–based Next Level Apparel received a tremendous response to its new soft-wash collection featuring a proprietary treatment that creates a garment-dyed or pigment-dyed vintage look on super-soft and preshrunk shirts.
L.A.-based Behind the Scenes Apparel, a premium-blank company, displayed a rainbow of colors in its high-fashion line of small- and large-batch garment-dyed product. "This is the first time we're here, and it's been really good to connect with people and to show them our sensational high-fashion tees and hoodies," said General Manager Daniel Oh. "Who doesn't want to create their own colors?"
A big supplier of blanks in the decorated market is Bowling Green, Ky.–based Fruit of the Loom, which integrated new colors such as blush pink, frost heather and cloud blue. "A big story this year is our new fleece products such as eco fleece with recycled polyester and ring-spun cotton," said Jeff Traen, director of marketing for Fruit of the Loom, Jerzees and Russell Athletic.
L.A.-based Supacolor manufactures water-based heat transfers, a digital hybrid product that's a versatile and speedy decorating method to print unlimited colors and gradients. "The new product film we use works like butter, and the product peels off easily and is more user-friendly to work with on all types of presses," said Supacolor President Rum Walia.
"This is game-changing," said Victoria Nelson Harris, senior textile segment specialist at the Suwanee, Ga.–based Mimaki USA referring to the Texcol textile-pigment transfer-paper printing by the Netherlands-based company Neenah Coldenhove. "It's a simple heat transfer to any fabric using a waterless process—high quality, low investment," added Nelson Harris.
"We haven't seen this much buzz in our booth in six years," said Winston-Salem, N.C.–based Hanes Senior Product Manager Chris Guard, referring to the company's new PrintNOW technology. "Our Hanes pretreated 4.5-oz. ring-spun tee is fully pretreated on the entire surface of the garment so you can take it right out of the box and press it one time, then load it onto your direct-to-garment printer. We know this is a game-changer and a huge time saver."
"I'm impressed with the show," said first-time attendee Marc Zimmerman, owner of the Snohomish, Wash.–based 4Z Design Print and Promotions. "I'm seeing a lot of stuff I didn't know existed for decorating, including applications from my first vendor, Supacolor. The apparel and decorating methods now available are inspirational."
The Los Alamitos, Calif.–based Epson America featured a DTG printer for high-volume garments, its newest 44-inch dye-sublimation systems, and hybrid 2-in-1 DTG and DTF printing. Senior Product Manager Tim Check said, "This is a really cool application because the DTG printing on a fashion tee gives you a great-feeling shirt with a soft hand. It breathes and is a comfortable, amazing wash."
Eric Holm showed off Epson's portable SD-10 spectrophotometer, a color-measurement system that allows people to go anywhere and measure color objectively. "It's a powerful tool to capture the actual color, which you can sync to a smartphone app and communicate those colors back to production."