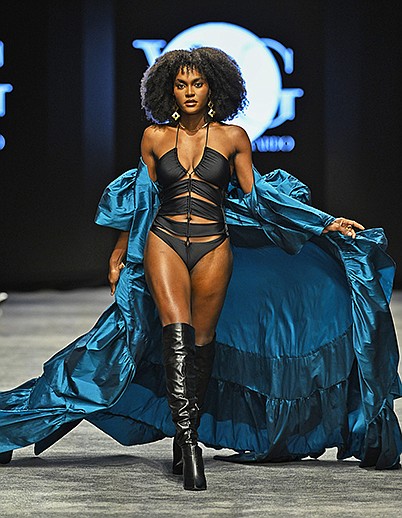 SWIM & SURF
Miami Swim Week Boasts a Variety of Offerings From Distinctive Shows
An abundance of style was the common thread during the recent installment of Miami Swim Week, held July 4–11 and attracting buyers, designers, brands and creatives who looked toward Spring/Summer 2024. Miami Swim Week comprised trusted shows and newer events with a roster that included SwimShow, Miami Swimweek powered by Art Hearts Fashion, destination:miami by Coterie, Cabana and La Plage Miami.
Each show offered a distinctive experience, satisfying buyer demand for variety. Many show producers took buyers beyond the typical show floor or runway by creating an atmosphere that blended buying with leisure through wellness activities, festive parties and artistic creations. Whether buyers sought classic styles from established brands, avant-garde looks from edgy designers, trendy fashions from on-style labels or eco and ethical goods from sustainably minded companies, the events held during Miami Swim Week delivered on those promises and beyond. 
SwimShow nods to classics and new designers
SwimShow produced its July 8–10 edition at the Miami Beach Convention Center. After more than 40 years showcasing swim trends for upcoming seasons, SwimShow has become known as the veteran event of Miami Swim Week, attracting cool emerging brands and trusted labels in the industry.
This season, SwimShow organized its vendors into distinctive categories to ease the buyer experience. SwimCore featured classic global brands, while SwimMode showcased trendsetting labels that are known to cause a buzz.
SwimShow is known for supporting trusted, established brands, but the event organized the NewNew category to afford valuable exposure to emerging brands. The event's support of fresh brands also included SwimLab, a collaboration between SwimShow and WGSN that afforded space in which designers could present their origin, inspiration and style to buyers and industry insiders, in addition to a discussion panel held on July 9. WGSN chose Los Angeles brand Axil Swim, Bee Surreal from Colombia, New York City's Haus Label and Brazilian label Nua Swim for this season's incubator.
"SwimShow is committed to representing all swim tiers and categories; our platform has a proud history of working with size-inclusive brands, trendsetters and pioneers in sustainability," said Judy Stein, executive director of SwimShow. "By bringing together a diverse group of brands, SwimShow aims to reunite the swim industry in a single, unified space."
Art Hearts Fashion unveils Miami Swimweek
Art Hearts Fashion hosted its July 4–10 Miami Swimweek event at the Fontainebleau Hotel fresh off the second edition of its Los Angeles Swim Week production, which was held one month prior.
California brands that showed on Art Hearts Fashion's Miami runway included Michael Costello x Revolve, a season favorite that garnered a lot of attention during Art Hearts Fashion's Los Angeles event. Additional California brands included Argyle Grant, Willfredo Gerardo, Calibri Swimwear, Henri-Costa, Natalia Fedner, Naughty Boy Golf and Mister Triple X, the brand created by Art Hearts Fashion founder Erik Rosete.
The Art Hearts Fashion runway in Miami also saw major global brands including Desigual, Nike Swim and Nautica. 
"Swim/Resort, much like Fall/Winter and Spring/Summer, completes our triad of seasons," said Rosete. "Miami, being the capital of swimwear, is the perfect backdrop for us to create our magic. Now in our 10 years in fashion, Miami Swimweek has grown to become our most popular event."
True to its mission of blending art with fashion, Miami Swimweek also featured creative works displayed for guests to experience and take in between runway presentations. There was a much-anticipated Alec Monopoly x Chef Nobu Collection collaboration between graffiti artist Alec Monopoly and chef Nobuyuki "Nobu" Matsuhisa.
Coterie takes buyers on "vacation" with destination:miami
Eden Roc Miami served as the setting for Informa Markets Fashion's destination:miami by Coterie, held July 8–10. The show featured styles from brands including B Label, Bonfire, Gapaz, Liliana Meza, Nammu, Respoke and Sigal, with additional offerings in accessories from 4CCCCEES, Apaya, Esenshel, Mr. Boho, Think Royln and Van Den Abeele.
The show attracted buyers from companies including Anthropologie, the Four Seasons, Kith, Neiman Marcus, Net-A-Porter, Revolve and ShopBop. Visitors attended to see Spring/Summer 2024 but were also interested in filling Immediates.
While swim and resortwear served as the main attractions, destination:miami's producers sought to promote a lifestyle beyond the beach or pool by emphasizing wellness. The event's producers were inspired by the theme of "vacation" and planned activities for their buyers to indulge with sunrise yoga and breakfast before business.
"This season retailers came to see a preview of the vibrant colors and patterns that the swim and resortwear market has to offer. Destination:miami is the place where future must-have designs, styles and accessories are discovered before they ever reach the consumer market," said Kelly Helfman, president of Informa Markets Fashion. "In addition to the show, destination:miami embodied the experience of vacation through rejuvenating activations designed to promote balance through self-care sessions and wellness moments."
Cabana finds influence in the Italian road trip
Cabana's July 8–10 event at the Miami Beach Convention Center featured a pop-up experience inspired by the land of luxurious summer getaways along the Amalfi Coast, Lake Como and Sardinia. This year's show featured a collection organized by the Italian Trade Agency, which was showcased within a dedicated Pop Up Italia area as part of the organization's INSPR ITALIA road trip.
The pop-up exhibition featured 30 brands that made their Miami Swim Week debuts: 23° Eyewear, Alibi, Amorissimo, Chiara Boni Mare, Chio, Edelvissa, Fefe' Napoli, Ferruccio Vecchi Studio, Flavia Valentini, Frida Querida Firenze, Giada Curti, Isabel Beachwear, Jo & Margot, Le Nine', L.G.R., Lido, Marybloom, Masará, Miss Bikini, OF Handmade, Peninsula Swimwear, Pho Firenze, Raffaela D'Angelo, Rosmundo, Spektre Eyewear, Suahru, Tiki Napoli, Vanni and Voile Blanche.
"We're dedicated to supporting our brands to ensure they are set up for success during the time they have with U.S. retailers," noted Paola Guida, head of fashion and beauty at the ITA. "Logistically, this task requires an enormous amount of preparation, but it's also equally important to us to create memorable experiences for U.S. retail buyers attending the show that convey the Italian lifestyle that everyone aspires to—no matter where they are from."
Guests of the show were also treated to workshops covering fabric sustainability and Italian craftsmanship.
La Plage inspires through luxury
Fashion Agent hosted the second edition of its boutique-style La Plage Miami show on July 10. The event was produced within the penthouse setting at the Boulan Hotel South Beach to showcase 20 exhibitors representing premium European brands including Iodus, Wikini, Girls Must Have, Martial Paris, Apnee Swimwear and Blondie Lemonade.
In addition to swim, the show also featured complementary goods. Event guests found beachwear, resortwear, beach accessories, jewelry and eyewear from brands including By Foutas, Sabelline, Une A Une and Julie Sion.
Of the 205 buyers at the show, 20 percent were international guests. Show attendees represented retail names such as Macy's, La Maison Simon, Asos and Everything But Water.