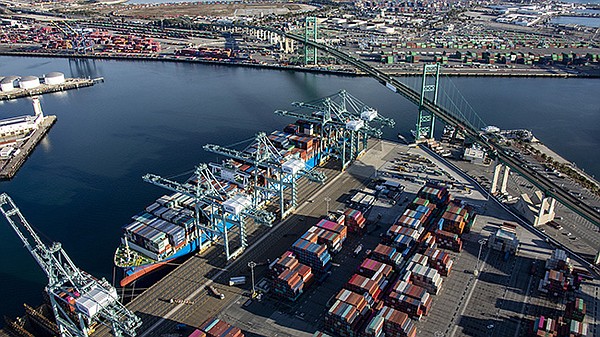 SUPPLY CHAIN
Port of L.A. Receives Infusion of Grants for Infrastructure Upgrades
Supply-chain woes may disappear like last year's fashions thanks to a grant injection from state government to improve the Port of Los Angeles. The harried maritime hub has been awarded $233 million in grants from the State of California to complete essential infrastructure projects aimed at creating a more efficient and sustainable supply chain.
"This nearly quarter-billion-dollar investment in critical Port of Los Angeles projects––along with an additional $191 million in supporting regional projects––will accelerate our efforts to boost competitiveness, create jobs and enhance decarbonization efforts," said Port of Los Angeles Executive Director Gene Seroka.
Projects slated for funding include the Maritime Support Facility Improvement and Expansion Project. MSF provides chassis and empty-container storage for all 12 container terminals at the ports of Los Angeles and Long Beach, which is critical to facilitating goods movement throughout the complex. The new funding will expand the area from 30 to 71 acres, while improvements will include utilities, drainage, sewage, and power and water supply. Also included is a plan to modify the intersection of Navy Way and Seaside Avenue to improve traffic operations, reduce collisions and improve safety. Improvements will add a new westbound auxiliary lane, eastbound two-lane collector-distributor road, off-ramp termini, as well as eliminating a traffic signal, among other upgrades, with a total project cost of $62.98 million.
Additionally, the Port of Los Angeles has received a $15 million grant from the California Transportation Commission for a four-lane grade separation on Terminal Island that will reduce truck delays and improve public safety.
The busiest seaport in the Western Hemisphere, the Port of Los Angeles is North America's leading trade gateway and has ranked as the no. 1 container port in the United States for 23 consecutive years. In 2022, the port facilitated $311 billion in trade and handled a total of 9.9 million container units, the second busiest calendar year in the port's 116-year history.