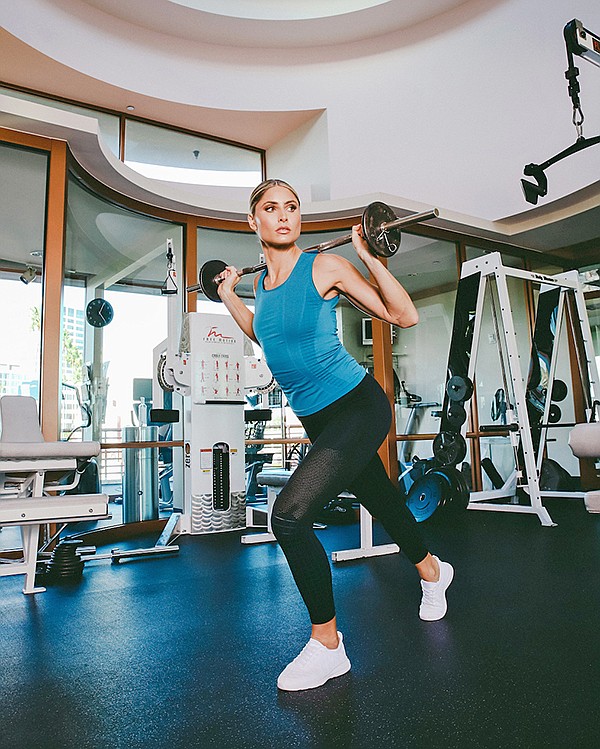 ACTIVEWEAR
Yella Activewear Encourages Movement Through Luxurious Fabrics
Making activewear in a luxurious hand is Daniella Mizrahi's mission, and the founder of Yella Activewear continues to raise the bar on the standards for her Los Angeles–based brand. While Mizrahi is driven to manufacture exquisite activewear, developing her brand has been more of a journey.
"I went through a two-year process of finding the right fabrics and found a family-owned and -operated supplier in Italy," said Mizrahi. "They have been doing just technical fabrics for the last 60 years. They are pretty advanced in what they are producing. The second element was always having been inspired by movement and physical activity as a way of feeling with an added layer of how we approach our mental health and mental well-being."
Mizrahi was also inspired by her father, Ovadia, who hails from Israel and is a former professional soccer player. Now in his 70s, Ovadia remains extremely active, which continues to influence Daniella. As a child, Mizrahi's father would often encourage his children to move quickly by using the Arabic word yallah, a command meaning "let's go." The brand's moniker is also a play on the second half of the founder's name.
"I've always been inspired by how my father approached [mental wellness] and how he inspired me to approach physical wellness," Mizrahi said. "That is something I want to share with people. I want to give people specific activewear that they feel confident and move and feel good in."
Launched in 2019, the line is created using luxurious fabrics made at family-run businesses in Italy and Portugal. Manufacturing of Yella's goods takes place throughout different regions of Europe, including Italy.
"We go mostly across Europe, and 60 percent is made in Italy from start to finish. We have some made in Romania, Portugal and Turkey. Sometimes you have to branch out a little bit depending on what you're making, so it is an Italian-owned factory that has places in Slovenia or Croatia," Mizrahi explained. "We have a new collection coming out at the end of the summer, and that is fully made in Italy."
Yella's Polyamide collection includes knits and wovens. Knit pieces are made in Italy with temperature-regulating, moisture-wicking, breathable, soft and feature-sculpting properties. The Portugal-manufactured wovens are breathable and sweat wicking to keep the body feeling cool. Both the polyamide knits and wovens resist the typical culprits that age clothing such as washing, sunscreen and heat, which can cause bleeding and pilling.
Aligning activewear with sustainability is often difficult, and Mizrahi approaches ecological mindfulness through her sourcing and development. Mizrahi's ecologically informed mindset relies on remaining intentional regarding her manufacturing partners and the quantities she produces.
"It's sustainability from the perspective of where things are made, our quantities and the factories that we use—being very intentional about what we're making and what purpose it serves. We try to source items that we know how they are made and who the supplier is," said Mizrahi.
Many of the Yella pieces also rely on bio-based fabrics whose raw materials are derived from non-petroleum sources. By sourcing fabrics whose origins stem from less-harmful materials, Mizrahi is making progress toward more-responsible activewear.
"We source this very specific fabric that is not made from plastic at all," Mizrahi said. "The raw material is a castor bean. You use less water, and you don't need as many finishings on the actual fabric because it's already embedded as a natural resource."
By the end of summer 2023, Yella will unveil its new collection, which will explore new colorways and a fresh, eco-friendlier fabric, Explosive Amni Dense, which is 58 percent polyamide with enhanced biodegradability in addition to 42 percent Lycra. The second-skin Explosive Amni Dense with a UPF 50+ is an eco-sustainable polyamide and boasts enhanced biodegradability. While Mizrahi is anticipating the new collection's release, she noted that there is an expansion on the Yella horizon.
"We're trying to develop modest activewear," Mizrahi revealed. "We want to provide high-end, high-quality activewear, which we feel is very much missing from that space. It's been overlooked."
Yella Activewear is made in sizes S–XL with retail price points at $98–$178 for leggings, $65–$118 for sports bras and $55–$78 for tops. The brand is available via e-commerce at yella-activewear.com and through Wolf & Badger, while it cultivates its bricks-and-mortar presence with retailers such as Neighborhood Goods in Austin, Texas.
"We're looking to more in-store partnerships and retailers, building out our wholesale," Mizrahi explained. "Eventually, in the next three to five years, we'll try to open our own bricks-and-mortar boutique in the L.A. area."
Photos courtesy of Yella Activewear.