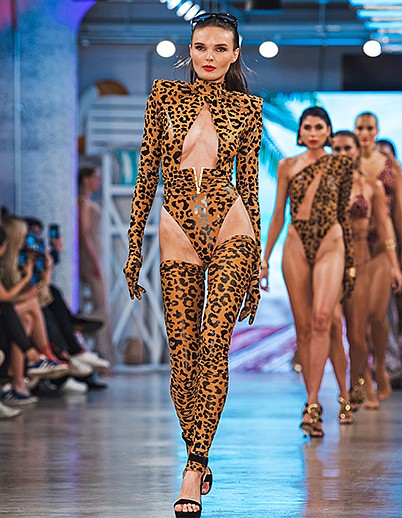 SWIM FASHION
Los Angeles Swim Week Energizes Market With Runway Shows
Los Angeles Swim Week hosted its second edition June 9–13 during Los Angeles Market Week through a partnership with Fashion Tech Works at The New Mart in downtown Los Angeles. The show's parent company, Art Hearts Fashion, continues to cultivate its support of artists and designers from its home state of California and around the globe.
"We were a packed house on a Tuesday during market week," said Art Hearts Fashion President Erik Rosete. "That is our main goal—to revitalize the fashion district in downtown Los Angeles. We were really excited because it brought a lot of people down here."
Los Angeles Swim Week attracted global powerhouse brands Nike Swim and Desigual, but a Michael Costello x Revolve finale on June 13 perfectly closed out the event. Michael Costello's festive, colorful resortwear and swimwear took to the runway and was available to shop on Revolve following the show.
"Growing our brand power compared to last year means we're doing something right and the trajectory is there," noted Rosete, who has been in talks with Perry Ellis International, Nautica and Lucky Brand.
Additional California designers and brands included Alexis Monsanto, Chaser, Cross Colours, Gyv Me Body, Henri Costa, Kentaro Kameyama, Liverpool, Milla Stone, Mister Triple X, Sugarpuss Swim, Saltwater Luxe and Tell the Truth. Designs from Baltimore's Bishme Cromartie and Lybethras from Brazil were also featured during the show.
"International brands coming to L.A. to do an L.A. swim week means we're elevating the bar because we were able to get them to come all the way here to support a swim week," Rosete said. "We've been getting so much love. The big Michael Costello and Revolve finale showed our growth."