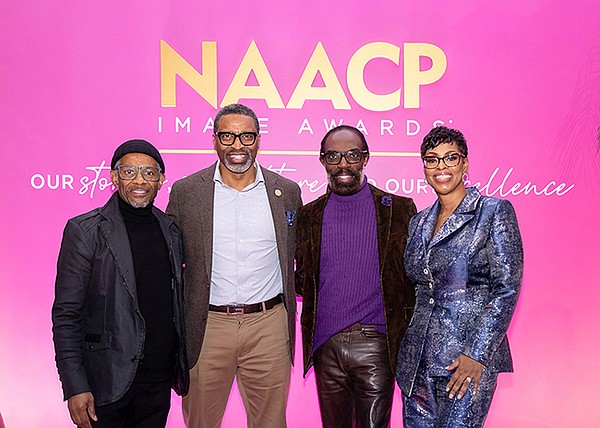 EVENTS
BDC and NAACP Reflect on 'Images: Fashion Moments in Time'
Ahead of the 54th NAACP Image Awards, which were held Feb. 25, the Black Design Collective and the NAACP hosted an "Images: Fashion Moments in Time" luncheon on Feb. 23 at L.A. Live in downtown Los Angeles to honor outstanding work in the recently added categories of costume design, hairstyling and makeup. Following the ceremony, the BDC showcased collections by a roster of groundbreaking designers and fashion houses.
"There's still protest in creativity, whether it is in the roles that we choose, the scripts that we write or the directions you give when you step out on the catwalk," said NAACP President Derreck Johnson. "We are here to celebrate Black essence, and let's be proud of what we have accomplished in our journey in this country."
The BDC NAACP Image Awards presentation featured heritage design houses and emerging designers whose collections set industry trends each season. This year's roster included Cross Colours, Harbison, House of Aama, In Earnest, Kenneth Nicholson, Kevan Hall and Kutula by Africana.
"Growing up in Texas, I found that it's difficult to find pockets of community that are inspiring. One thing [in particular] is toxic masculinity," Nicholson said. "So, to me, the fully expressed man just means having more choices and more options to express a full sense of self."
Industry veteran and co-founder of Cross Colours and the BDC, TJ Walker, noted that his 34-year-old brand continues to cultivate its reflection of hip-hop influences within fashion. "It became very clear to us that hip-hop was the huge influence of the brand because it is so influential in the culture. And it's a lifestyle. Hip-hop brings a lot of things to it that many people don't even understand," Walker explained. "It was also important that we made sure that it was represented by us. All the advertisements, all the promotions, were people of color."