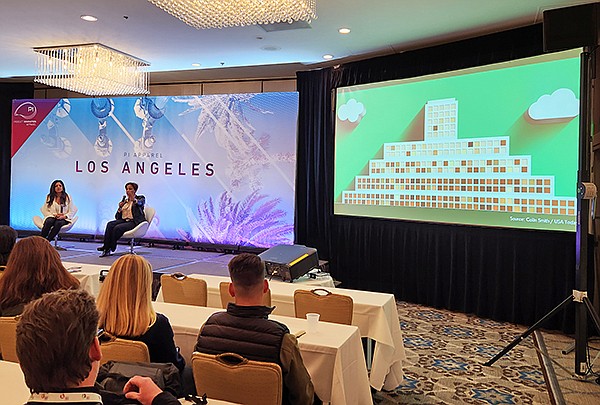 TRADE SHOWS
PI Apparel Los Angeles Promotes the Human Side of Innovation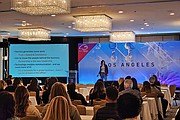 While product innovation is the foundation of MarketKey's technology-focused PI Apparel events, the Feb. 28–March 1 Los Angeles edition focused on human connections. Over the course of the event, hosted at the Sheraton Universal Hotel in Universal City, Calif., attendees learned how metaverse, NFT, 3D and PLM advancements can align employees and supply-chain partners to promote the longevity of their businesses.
"In the past, digital innovation was more philosophical," said Michael Barragan, director of the Merchandise Product Development Program at the Fashion Institute of Design & Merchandising. "Now, it's more concrete because it's digital, but it's real. The virtual world is really here. The more information we have, the more we're inspired by each other within the industry."
Innovations that connect brands with their supply-chain partners or potential collaborators illustrate how a once-competitive landscape is now becoming more collaborative. According to Nora Shaughnessy, a 3D CAD apparel and accessories designer at Brooks Running and first-time PI Apparel attendee, the event highlighted the benefits of working together as an industry rather than separately as individual brands.
"You're able to connect with your peers across brands and discuss, 'Hey, I've experienced this issue—how have you dealt with it?'—or 'I am using a certain system, what do you use?' and deciding what system is better," Shaughnessy said. "When you think about it, why have we been so secretive? Through collaborations—we see them everywhere—maybe we don't need to gatekeep as much because when you open it up you can get more benefits, whether it's sustainability or leveraging how you work as a company."
The human connection
Prioritizing the people behind the brands was a large focus of PI Apparel. During "The State of WOC (Women of Color) in Retail" session, Bumbershoot Chief Executive Officer and WOC Retail Alliance founder and President Kimberly Minor and Liza Amlani, principal and founder of the Retail Strategy Group, revealed the disconnect in communication within the executive-level decision-making processes, which often leads to missteps and scandals.
"It's the lack of the right person in the room and lack of giving that person a voice to speak up," Minor said. "They might be in the room, but if they don't feel like they're in a place where they can speak out and keep their job, they won't."
Citing USA Today data, Minor noted that while the retail industry comprises 70 percent women, this demographic represents only 29 percent of leadership roles. Considering 78 percent of retail executives are white, decision-making at these companies is limited to a narrow worldview when only 1.6 percent of leadership roles are occupied by African-American women, with even fewer Latinas and Asian women, which results in a disconnect that negatively affects the relationships between brands and consumers.
"We need to start collaborating more with the customer, because the customer is ever evolving, and assortments don't represent the customer," noted Amlani. "[Executives] are not getting out onto the shop floor and seeing what the customer actually looks like, what they're buying and why they're buying it."
Prioritizing sharing over secrecy
Apparel insiders are embracing technology tools in order to break down the walls of isolation that have plagued the industry for generations. Collaboration is now in style, as Tiffany Radon, manager of technical design for Carhartt noted during a session covering "Stronger Partnerships: Building Trust and Using Technology to Increase Speed Across Brands and Suppliers."
While Radon believes "secrecy generates more work," there is also hope for apparel companies that subscribe to the "technology enables communication" approach. Radon suggests becoming familiar with the people who are contributing to making products along the supply chain.
"Getting to know people like we did during the pandemic," said Radon, "getting to know people on that human level and building that trusted relationship with them so they can make decisions just like they are a member of the [technical design team]."
By using 3D design software, Carhartt's creative team is able to communicate more effectively with its partners. Working more closely together also builds trust, which helps brands become more confident in the collaborative environments they're building. This approach could also allow suppliers to work together more closely.
"How do we tap into that connected knowledge base of our suppliers and let them chat and build off each other?" asked Radon. "How do we ask vendor A and vendor B to work together on a garment wash and alignment or if it's a garment that's manufactured in multiple locations? We make millions and millions of our basic pocket tees a year—how do we make sure our suppliers are building it consistently?"
The show floor provided opportunities to put collaboration into practice as visitors and exhibitors discussed the state of the apparel industry and how potential partnerships could ease pain points. Aubrey Hernandez, creator growth manager for fashion and beauty at Amaze, joined Kornit at its booth. PI Apparel's collaborative environment provided an education for Hernandez to gauge the current apparel-industry climate.
"What are big brands and big organizations focusing on? Smaller brands are able to learn from that as well," Hernandez said. "We learn better when there is a lot of information and experts within their fields at one event."