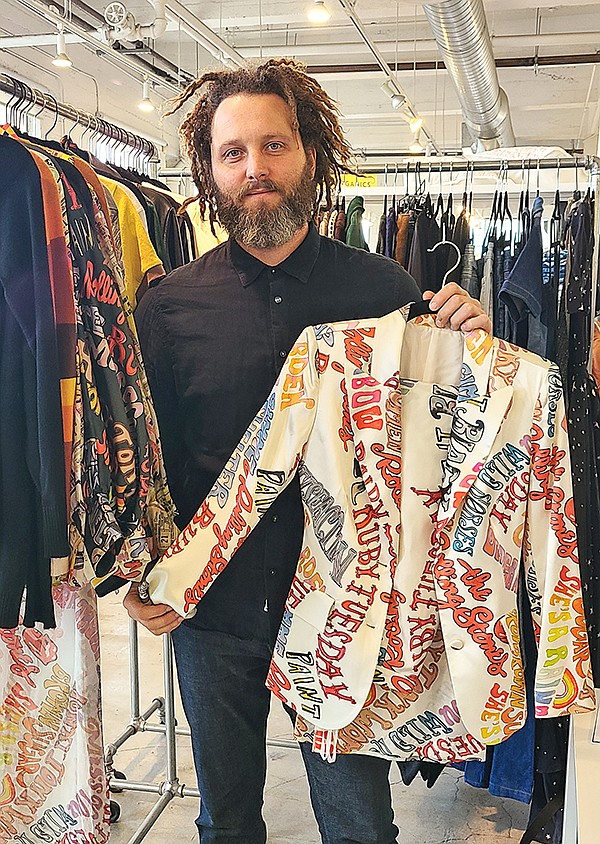 BRIGHT SKIES
Sunny Skies Forecast for Fall at L.A. Market Week
Weather forecast: rainy and gloomy. Fashion forecast: hot, bright and optimistic! Despite the rain, spirits were high as buyers arrived for Los Angeles Market Week, held March 12–16.
Many had planned their trips and set appointments, but with lots of first-time exhibitors throughout the fashion district—including brands from Italy at INSPR ITALIA showing at Brand Assembly at the Cooper Design Space and Designers and Agents at The New Mart (see page 2)—buyers also discovered new and exciting brands.
In addition, The New Mart hosted Pivot, a pop-up curated footwear show, while the Cooper transformed its tenth floor into a wellness and beauty show. At the California Market Center, Donegar|Tobe presented its insightful FW23 trend presentation "What People Will Wear." The Lady Liberty Building set up food stations throughout the space, and all the buildings served complimentary refreshments.
By the end of market, the sun broke through and the message for Fall became clear: It's all about fun and freedom of expression.
Breaking the rules at the CMC
The California Market Center in partnership with Brand Assembly presented Donegar|Tobe's take on where fashion is going. Timeless classics return, bringing menswear-inspired blazers, easy trousers and trench coats.
This year, however, the biggest message was one of a mashup of influences all styled without rules. Abandon conformity, express yourself. Mix mountaineer with disco queen. Think sequined pants with puffer jackets.
Moriah Robinson, CMC events director, said she saw boutiques, department stores and offprice retailers shopping all categories with many placing orders.
Over the years, longtime boutique owner Nicole Pascale of Nicole, with shops in Palm Desert and San Clemente, Calif., has moved much of her buying from Europe to local markets. "The Mart has evolved and changed—for the better," she said. "I am having so much fun. I love that it's not just sweats anymore, but people are buying blazers and blouses."
.
At Vero Moda, brand new to the CMC, the European sensibility came through with a twist. Its trend-driven collection included metallic-bronze skinny knitwear, iridescent colored metallic pleathers and printed sequins. Prices ranged from $6 to $75.
At DL1961, its sustainable leathers made it one of the top innovative companies of 2023. The leather collection featured great designs, including all the season's hottest silhouettes, from super-wide legs, cargos and maxi skirts to three-piece dressing. Prices ranged from $130 to $217.
L.A. brand Paige saw its flares and longer-inseam jeans continue to sell. And with suits being so strong, its latest were in velvet, with navy and berry getting strong placement and prices ranging from $113 to $127.
March madness at The New Mart
.
.
.
"Now I know where the expression March Madness comes from," said Tom Keefer, general manager of The New Mart, "as we enjoyed a frenetic L.A. Market Week with dozens of new brands. It's super exciting to see lots of positive energy."
Buyer-owner Maggie Parker of Maggie's Red Kitty Shop in Studio City, Calif., remarked, "March market has more designers; there has been so much to see this week."
On the third floor, Designers and Agents was a destination for retailers to discover a select group of designers. Love Binetti'swallpaper prints were created by Lolo Bonfati. Her exotic fantasy scenes of animals and plant life on silk ranged from $135 to $380. At Canadian Classics, the "it" item of the year, the puffer, was glamified in glossy high-shine iridescent, neon and colored metallics priced at $98.
.
In the Valerie Hambas Showroom, Dolcezza showed sherpa coats in printed abstract patterns priced at $105–$135.
At Marisol California, Nikki Yassemi, designer of Narces, presented a show-stopping collection of couture-like designs featuring floral appliqués, tulle, fishnet and sequins, with prices ranging from $800 to $3,800.
Eternelle, in the Mary Minser Sales showroom, presented a classically chic collection called Hearts & Love, beautifully accented with brushed metallic touches on camel and heather gray with prices ranging from $83 to $159.
At Salaam, easy knit dressing priced $32–$78 was selling. New print orders were being placed by Tina Snow, creative director and apparel buyer for the Phoenix Shop in Big Sur, Calif. "Whenever I bring in their printed surplus top, it sells out," she said.
Nicole McLain from Charlie Loves Coco in Costa Mesa, Calif., and the Seaside Gallery in Newport Beach, Calif., said, "This has been a great show where I get to see all my vendors."
Pivot, the footwear pop-up show, exhibited on the eighth floor with a curated group of high-end brands.
Upbeat and international at Lady Liberty
Food, wine and fashion welcomed buyers to Lady Liberty, where showrooms presented an international look at brands from Los Angeles to Melbourne. CEO Empera Arye, said, "This market we had a steady stream of traffic, and the mood was extremely upbeat."
In the Collective Showroom, R.G. Kane, son of iconic L.A. designer Karen Kane, presented his namesake brand, which was both special and wearable. His floral blazer of recycled fabric at $190 and matching asymmetrical mini at $98 were clear standouts. Also at Collective was Atoir, an Australian brand known for its statement pieces priced from $125 to $350.
Attic and Barn, in the Edité Showroom, is a chic Italian label new to the U.S. market with a gorgeous color palette of metallic golds, neon tangerine and pink bursts priced from $99 to $300. Reviewing the line was Kim Stalder, owner-buyer of the Circular Boutique in Anchorage, Alaska. "I am looking to add to my assortment for Fall with a few new brands that are really special, like Attic and Barn," she said.
Classics reimagined at Cooper
.
Fall '23 brings back fashion moments of the past, and this nostalgic trend continues to evolve, always with a new twist. At the Cooper Design Space, brands interpreted "old skool" in new ways.
Brand Assembly welcomed back best brands along with exciting newcomers. At Wrangler, the essence of the '60s and '70s lives on in its retro Americana collection featuring styles from its archives. Bell-bottoms in stripes, poster prints and pop-art designs were priced at $51.
Lee redid its vintage Union-Alls and overalls in corduroy, denim stripes, textures and bleached-out fabrications, priced at $63.
L.A.-based Stoned Immaculate, designed by Elliot Hans, is a fantastic voyage into the world of rock 'n' roll. Hans created "a party at Château Marmont," and his Rolling Stones and David Bowie licenses were used for bodysuits, sweaters, satin crew jackets and silk blazers, with prices ranging from $124 to $275.
.
Catherine Gee presented timeless printed silks with historic references to Athens, as well as a Palmero equestrian theme. Classic shirts ranged from $74 to $144, while flowing drawstring pants were priced at $124. The season's statement piece was her belted street coat at $370.
The New West Showroom featured the luxurious line Maiami, consisting of knits made in Europe from high-quality yarns such as the finest mohair. Its cardigans from cropped to maxi lengths were priced at $200 and up and came in an array of colorful patterns.
"The Cooper Design Space had over 500 lines in over 90 showrooms catering to 1,200 buyers," said General Manager Margot Garcia. "Our entire Cooper community is now preparing and looking forward to our next exciting market week, June 12–15."