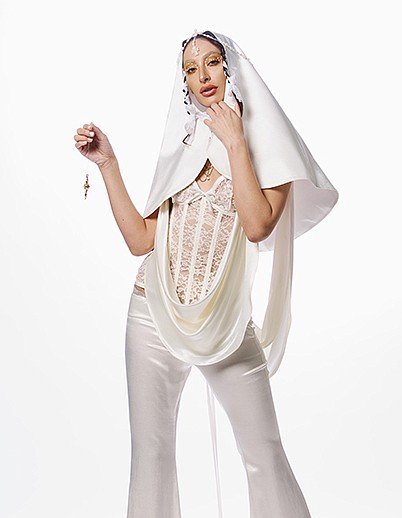 EDUCATED STYLE
Woodbury Students Showcase Works During 58th Annual Runway Event
The future of fashion and apparel design was on display May 7 during Woodbury University's 58th annual Runway Benefit at the Castaway restaurant and event space in Burbank, Calif. Under the theme of "Bricolage," students were tasked with creating collections via "new insights and interpretations in clothing," according to Anna Leiker, chair of the school's department of fashion design. The evening included presentations of sophomore- and junior-class designs and works by fashion-photography students, culminating with collections by graduating seniors.
Eight seniors were celebrated during a presentation in which each collection was reflective of the unique, distinctive vision of its respective designer. Ambrosheau Sharpe, Borja, Catie Lax, Dakota Simone Wallace, Fidelia Isabel Campos, Isabelle Marshel, Lucy Shahriari and Valeria Higareda introduced their own creative fashion concepts and expertly crafted pieces, leaving behind Woodbury University to grow as creative professionals within the industry and carve out their own professional fashion paths.
Within her Parental Advisory collection, Sharpe created pieces that celebrate Black excellence, remaining inspired by the music and cinema she enjoyed with her family while growing up, along with a heavy 1990s-style influence.
Borja created the Prophecy collection to examine the intersection of religion and queerness, pairing holy imagery with materials including flowers, pearls, stones, natural fibers and dead-stock fabrics.
The 2:20 collection by Catie Lax celebrated the next-generation of athletes through performance wear that offers protection from the elements while also protecting the environment.
Bleu Roots by Wallace relied on inspiration from her family's love of denim to create tailored pieces in this textile that crosses boundaries and connects people across generations, backgrounds and geographic locations.
Through the L'Amour De Soi collection, Campos paid homage to her great-grandmother's legacy as a designer but also blended her own background in fine arts with fashion.
Inspired by surrealism and cubism, Marshel sought to design beyond established rules to create her own style, which she described as maximalist with "the more color, patterns and textures the better."
Shahriari created the When We First Met collection of pieces, which ranged from funky miniskirts and sparkling sequin dresses to romantic gowns based on the concept of the hopeless poet who finds comfort and self-discovery through music.
Relying on embroidery and textile elements of Mexican culture, Higareda created the Ticualtzintin collection through modernizing characteristics of the country's traditional clothing to create fashion.
While Woodbury's seniors owned the evening, the school also honored alumni See Wah Lee and Melissa Zarate with the school's Innovation Award as they transitioned from fashion design to STEM as SpaceX spacesuit designers.