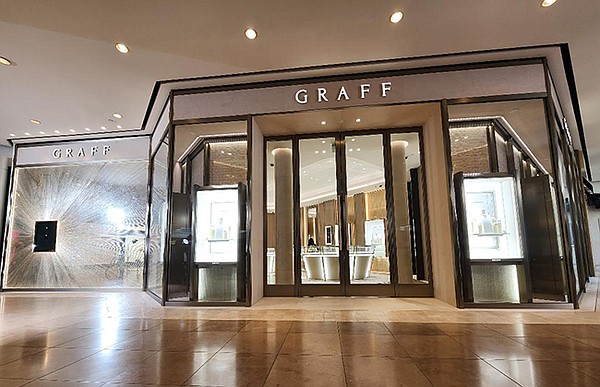 RETAIL
Graff Chooses South Coast Plaza for Its First Standalone SoCal Salon
South Coast Plaza recently welcomed luxury jewelry-maker Graff to the Jewel Court section of its Costa Mesa, Calif., space. The Oct. 30 opening of the London-headquartered Graff salon is the first freestanding boutique in Southern California and the second in the state, following a San Francisco location. It joins a list of nine salons in the United States and 64 around the globe as the holiday shopping season begins.
"South Coast Plaza is one of the leading luxury retail destinations in the world," said Marc Hruschka, president and CEO of Graff USA. "With the Orange County area known for its affluent and influential community, it only made sense for Graff to have a presence there."
Graff enlisted interior designer Gwenael Nicolas to share his vision for the new boutique, which measures more than 1,900 square feet. All of the salon's features are bespoke designs created for this specific location to create a luxurious yet warm, welcoming and friendly atmosphere.
The salon's exterior features a wall of gold leaf–filled chiseled glass in the shape of a sunburst with a vitrine encasing Graff's 32-carat oval fancy vivid yellow diamond watch serving as its center. Graff imported the glass from Italy in a single piece and completed the salon's façade with limestone sourced from a French quarry.
Natural textures and hues are found throughout the salon's interior, which includes three distinct areas representing the jewelry house's individual pillars: high jewelry, collections and bridal. It is the first of the house's salons to feature a separate fragrance display, whose design was inspired by the 302.37-carat Graff Lesedi La Rona diamond.
This recent opening signals the potential for additional Graff salons in other Southern California neighborhoods known for their affluent residents and luxury offerings. "Graff will always prioritize calculated, qualitative growth—it's not about how many salons we can open in a certain time period; in fact, this is our first new market opening in over a decade," Hruschka explained. "For example, Rodeo Drive in Beverly Hills has been on the list for a while, but we will only move forward when our criteria are met."