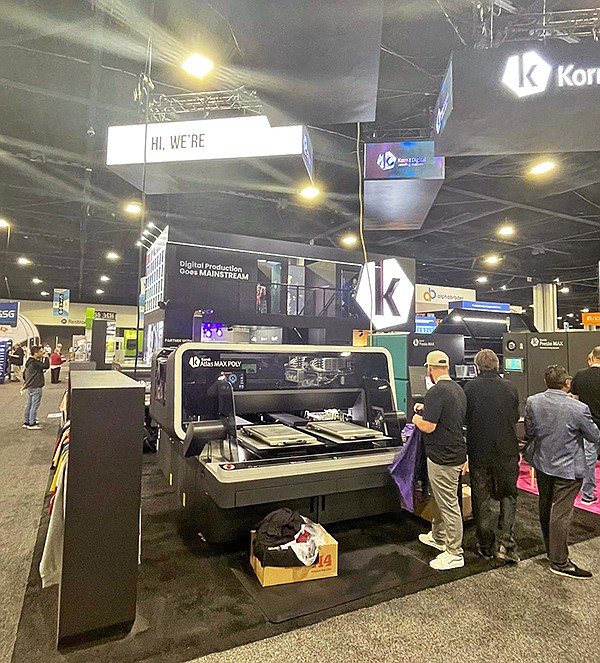 TECHNOLOGY
Kornit Offers Solutions, Strength to the Apparel, Textile Community
The Israel-Hamas War may seem oceans away to most of us, but for Kornit Digital it's right outside the office windows. The leading technology provider is headquartered in Rosh HaAyin, Israel, where it straddles the surreal balancing act between the forefront of innovation and the battlefront of an age-old conflict.
Over ten Kornit employees were directly impacted by the war that began last month, said Kornit CEO Ronen Samuel at an exclusive press conference on Oct. 19 at the PRINTING United Expo in Atlanta. "It's impacting many of us, and we also have employees who are now serving in the army in the reserve force. We have close to 70 employees serving the borders of Israel.
"We are making sure our customers will not feel any impact of this event," Samuel continued. "We made checks of all the inventory, of spare parts, of ink, and we have enough inventory in the regions outside of Israel—and our ink plant in Israel is operating fully—to support our customers beyond peak season. Israel is a strong nation, and Kornit is a strong company."
The timing was poor, but no time is a good time for war. Kornit Digital is coming off of unprecedented success at both PRINTING United Expo as well as the ITMA Milan 2023 show, where it unveiled its cutting-edge digital solutions.
"At ITMA Milan 2023, we said this shift was happening—and happening fast," said Samuel. "Since then, our on-demand digital-production portfolio has helped transform real customer challenges into new opportunities. We're proud to highlight the reality of digital production going mainstream with our MAX technology."
"We've repeatedly stated that the fashion and textiles market is changing at unprecedented speeds, leaving brands and fulfillers struggling to keep up," added Don Whaley, vice president of Kornit Digital Americas, in exclusive remarks to the California Apparel News. "Analog supply chains cannot meet the new market demands for unlimited creativity, the surging creator-led economy and rapid response to customers."
It is a time of both conflict and crossroads, when opposing forces pull in contrary directions and those caught in the middle struggle to stay upright. "There's no doubt that the fashion and apparel industry is stuck at a crossroads," Whaley said. "The industry is often held back by slow and broken supply chains and wasteful production. Kornit is leading the way in making real transformation possible, such as with Kornit Apollo, a true platform for agile, high-throughput production on demand. Apollo transforms what producers and brands can do, empowering them to meet the creative inspirations and ever-changing demands of a global community with capabilities that fulfill expectations with quality, consistency, sustainability and profitability—no matter what trends await."
Kornit's solutions on display at PRINTING United Expo featured efficient, single-step, direct-to-garment and direct-to-fabric technologies; robust pigment ink sets; and energy-efficient smart curing systems. Kornit has also announced a new partnership with Adobe, which will provide the foundation for the next generation of Kornit's Raster Image Processing (K-RIP) software. Fueled by the Adobe PDF Print Engine, K-RIP is engineered to help brands and producers deliver repeatable, reliable images for the highest quality in digital garment decoration.
Global expansion for brands and producers is now also available as a service, Kornit announced at the expo. KornitX connects brands with a global fulfillment network of Kornit MAX users.
"As the market shifts toward smaller MOQs and reduced inventory, our adoption of Kornit MAX technology enables faster response and scalable short runs—up to 400 prints per hour with a single operator," said Kornit customer Jaymes Clements, executive vice president of print on demand production at Mad Engine Global. "By integrating Kornit Apollo into our MAX-powered fleet, we're not only expanding our capacity but also unlocking opportunities in untapped brand markets. With enhanced retail support and expanded license coverage, we're poised to make a significant impact in these new horizons."
At Kornit's PRINTING United Expo press conference, CEO Ronen Samuel said his company is stronger than ever and united in its opposition to what he called a battle of humanity against evil. "Among the values we share are commitments to free speech and self-expression, rational discourse, diversity, the dignity of humanity, and the abhorrence of antisemitism and racism. Our employees, their families, partners and the entire community are in pain, and there is no greater moment for us to pull together with love and support. As Albert Einstein once said, 'The world will not be destroyed by those who do evil but by those who watch them without doing anything.'"
"Kornit is committed to the uninterrupted success of our business, customers and community," added Whalen, "and we do not expect customers to encounter any disruptions. Our operations, including R&D and production facilities, are fully functional, and we're dedicated to maintaining business continuity and prompt service. We have strong reserves across all operating regions to meet demand throughout the upcoming peak season and beyond."
Kornit Digital was founded in Israel in 2002 and today provides customers in over 100 countries with digital-printing systems, inks, consumables and a global ecosystem that manages workflows and fulfillment.