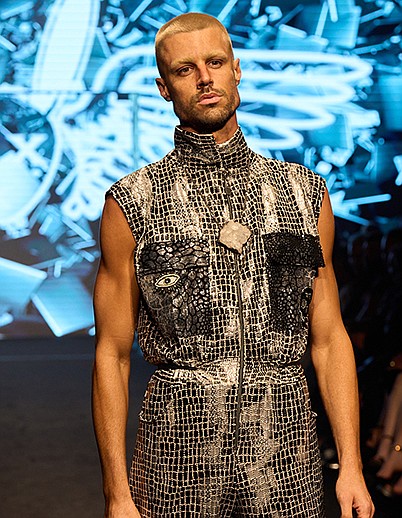 CULTURE & COMMUNITY
LAFW Powered by Art Hearts Fashion Celebrates Culture and Community
Los Angeles Fashion Week Powered by Art Hearts Fashion returned to The Majestic Downtown in Los Angeles for its Oct. 19–22 run.
Art Hearts Fashion's roster of California designers included Argyle Grant, DeanZign, Giannina Azar, Coral Castillo, Cross Colours, Kentaro Kameyama, Michael Costello, Mister Triple X, Natalia Fedner, Love for Upcycling, Walter Mendez, Alexis Monsanto and Tell the Truth.
Heritage Los Angeles streetwear brand Cross Colours presented its latest collection during the final show, while the brand used this platform to also celebrate the 50th anniversary of hip-hop.
Fedner, who is from Ukraine and is now based in Los Angeles, presented her patented Liquid Metal fashion and chainmail pieces. The designer continues to rely on a vegan and sustainable approach to fashion.
This edition of the Erik Rosete–founded production stood out as Art Hearts Fashion received recognition from Los Angeles Mayor Karen Bass. The honor was bestowed upon Art Hearts Fashion for its contributions to the city and its growth, which led to the October 2023 shows.
The Art Hearts Fashion team continued to give back beyond this recent edition through collaborations with designers to support and heal the Los Angeles community.
Prior to Love for Upcycling's presentation showcasing its most recent designs, the company's founder and lead designer, Jose Alexzander, transformed a previously owned garment into a fresh, new piece on the runway. Alexzander showcased his talents for giving new life to secondhand goods—a craft the designer has developed over more than three decades working in sustainable fashion.
"We've put out a special call to all attendees and models who participate in the castings to donate clothes and shoes to our recycling program this week during LAFW," Alexzander said.
Donations received during Art Hearts Fashion were donated to unhoused residents on Los Angeles' Skid Row during outreach performed by Love for Upcycling Oct. 23–28.