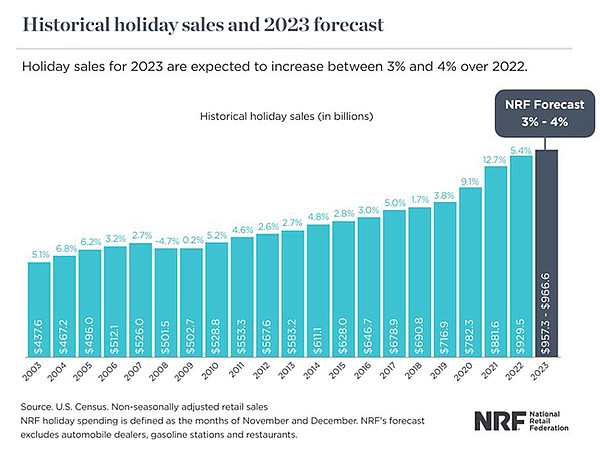 RETAIL
NRF Forecasts Consumer Holiday Spending to Exceed $957B
The National Retail Federation forecasted 2023 consumer holiday retail spending will reach between $957.3 billion and $966.6 billion, reflecting 3 to 4 percent growth over 2022. The forecast covers spending Nov. 1–Dec. 31. Holiday shoppers will spend an average of $875 on gifts, decorations, food and other seasonal goods, the NRF revealed during a Nov. 2 call.
Fifty-eight percent of shoppers plan to spend online, 49 percent at department stores and 48 percent visiting discount shops. Consumers are expected to spend between $273.7 billion and $278.8 billion online and in other non-store sales, an increase between 7 and 9 percent, up from $255.8 billion in 2022.
The NRF expects retailers will hire between 345,000 and 450,000 seasonal workers, remaining steady with the 391,000 holiday personnel hired in 2022.
"[Consumers'] capacity to spend and their resources to devote to priorities especially on essential items has been supported by historic wage growth and the resilience and strength of the job market and the historically low unemployment rate. We think that will continue to support consumer activity throughout the holiday season," said Matthew Shay, NRF president and CEO.
Growth has been slower compared with the past three years when consumer spending was bolstered by stimulus payments, but 2023 holiday forecasts are consistent with an average annual holiday increase of 3.6 percent from 2010 to 2019. Shay also noted that retail sales have grown year-over-year for 41 consecutive months, since May of 2020.
Gift cards remain popular with 55 percent of consumers, who reported they enjoy receiving them. Clothing and accessories also rank high on holiday wish lists followed by video games and media in addition to beauty, according to Jack Kleinhenz, NRF chief economist.
Despite its forecast predicting record consumer holiday spending, the NRF reported continued financial challenges that will influence shoppers' decision-making this season such as high gasoline prices, inflationary pressures, high credit-card interest rates and the restart of student loan payments. Consumers will also keep in mind external factors such as the threat of a government shutdown, decisions made by policymakers and geopolitical issues. An expected El Niño could also dampen the holiday shopping experience depending on its strength and the weather patterns it produces.