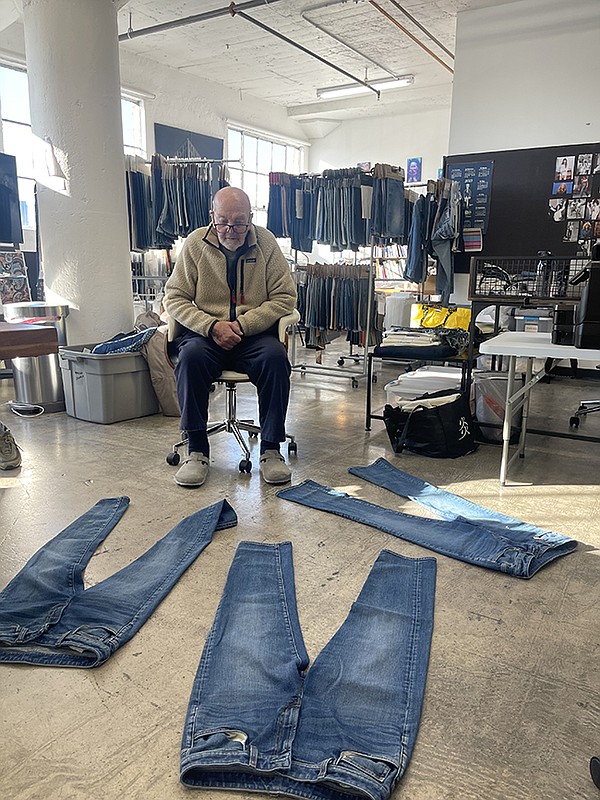 DENIM
Adriano Goldschmied Pushes Denim's Evolution Through Past Lessons
    After a 50-year career in the denim industry, Adriano Goldschmied is ready for a change. The "Godfather of Denim" has relaunched House of Gold, the agency that he founded in 2014.
A few years back, during House of Gold's first years, Goldschmied had hoped to elevate the quality of affordable denim in order to promote sustainability for the mass consumer rather than allowing responsible pieces to only be accessible to a chosen few. Now, for House of Gold's encore, the agency will focus on the building blocks of creating a sustainable-denim industry around the globe. By maintaining his previous vow of cleaning up the denim business, Goldschmied is embracing this next chapter by taking lessons from the past while applying important lessons to direct the denim industry toward more-responsible practices for the future.
Time for a change
Nearly 10 years after first launching his House of Gold agency, Goldschmied has relaunched with a greater focus on denim sustainability, from the fiber sourced on the farm to the final finishing process. Goldschmied revealed the news in September that the recharged House of Gold would bring with it a new partner, industry veteran Filippo Donati. Through his 25-year-old firm Dona Trading Inc., Donati has represented Italian mills including Eurojersey, Lanificio Cangioli, Lanificio Balli, Achille Pinto, Beppetex and Cafissi through its New York office and Los Angeles showroom.
"I met Filippo a long time ago, and I was impressed with his ability to sell and bring to market the best fabrics from Italy and his deep knowledge of the elevated American customers," said Goldschmied. "Filippo has extensive experience at a high-end agency, and, from my side, I have a long experience in denim, product development and sustainable innovation. This way we feel the customer can count on great fabrics and fair distribution."
The new House of Gold also features a fresh agreement with Pakistan denim mill Rajby Textiles Private Limited, which positioned the agency as the denim mill's U.S. sales representative. Rajby Textiles' Cradle-to-Cradle certifications align with the House of Gold mission to cultivate sustainable resources. Other certifications that the mill has secured include Oeko-Tex, WRAP, GOTS, ZDHC, Better Cotton, Global Recycled Standard, Organic Cotton Standard Recycled 100, the Higg Index, Clean Chain and Cotton Made in Africa.
Rajby Textiles shares the House of Gold commitments to producing eco-friendly products; a circular economy; responsible climate and energy practices such as the use of chemicals, efficient materials and water conservation; and ethical sourcing. The mill also remains a supporter of its community through empowering its employees and neighbors.
Sustainable fibers such as organic cotton, hemp, linen, Circulose, CicLO, Repreve, Sorbtek, PIW, PCW and bio-polyester all play an important role at Rajby Textiles to move the eco needle. The company relies on dyeing technologies such as salt-free methods, halo dyeing and ZDD dyeing, which allow Rajby Textiles to reduce water and chemical consumption to yield low EIM scores.
It has also implemented ZDF and Less Water finishing and boasts an effluent treatment plant, a caustic recovery plant and heat-recovery boilers for steam generation. A CO2-recovery plant is scheduled to open in 2024 with the installation of a 2,000-kilowatt solar array planned by 2025 and a reverse osmosis and ultrafiltration plant by 2026.
"The collaboration and the business relationship with Rajby has been a goal for House of Gold," noted Goldschmied. "We are very focused on that, and, of course, we influence each other. From our side, we understand the mill better and their textile world. On their side, they understand better the needs of the American market."
Rajby Textiles recently became an independent denim mill after parting ways with Rajby Industries. The move has made Rajby Textiles a separate entity with its own capabilities to perform in-house weaving, dyeing and finishing. The mill is able to produce 3.2 million meters every month. It employs 1,500 people in its Karachi, Pakistan, facility.
"Adriano and I share a love of premium fabrics," Donati said. "We were both impressed by the quality of the denim produced by Rajby and are enthusiastic to introduce the mill to the U.S. market."
The culmination of a busy year
Goldschmied also released a collection with Italian clothing company OVS in September. The collection was created through Goldschmied's design company Genious Group and offers timeless, stylish—and sustainable—denim at an affordable price.
"It is very important work, as I proved sustainability is not eliterian but is possible to make designs through the best ways that will reduce negative impacts, using less water, eco-chemical and less energy," noted Goldschmied.
The launch of the collection with OVS came on the heels of Goldschmied's reintroduction earlier this year of his Daily Blue line, which debuted in 1974.
"When I decided on the relaunch, I thought about bringing back the same enthusiasm and passion for fashioning creativity," said Goldschmied. "At that time [of the launch] I was indicating the way to go for denim in the future, and I like to do the same today. Times obviously are different, but Daily Blue explores the contemporary aesthetic and the right way to conduct business."