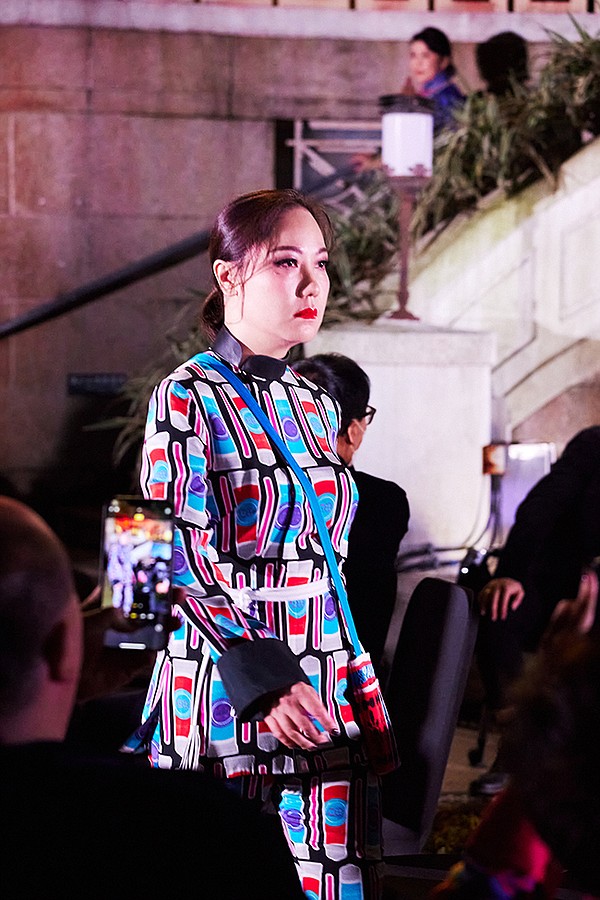 EVENTS IN L.A.
From the Runway to the Trade-Show Floor, L.A. Pulls Out All the Stops in October
If there were ever any doubt about L.A.'s status as a world fashion capital, it should evaporate like rain in the California sunshine. The pandemic hiatus has only allowed producers to reimagine, reinvigorate and relaunch their events, and October market and fashion week will show the diverse range of L.A.'s creative juices flowing full and free. Here's a guide to what's going on; plan on a busy week if you hope to catch it all.
Art Hearts Fashion
Art Hearts Fashion is thrilled to celebrate 10 years of producing shows and will mark its decade-long reign at the Majestic Downtown Oct. 19–22. Showcased on the runway will be a mixture of both globally recognized and emerging brands, including Custo Barcelona, Desigual, Black Tape Project, Original Penguin, Giannina Azar, Carlos Pineda, Natalia Fedner, Mister Triple X, Cross Colours, Pink Melon Swimwear, Michael Ngo, Kentaro Kameyama, Coral Castillo, Anthony Rubio, Walter Mendez and Willfredo Gerardo.
The event will also highlight leading Latinx designers, many of whom are also based in Southern California. "Art Hearts Fashion will have a special spotlight for L.A.-based Mexican-American designers," said founder Erik Rosete, "while bringing together the fashion industry's top tastemakers, content creators, celebrities and influencers to present the season's latest trends and collections." Rosete, who was born and raised in Los Angeles, is a prominent Latin American serial fashion entrepreneur and fashion designer known for Mister Triple X.
Art Hearts Fashion also produces shows in New York, Miami, Milan and Paris and has built a reputation for bringing together renowned and innovative emerging designers to propel fashion forward.
California Market Center
The CMC will once again present an exciting, experience-filled L.A. Market Week Oct. 9–11. In addition to debuting new showrooms and brands, CMC will host a variety of special events to connect the fashion industry, including a trend presentation in collaboration with Doneger | Tobe, the latest styles from Brand Assembly and its popular Sunset Celebration rooftop party.
Entitled "What People Will Wear | Spring 2024," The Doneger | Tobe presentation will be held Oct. 10 from 9 to 10 a.m. on the rooftop terrace. Hosted in partnership with Brand Assembly, registered CMC buyers and Brand Assembly guests will be treated to a light breakfast as they learn aesthetic drivers and design direction for the season. Registered buyers, tenants and industry guests are invited to wrap up the market with the Sunset Celebration from 5 to 7 p.m. The popular event promises to be a memorable evening filled with cocktails, hors d'oeuvres, music, networking and cinematic Downtown L.A. views.
"We are looking forward to another fantastic Market Week in Downtown L.A.'s Fashion District," said CMC Events & Marketing Director Moriah Robinson. "We're thrilled to be aligning our continued partnerships with Brand Assembly, the Cooper Design Space, the Lady Liberty Building and The New Mart. Together we create a marketplace that offers over 2,500 brands in Los Angeles for buyers to shop."
Cooper Design Space
Originally built in 1927 to serve the apparel industry and today is home to over 500 brands, the Cooper Design Space is another top destination during fashion and market weeks. Oct. 9–12, organizers invite attendees to book accommodations with its participating hotel partners, which include The Hoxton, Hotel Per La, The Freehand, The Ace Hotel, The Downtown Proper and Hotel Indigo. Also included at the event is the Brand Assembly show, which runs Oct. 9–11. Highly regarded for gathering the best emerging designers as well as top retailers, Brand Assembly hosts over 250 contemporary brands in an immersive environment and typically draws over 1,000 buyers.
Los Angeles Fashion Week
L.A. Fashion Week makes its glorious return Oct. 18–22 at NYA Studios in the heart of Hollywood, pushing creative boundaries over the course of five days and featuring a mix of innovative fashion presentations, runway shows, interactive activations, parties and more. Curated by Noah Kozlowski, vice president and head of designer relations at show producer N4XT Experiences, LAFW's designer roster "stands as a testament to the dynamic and diverse landscape of the fashion industry," the company said, "highlighting N4XT Experiences' commitment to inclusivity through innovative programming across our four key pillars of fashion, beauty, technology and sustainability."
"We are excited to build upon the momentum of last year's LAFW under the reimagined vision of Ciarra Pardo, co-founder and LAFW president," said Kozlowski. "Each brand has been carefully selected to reflect the dynamism of the fashion industry, with important opportunities to introduce new names to center stage and help them grow their businesses globally. Our goal is to inspire the next generation of creators as well as audiences. There is something for everyone."
Formerly known as Goya Studios, NYA Studios encompasses 55,000 square feet; its central location offers a multifaceted campus where all scheduled runway shows and experiences will conveniently take place under one roof. Amenities include four large sound stages for runway shows, a rooftop deck with sweeping Hollywood vistas and a Dolby-certified screening room where curated fashion films will premiere. In addition to the fashion and beauty physical experiences, organizers will also be bringing back N4XT Chats, a roster of panels, master classes and fireside chats covering a range of topics from fashion and beauty to sustainability and technology.
L.A. Fashion Weekend
L.A. Fashion Weekend is scheduled for a soft relaunch Oct. 11 during Los Angeles Market Week with a one-night event at I|O, the panoramic rooftop bar located at The Godfrey Hotel Hollywood.
With a runway show and dancing to a live DJ, the event is organized by Endless Road Entertainment, which was founded in 2005 by CEO Mikey Koffman. L.A. Fashion Weekend was created to fill the void left by Smashbox Studios and IMG, moving the biannual event to Hollywood at Sunset Gower Studios beginning in 2009, where it remained until the pandemic.
"With art by Los Angeles native artist Nick Petronzio in partnership with curator Kevin Barry Fine Art, interior-design firm The Gettys Group and architect Steinberg Hart, this new hotel embodies the energy of—and in a way defines—new Hollywood," said Endless Road Entertainment. "It arrived at an exciting time for the neighborhood as major entertainment, tech and creative houses now call the area home." The 12,000-square-foot rooftop bar features a 70-foot projection-mapping video wall, two bars and a swimming pool.
"L.A. Fashion Weekend is about the business of fashion, utilizing the runway as a buying tool for retailers during L.A. Market Week. We focus on consumer-driven brands that lend themselves to the California lifestyle," said Koffman.

Lumiere Runway
True to its name, Lumiere will light up the fashion world with its high-concept event on Oct. 21 at Sony Pictures Studios. The event boasts an impressive lineup of international fashion designers and exceptional performers, all carefully curated from a pool of dynamic talents.
In addition to the fashion presentations, Lumiere Runway has made it a special priority to showcase unique sustainable eco-couture masterpieces from around the world, raising awareness for fashion that can be earth-saving as well as earth-shaking.
As a testament to its global reach, Lumiere Runway is excited to announce the participation of the Hong Kong–based luxury fashion brand Sparkle Collection, which will be making its debut U.S. appearance. "The Sparkle Masterpiece Collection is a showcase of haute-couture bespoke cheongsams," said Lumiere organizers, "exclusively custom-tailored and exquisitely handcrafted by the award-winning Hai Pai cheongsam master and proudly made in Hong Kong."
In keeping with the global theme, attendees are invited to immerse themselves in the ambiance of a Paris- and Milan-inspired fashion spectacle, enriched with California's premier entertainment offerings and all within the distinguished setting of Los Angeles. Lumiere Runway offers a unique opportunity to connect with industry leaders, emerging brands as well as international fashion and cinema producers.
The New Mart
Located in the heart of the Los Angeles Fashion District, with 100 featured showrooms and over 500 world-renowned fashion brands, The New Mart will once again be a key destination for buyers during market week, Oct. 9–12.
Included in the event is Designers and Agents, which takes place on the third floor and runs Oct. 9–11. D&A is an independent trade event known for changing the landscape of the modern trade-show experience through its pioneering approach to curation. D&A implements a rigorous screening process, according to the company, resulting in brands that can boast "originality, creativity, integrity and exceptional quality. D&A's distinct point of view and keen eye make it a key destination where retailers discover resources that will distinguish their stores from the status quo."
Vegan Fashion Week
What rhymes with fashion? How about compassion. The rhyming couplet combines on Oct. 9—Indigenous Peoples Day—at the fifth annual Vegan Fashion Week & Fundraising Gala at the California Market Center.
This year's theme is entitled "Harmony" and will be an exploration of the transformative power of fashion as a catalyst for personal and societal change and a symbol of human evolution. "It embraces the notion of harmonious existences, not only among people, animals and the environment," the organizers said, "but also within the natural elements themselves."
Billed as a celebration of "cruelty-free fashion," the event includes a full roster of glamour, innovation and "ethical style" as forward-thinking designers showcase their sustainable and animal-friendly creations. Guests can discover the power of fashion to make a positive impact without compromising on style while mingling with like-minded individuals who share a passion for fashion and a cruelty-free lifestyle.
But Vegan Fashion Week is more than just a fashion show, according to the organizers. It's also a fund-raising gala dedicated to supporting animal rights and promoting a cruelty-free lifestyle. By attending, guests will contribute to various initiatives on and off the runway and help create a kinder world for all beings.