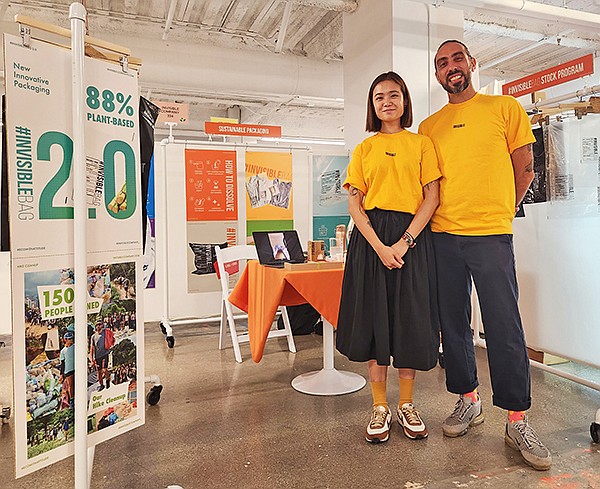 TRADE SHOW REPORTS
LA Textile FW24/25 Inspires Innovation, Eco Responsibility, Collaboration
The California Market Center hosted the Fall/Winter 2024/2025 edition of LA Textile Sept. 27–29 as the fabric and sourcing show celebrated its 30th anniversary. This edition of LA Textile drew many visitors from the Los Angeles area but also attracted attendees based throughout the West Coast.
According to the CMC, attendees were also expected to travel in from Canada, Central America, South America and Africa. Registered attendees included A.L.C., Banana Republic, Cross Colours, Cult Gaia, Disney, GAP, Joe's Jeans, Johnny Was, Karl Kani, Lululemon, Ralph Lauren, Savage X Fenty, Stüssy, TravisMathew, Trina Turk and Vince.
While many major brands were in attendance, show director Moriah Robinson also looked forward to welcoming emerging labels and entrepreneurs.
"There are some attendees that have fantastic Etsy stores," Robinson said. "They'll be doing smaller quantities, but they're still here to buy."
Fresh educational offerings
A new addition to LA Textile was the Yarn & Knits Pavilion. The section was created in collaboration with Hasan Erdal of New York City's Yarn Mavens as a showcase of international manufacturers that serve this market. LA Textile also partnered with NellyRodi Paris to build a trend exhibit focused on yarn and knits as a focal point of the section.
"L.A. is the most important emerging market. It's one of the few places where there is a new brand every week," said Erdal. "Knitwear is not a scary thing. It's a very approachable area of fashion that brands shouldn't be afraid of. With cut-and-sew you have your fabric, you know what your final garment looks like; with knitwear, it's a cord of yarn. It could be anything—it's sort of magical."
LA Textile's schedule included informative seminars to inspire creativity with trend forecasting and provide guidance for building a fashion brand. Information sessions also featured commentary regarding sustainability, domestic manufacturing and the use of AI across the fashion industry.
In addition, the show featured trend exhibits by Delta, British Columbia's KenDor Textiles and Peclers Paris and the return of the Turkish Trend Area.
Tracking new trends in textiles
The show allowed brands to connect with their clients in a more intimate setting for sharing ideas and inspiration, according to Sana Aloni, a Los Angeles–based associate designer with Frame Denim. As a knitwear designer, Aloni looked forward to meeting with yarn mills and seeing fresh new offerings from exhibitors including Yarn Mavens and Consinee.
"Being in an environment to meet other designers and meet with mills I haven't met before," said Aloni regarding the reasons she looked forward to the show. "Also, a lot of exhibitors make a big effort to show something new during their presentations. That makes it special."
Going greener was also a consideration for Aloni, who was eager to discover new advancements in eco-friendly yarns.
"We always are interested to learn about sustainability, especially with the yarn mills. There are a lot [of details in] the way yarn is constructed, and they can tell us the information that we, as designers, don't know," Aloni said. "It's always something that we want to learn more about and incorporate into the line."
Designer Fanny Mena was also interested in learning more about sustainable options. Mena was enjoying the information sessions offered, particularly those focused on trend forecasting, and wanted to explore sustainability and brand building. Mena, who is based in Los Angeles, was also searching for fabric, trims and manufacturers that would align with her preference for green options.
"Working with sustainable partners is very important," said Mena. "We have to start caring and being responsible for our presence in this world."
Some attendees who visited LA Textile were examining options beyond their typical resources and trade-show schedules. Thomas Agasid, a product design and materials engineer at soft-goods consultancy firm bilio in Berkeley, Calif., visited the show to source fabrics and learn about fashion trends.
"We typically are at Outdoor Retailer and outdoor apparel, textile and manufacturing trade shows. This is a little bit different from the shows we typically attend," explained Agasid. "We're trying to understand trends from the fashion side and how that might inform what we do in our day-to-day work—mostly to compare and contrast how a fashion-driven trade show compares to something that is outdoor focused."
The innovative side of sourcing
Beyond the yarns, fabrics and trims at LA Textile, the show also included exhibitors focused on packaging. Hong Kong–based Invisible Company educated attendees regarding its water-soluble, biodegradable and compostable packaging bags.
"It's not only fabrics; it's not only packaging, but it's how they look for ethical business brands that incorporate sustainability," said Devana Ng, co-founder of Invisible Company. "Brands are not only here to find a supplier but also to find a supplier who can help them become more sustainable."
As Los Angeles continues to attract leaders in luxury, Matthew Schechter of Mainetti USA in Berkeley Heights, N.J., looks forward to serving the packaging and hanger needs of premium brands. The company's sustainable mission aligned with the show's attendees, and its products stood out as a high-end resource.
"The trend is sustainability and to approach a very traditional luxury aspect of elevated experiences in the most sustainable way possible, which is a very fine balance. But it's hard because of the materials that can be used," said Schechter.
Representing the fashion-development and branding firm Apparelmark, Andrew Drigola, co-founder and director of development at the Vancouver, British Columbia, firm, felt the show afforded opportunities for collaboration.
"More and more people are realizing they can't be secretive and gatekeep services. We're seeing, especially at this show, the collaborative component," Drigola said. "As the world gets smaller and more tools are available—especially AI—it's intrusive technology. Unless they partner or collaborate, brands will find they are going to be pushed out."