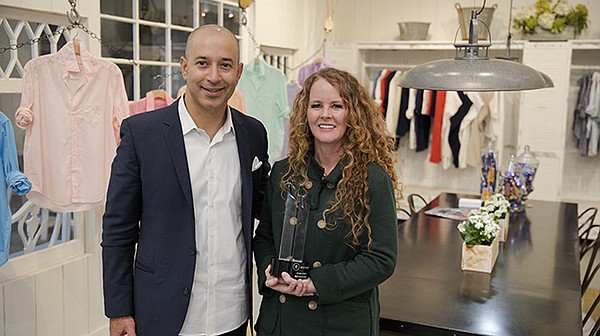 EVENTS
Los Angeles–based Frank & Eileen Takes Home 2023 MAFI Award
In 2009, Audrey McLoghlin first sourced responsibly crafted Italian menswear fabrics with the idea of reinventing the women's button-front shirt, an apparel item previously devoted almost entirely to men. The Los Angeles–based Frank & Eileen, as her brand came to be known, is now a global, omni-channel retail brand in addition to being a certified woman-owned and women-led business that has worked with the same ethical and sustainable manufacturers for over a decade.
Now it has received the 2023 Moss Adams Innovator Award, or MAFI. Meant to be lived in and loved, Moss Adams said in a release, Frank & Eileen's shirts also meet the Oeko-Tex Standard 100 global certification for the absence of harmful chemicals.
"I am thrilled and honored to be the 2023 Moss Adams Fashion Innovator Award winner," said McLoghlin, CEO and founder of Frank & Eileen. "Using our ability to be innovative as a force for good has long been core to everything we do. Our intentional approach to innovation has not only scaled our sustainable-from-the-start business and built an incredibly loyal customer base but it's also led to us receiving the highest impact score for any woman-owned, globally recognized apparel brand in the U.S. This award celebrates our commitment to slow fashion, made sustainably. And we're just getting started."
Frank & Eileen joins an exclusive list of designers who have been honored with the MAFI award. Presented annually to a California-based company, the award goes to winners that exhibit exceptional creativity and innovation, from design to marketing to commerce as well as sustainability and diversity over the past 12 months.
"Frank & Eileen is certainly deserving of this year's Moss Adams Fashion Innovator Award based on the innovation and growth achieved by the company over the last year," said Marco Valverde, partner and apparel national practice leader. "The company exemplifies our two newest criteria—sustainability and diversity—by being woman owned, having an all-woman-led executive team and attaining B Corp certification."