NEW LINES
Showroom Profile: Blankslate Showroom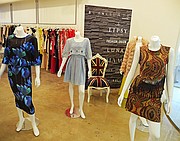 The New Mart, Suite 1108
(213) 614-7930
From London to Los Angeles … with a pit stop in West Palm Beach, Fla.
That is part of the business plan of the Blankslate Showroom, which opened at The New Mart for the Spring '16 LA Fashion Market.
Blankslate focuses on dress lines designed and made in the U.K. The lines are shipped to the showroom's Los Angeles–area warehouse, which is intended to provide a rapid, speed-to-market service to retailers across the U.S. The showroom's founder, Mark Hackney, is headquartered in West Palm Beach. His wife, Alnifa Hackney, designs one of the lines, called MAAC London, represented in the showroom. She also works on another one of the showroom's lines, Luna of London.
In addition, Blankslate handles Lipsy of London, a special-occasion and eveningwear brand that made headlines in the U.K. when the Kardashian sisters worked on a capsule collection for the brand in 2013. Other brands represented in the Blankslate Showroom include Arrow & Sol, a California-inspired line that features fringed tunics, vests and skirts made out of suede.
The Luna of London and MAAC brands stand out in this dress-focused showroom because they offer more separates such as pants and tops. The London Dress Co. offers semi-formal dresses. Closet London is focused on dresses and pants for women 35 and up. The Spring '16 line features a lot of blush and coral colors. Wholesale price points range from $17 to $120 for the showroom's lines.
From its perch on The New Mart's 11th floor, Blankslate looks out onto the back of the art deco sign for the Orpheum Theatre in downtown Los Angeles. Tai Wilkins, the showroom's sales manager, said the showroom was designed to have an intimate feel. "We wanted to make it feel like you were on a personal shopping trip," she said.