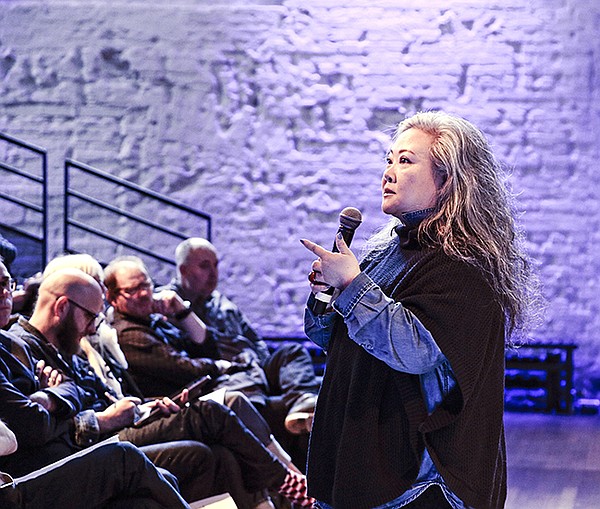 KINGPINS TRANSFORMERS
Kingpins Transformers Tackles Industry Waste in Latest Roundtable Series
AMSTERDAM—Cotton is compostable; polyester is forever. That was the message at a recent roundtable discussion hosted by denim trade show Kingpins.
To kick off the discussion about waste in the apparel industry, Kingpins founder Andrew Olah showed a film from 1942 about "an invention that changed the world."
The vintage movie was about the development of plastic.
"What that movie didn't mention is that every plastic that was ever made exists in some form still today," Olah said.
Olah was speaking at the latest Kingpins Transformers roundtable series, held April 12 at the Westergasfabriek in Amsterdam, where the Kingpins denim trade show opened the following day. At the last Kingpins Transformers event, held in March in Los Angeles, the topic was water usage in the denim industry. The Amsterdam event was titled "Garbage: The Good, the Bad and the Ugly."
Between 1999 and 2009, the volume of trash rose 40 percent," said futurist Haysun Hahn with Fast Forward Trending, who said disposable, fast fashion was partly to blame. "The worst thing is the fast speed of life has just begun. Fast fashion will be with us for a good 30 years."
It's not in fashion companies' "agendas" to tell consumers to consume less, and it's in human nature to be acquisitive, she said. "It's the natural tendency for humans to want new and innovative anything. It's what evolution is all about. We are born to consume, and we will die by consumption. Hopefully we will not be defined by it."
But there are encouraging signs, she said, pointing to the popularity of vintage and upcycling and sharing economies such as Sneaker Con, an event where sneakerheads can buy, sell and trade footwear.
"We're embracing what used to be garbage," Hahn said. "I believe in garbage because garbage will be the thing that energizes us to produce more wisely."
According to Olah, the global jeans business is a $3 billion industry that uses 5 billion yards of fabric.
"The industry is outrageous in terms of waste," he said.
Fortunately for the denim industry, the key component in a pair of jeans is cotton, which is biodegradable, explained Robert Antochak, managing director at Olah Inc., the company that produces the Kingpins show.
The 2015 documentary "True Cost," which explored the waste and health hazards within the apparel-industry supply chain, included a segment on the amount of apparel that ends up in landfills.
"'True Cost' implies that landfills are filled with cotton apparel," Antochak said. "The reality is cotton [in a landfill] will break down whereas synthetics will not.
Cotton does not generate a lot of waste at any stage of the supply chain. Cotton seeds are used to produce cotton meal for fertilizer or animal feed. Cotton-seed oil is used in everything from ice cream and salad oil to cosmetics, soap and gun powder, Antochak said. Cotton dust created during the spinning process is collected and used for insulation. Even the polypropylene wrap used on cotton bales in the field is collected, recycled and reused.
"Cotton is a very efficient product. It can be used in a variety of supply chains," Antochak said. "All these synthetics that consumers love will be there for my grandchildren and my grandchildren's grandchildren."
There is a difference between a landfill and a garbage dump, said Terry Townsend, a consultant on commodity issues, particularly concerning the cotton industry.
"Landfills are designed to be anaerobic and promote decomposition," he said. "Cotton has a half-life of 40 days. Eight million tons might be composting at any time. Most cotton is consumed in developing countries that don't have landfills."
In addition to cotton, which is compostable, pesticides are biodegradable and fertilizers are natural substances," Townsend said. But the fuel used in tractors is non-biodegradable and all noncellulosic fibers are made from oil.
"Polyester is plastic by another name," he said. "Approximately 1 billion tons of plastic exist in the world today. Recycling only defers the waste."
Ultimately plastic ends up in rivers and oceans. "Each of us probably has polyester molecules in our fat tissues from eating seafood," Townsend said.
But there are some positive developments. Townsend said a recent issue of Ecotextile profiles the discovery of a form of bacteria that will consume polyester.
"Polyester has only existed 60 years," he said. "In 60 years a life form has evolved that eats this food source. You have to be concerned if it eats polyester, what else does it eat?"
Lenzing, the Austrian fiber maker, is known for its closed-loop production of man-made cellulosic fibers such as Tencel and Lenzing Modal, but the company got its start making viscose, or rayon.
The production of man-made cellulosic fibers such as viscose produces byproducts such as acetic acid, which is used in food and medicine, and xylos, which can be converted to xylitol, which is used in products such as toothpaste, explained Lenzing Technical Manager Michael Kininmonth.
"Byproducts can be a euphemism for pollution," Kininmonth said. "But what Lenzing has done is used many of those byproducts in a positive way."
In the late '80s, Lenzing began investing into its infrastructure, adding an on-site water-treatment plant at its main plant in Austria, Kininmonth said.
"By the early '90s, the water was perfectly pure and could go back into the Attersea Lake [located 3 kilometers south of Lenzing's Austrian factory]," he said.
Lenzing's products are made from the cellulose found in tree pulp. About 45 percent of the tree is cellulose; the remaining parts are used to convert to electricity, Kininmonth said.
"Lyocell [Tencel's generic name] in the early '90s was a complete redesign of viscose production," Kininmonth said. "The input is wood pulp, water and solvent. The output is fiber."
Under the right conditions, Lenzing's products are compostable," Kininmonth said. "Done in the right way, they can break down in 12 weeks. If you have a compost bin at home, you can put it in your garden."
Keep washing your jeans—but only as needed
Miguel Sanchez, global head of special dyes at Archroma, outlined the waste in denim production at every stage of the process from yarn spinning and dyeing to weaving and finishing and, finally, home laundry.
"Indigo is not the greatest," Sanchez said. "[But] indigo is the standard in the market, and denim is so close to indigo."
Sanchez outlined ways to minimize waste, from using natural dye products such as almond shells and leaves to seeking more efficient methods of applying dye to adopting lower-impact application systems such as laser and ozone.
"And for home laundry, wash only as needed," he said. "Why do you have to wash your jeans like you wash your sheets?"
There are also new waterless washing methods for home, such as ultra-sonic washing systems that provide an alternative to home laundering with water," Sanchez said.
Levi Strauss & Co. President and Chief Executive Officer Chip Burgh once suggested consumers stop washing their jeans altogether—something some denim aficionados suggest as well. But Sanchez disagreed.
"That is silly," he said. "You couldn't do that. In the end you'd have camouflage pants with mold and bacteria."
Turkish denim mill Bossa is also tracking waste throughout the textile manufacturing process. Sedif Uncu Aki, general manager of the vertical textile mill, said the traditional model for textile production is a "linear economy" of "take, make and dispose."
"We started to make a circular economy of reuse and recycle," she said. "The important thing is you shouldn't think of waste as an unwanted burden but think of waste as a resource."
At Bossa, "everything gets recycled back into the product or sent to a recycling facility including the bale bands," Aki said.
The company has calibrated its spinning machines and looms to maximize efficiency without losing quality. The company captures the heat of dye discharge water, which is used to heat the incoming water. In the dye process, Bossa tinkered with the amounts of dye to achieve the best results with the least water. The company determined that reusable plastic cones used in the spinning process are better for the environment than disposable paper cones. Bossa even created a workshop that reuses wood pallets. Bossa employed lifecycle software to look for ways to reduce waste throughout the entire supply chain.
"Because you can't manage what you can't measure," she said. "[Now] the designer can design from the very beginning with less waste."
German trim manufacturer Prym produces trim, fasteners and machinery at its head office in Stolberg, Germany, and also in Como, Italy, which supplies buttons and other fasteners to sportswear and denim brands.
"There is significant and growing regulatory impact on this industry," said Marco Corti, Prym's director general.
The metal trim industry uses substantial amounts of water and chemicals and generates significant amounts of industrial waste.
"To manage 800 tons of raw material, you need 600,000 tons of chemicals," Corti said.
Two years ago, the company started a new processing approach called Low Impact Finish Ensemble (LIFE), which substitutes natural treatment processes for traditional methods, which can be harmful to the environment. Instead of using chemicals to color and coat fasteners made from brass, steel and copper, Prym uses stones and sand.
Buttons and fasteners made using the LIFE process are not electroplated, heavy metals are not used, and, wherever possible, chemical treatments have been replaced with physical treatments and water-based paints.
As a result, Prym's LIFE process has helped the company save 65 percent water, 16 percent electricity, 98 percent chemicals and 85 percent hazardous waste, Certi said.
The next step is to get consumers involved. I:Collect, or I:CO, is a recycling system that partners with retailers to collect unwanted clothing and shoes for recycling with the goal of reducing the number of apparel items in landfills. The company currently has 15,000 I:CO collection locations worldwide. Paul Dietzsch Doertenbach, I:CO's head of marketing and sales, said.
75 percent of clothing is recycled in Germany and 50 percent is recycled in Denmark. In the U.S., only 15 percent of unwanted textiles are being collected for recycling, he said.
I:CO has partnered with fast-fashion giant H&M to put collection bins in stores. H&M launched an ad campaign aimed at getting the word out about the recycling collection. The ad takes a satirical look at fashion rules, ending with the tag line: "There are no rules in fashion but one: Recycle your clothes."
I:CO sorts garments according to 350 criteria to help the company determine the "next best use for these garments," Doer​tenbach said. Blended fibers cause challenges to recycling, as do the chemicals used to process the fabric.
"Reuse always needs to come before recycling," he said.
But there needs to be better communication between brands and the end consumers, said Mariette Hoitink, cofounder of the House of Denim, an Amsterdam organization founded to find ways to make jeans "drier, cleaner and smarter," and Jeans School, a three-year program in design, production and marketing for the denim industry.
"[Consumers] want to know more," she said. [Brands] have the opportunity to communicate with the consumer. It's a huge opportunity for everyone to be part of the game."