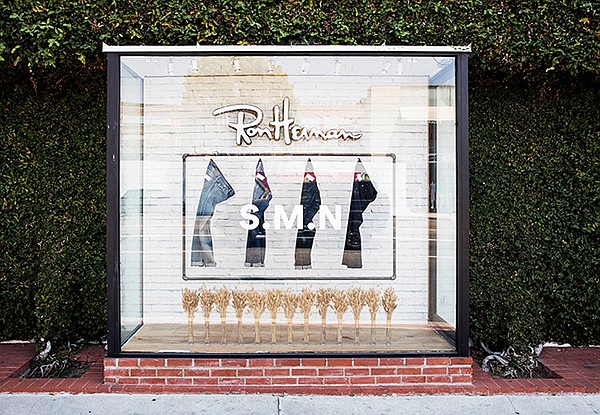 S.M.N.
S.M.N. Plans To Offer the 'Real' Premium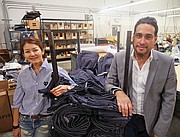 S.M.N. Studio sells men's denim that retails from $200 to $600, but the pricing is not a repeat of the go-go days of Los Angeles' premium-denim business from a decade ago when denim labels typically asked consumers to pay hundreds of dollars for a pair of jeans, according to Jazmin Kim, cofounder of S.M.N.
Kim says that her brand, headquartered in Vernon, an industrial city a short drive away from downtown Los Angeles, is an alternative and offers a different value proposition.
"A decade ago, it was all about branding," she said. "You wanted to show that you owned the brand. It was a luxury statement," she said of denim and consumer attitudes during the administration of George W. Bush.
Post Great Recession, post premium-denim gold rush, Kim said she has a
denim line that sidesteps hype and offers minimal branding and labeling. The S.M.N. line stands for Simple, Modern, Nonpareil. It provides what Kim says is a garment that can be correctly defined as a premium jean. The premium value is rooted in the label's production plan. It is built around quality control. A staff of 15 people works at the 20,000-square-foot plant. It's small enough where Kim can overlook the details of the operation and oversee production, said Mark Tourgeman, an S.M.N. brand strategist and a denim business veteran who has been working in the field since the 1980s.
"I have not worked with a company that is hands-on "A to Z." We handle sampling, development, washes, fit, pattern. It's practically a product from a tailor," he said.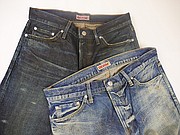 Kim's alternative brand started more than a year ago. S.M.N. produces men's jeans and some other categories such as sweatshirts bearing the word "denim."
The line offers three core fits. There's "The Finn," a tapered slim fit with a 13.5-inch leg opening. There's "The Hunter," a standard slim fit with a 14.5-inch leg opening, and "The Bond," a slim straight fit with a 15.5-inch leg opening. S.M.N. offers eight core washes and 15 seasonal washes for its Made in USA collection. S.M.N. also produces a small collection made in Japan, which represents 1 percent of the brand's collection.
S.M.N.'s premium-denim fabric is made in Japan. There are no details on the back pockets of the jeans, Kim said. A leather patch on the back of the jeans bears the imprint of S.M.N. in plain letters, which blend with the color of the patch.
Denim veteran Vince Gonzales said that the label "premium" might have been used too loosely during the premium-denim heyday, a time that ended during the Great Recession of 2008.
"They were using 'better' fabrics, not 'premium' fabrics, typically from Europe and Japan," he said. "A real premium jean has a lot of treatments to it." Many jeans offer a basic wash or simple finishing and treatments. Gonzales is a brand consultant to Japanese denim company Edwin and has been in the denim biz for more than 25 years.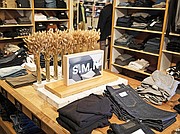 There is a robust future for premium denim, which retails at high price points, Kim said, even in an era of fast-fashion jeans, which can range from $9.99 to $39.99 at prominent fast-fashion retailer H&M Hennes & Mauritz. According to trend forecasters WGSN, American consumers typically pay $50 to $75 for a pair of jeans. Even in an age when consumers say that they want to spend less, Kim believes that some will pay more for the right product.
"Our customers are getting more knowledgeable about clothes. They are denim-smart customers who are not getting what they are looking for," Kim said.
She contends that this customer has always been on the hunt for premium denim. High-end boutique retailer Ron Herman must agree. S.M.N. launched its first season, Fall/Winter '16, in the Ron Herman boutiques. A year later, one-third of the jeans that S.M.N. sells in Ron Herman offer washes exclusive to the retailer. The line also has sold at high-end New York–area shops such as Blue In Green, Brooklyn Denim Co., Oak, Martin Patrick 3 in Minneapolis and Fred Segal in Tokyo.
The sales come during a time when sales for premium denim have stepped back, Gonzales said. The standard-bearing boutiques for premium denim have closed. Think New York shops Atrium and Scoop and Lisa Kline in Los Angeles. "Hard-core denim heads never stopped buying it," Gonzales said of premium denim. "It's coming back. Not at the velocity of 10 years ago. It's a cycle. People are coming back to denim."
Dio Kurazawa, WGSN's director of denim, also believes the future is bright for premium denim. But it comes at the expense of suits and office clothes. "The greater acceptance of casual dress in the workplace allows for better choices to be made with relation to brand and trend. Those suits being replaced by premium designer jeans is a major benefit for the premium-denim market," Kurazawa asserts.