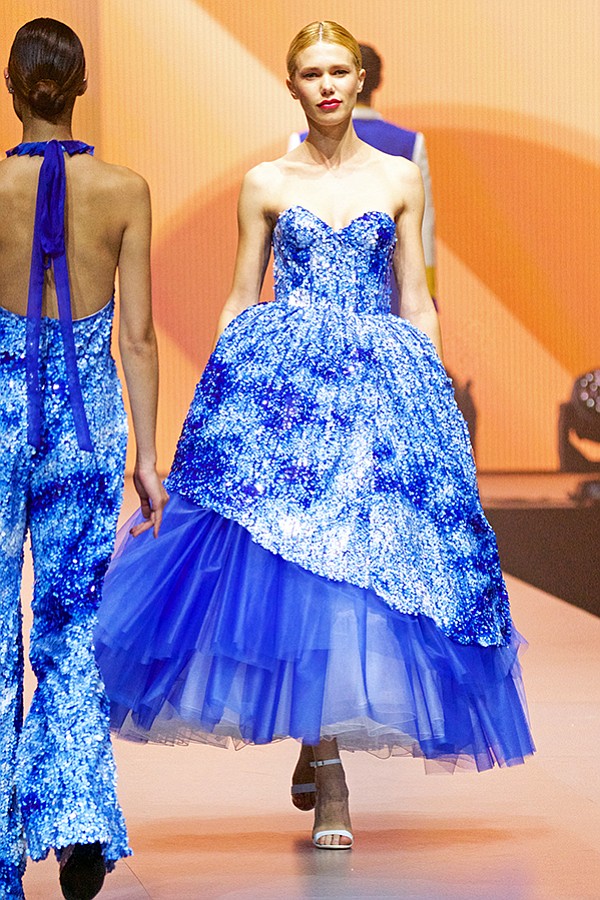 FIDM'S NEXT GENERATION
LA Fashion's Next Generation from FIDM Shows Off Their Creations
Shifting focus from aircraft to artistry, Barker Hangar in Santa Monica, Calif., was the scene of the Debut Runway Show, an annual event that allows selected graduating students from the Fashion Institute of Design & Merchandising in downtown Los Angeles to showcase their collections.
The April 7 event was emceed by FIDM alumnus and fashion designer Nick Verreos.
The show began with a presentation of projects from seven students in the Advanced Theatre Costume Design program—Katie Chesne, Viviana Gil Barrios, Katherine Hoang, Melissa Karsh, Ethan Lieberman, Enrique Solana and Taylor York—who adhered to the theme of "Kings and Queens: Court Me!"
Models on the runway dressed in costumes inspired by "Camelot," "The Three Musketeers," Napoleon Bonaparte's France and "King Lear" and acted out dramatic scenes that told stories from these tales as the video backdrop depicted enchanted forests and European landscapes.
Showcasing the collaborative work between students from the Fashion Design, Interior Design and Textile Design programs, Chairing Styles revealed the work of 10 groups, each comprising one designer from the three departments. Using fabrics provided by Textile Express, each project featured textile, chair and fashion designs that were created by the students. Each chair design was made into a usable piece by a manufacturing partner, a group that included Form + Function, Cisco Brothers, Wise Living Inc., Magni Home Collection, Sardo Interior Services, Michael Taylor Designs Inc., Vitality Furniture, Haute House, Jenifer Janniere and Quintus.
With a soundtrack that included "Boom Boom Room" by Totsy, Sofi Tukker's "Best Friend," "A Different Way" by DJ Snake and a reworked version of Marilyn Monroe's "Diamonds Are a Girl's Best Friend," FIDM's Advanced Study Fashion Design students unveiled bright, colorful sportswear; chic resortwear; playful children's designs and elegant—yet modern—formalwear.
Naming his collection "Hello, Sailor," FIDM Merit Scholarship recipient Tanee Prasert designed naval-inspired party and formalwear, including a knee-length, blue-and-white-striped sheath dress with an anchor appliqué in red sequins on the front, sparkling red epaulettes and a draped back.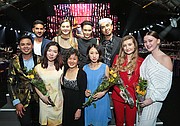 FIDM Merit Scholarship recipient Ting Wang was inspired by the colors from within the Museum of Ice Cream to create her men's and women's sportswear line, which included hues of bright yellow and deep blue, as seen in her sparkling sapphire and white bias-cut tea-length dress with tulle underlay and strapless sweetheart neckline.
For John and Victoria Hill Scholarship, Jerry Epstein Scholarship and Debut Scholarship recipient Charity Dahl, athleisure and comfort were the focus of her collection, which included a knee-length red patent-leather coat with round cutouts secured with grommets and a belted waist.
Focusing on knitwear, Emiko Terasaki, who received the Rose Morbit Bolognone Scholarship, wanted to generate a new appreciation for knit pieces, which inspired styles including a full-length A-line halter dress with a black-and-white wavy pattern at the bust and red, black, white and gray skirt.
Using the sunset to inspire her color scheme, FIDM Merit Scholarship recipient Aurora Ziqiao Luo created a line of childrenswear made for fun and comfort, such as a knee-length yellow sheath dress with a pig-face illustration, which she also made in her own size to wear as she walked down the runway with a little model who wore the children's version.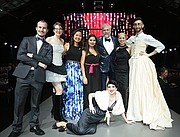 Presenting a luxury line of beachwear, Kiki Potterton—recipient of the Jack and Joan Bonholtzer Scholarship and Bob Mackie Scholarship—was inspired by her honeymoon in Jamaica, leading her to design pieces such as a black two-piece swimsuit with gold chain and beaded strand overlay in the back, paired with a black floor-length tulle-and-pearl-waisted walk-through skirt.
Inspired by wearable pieces for city life, Mia Conroy, who received a FIDM Merit Scholarship, relied on red, black and gray for pieces that included a plaid miniskirt paired with matching long-sleeved jacket that featured fringe detail at the elbows and was worn over a black turtleneck.
Using cream and navy hues that represented the sand and sky of the Middle East, Ali Jawad, who received the Jerry Epstein Scholarship and Karen Kane Scholarship, designed a line of menswear that included navy trousers with straight zippered pockets and a cream, double-vented full-length boxer-inspired robe with hood.
For Rodrigo Bunton Navarrete, a FIDM Merit Scholarship recipient, the buildings of New York City were the inspiration for his collection of women's formalwear, such as a floor-length halter gown in steel blue with jeweled neckline and shimmering belted waist.
Planning a contemporary bridal line was the goal of Guess Scholarship recipient Genevieve Lake, whose collection—named "Joie de Vivre"—included a shimmering white halter top with plunging neckline paired with wide-leg trousers worn under a tea-length tuxedo jacket and top hat that featured a tulle veil accented with rhinestones and a large bow in the back.