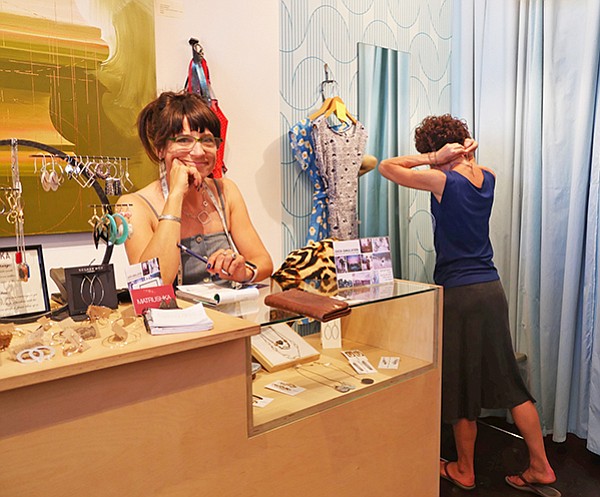 SILVER LAKE'S RETAIL
What's Checking: Celebrating the Difference in Silver Lake
When a lease ran out on a boutique run by Deborah Brosenne, she didn't want to move out of the Silver Lake/Echo Park neighborhood. So she grabbed a chance to open a store in the area, moving to Sunset Junction by the intersection of Sunset and Santa Monica boulevards in Silver Lake.
"It has a neighborhood feel, but it is super hipster," said Brosenne, the owner of Silverlake Bungalow. "There are a lot of 20-somethings. There are tons of tourists. There are a lot of stores and restaurants."
The area has an independent vibe and a long history. In 1967, Silver Lake was the site of the first documented gay-rights demonstration in U.S. history, according to the City of Los Angeles' Cultural Heritage Commission. A plaque was put up on The Black Cat bar in Silver Lake to mark the event.
The neighborhood continues to fly an independent flag and takes inspiration from a unique joie de vivre. "It's the celebration of being different," said Laura Howe, owner of the Matrushka boutique.
It just follows that all the area's boutiques are independents. They range from designer looks sold at the prominent Mohawk boutique to streetwear, contemporary and, of course, vintage styles at Silverlake Bungalow, MRKT Silverlake, Matrushka and Gingerly Witty.
Silverlake Bungalow
3815 W. Sunset Blvd.
For more than a decade, Brosenne has designed a label called Taxi CDC, which is sold at her Silverlake Bunglow. Among the line's popular items are tailored Oxford shirts. Brosenne reshapes the bulky Oxfords, so the shirts' silhouettes become more form-fitting. The tops' sleeves also have been shortened and rolled up. Retail price points range from $42 to $48.
Also popular are overalls made by Nooworks. They retail for $155 and feature prints from California artists. "It fits all body types," Brosenne said. Nooworks also has a store in the Silver Lake area.
Wrap dresses from the brand Cotton Candy LA have been selling well at the shop. Retail prices go up to $125. It's popular because it is casual and offers on-trend prints, Brosenne said.
MRKT Silverlake
3814 Sunset Blvd.
Kenji Sunaga, co-owner of MRKT Silverlake, opened his 600-square-foot shop in 2013 as a place to mix Japanese and European fashion, California streetwear and gifts. Fast-forward to the present and the merchandising mix continues to fuel the store's business and style.
Top looks include the "First Issue" T-shirt by 032C, selling for $75. This Berlin-headquartered brand also publishes an arts-and-social-criticism magazine.
The "Carl Pant" by Chapter, a Costa Mesa, Calif.–based brand, also has been popular. It retails for $175 and mixes the waist of a mid-20th century trouser with tapered ankles and drawstrings.
Avant-garde fashion has a place at MRKT Silverlake. Japan's Sulvam brand has been making a presence with its patch shirt, selling for $540 and held together by unique stitching. It is bought by those wanting to make a fashion statement.
Matrushka
3822 Sunset Blvd.
Matrushka's Laura Howe has been making women's clothing in Silver Lake since 2002. She said her clothes can be worn in an office or at a street café in her bohemian neighborhood. Looks range from rompers and T-shirts to tunics, but what is really popular is the scarlet wrap dress retailing for $180. "It's a wrap dress with extra flair," Howe said.
Fabrics often feature patterns with a sense of humor, including images of fried eggs, florals and geometric shapes, said Kelly Love, Howe's assistant. "It gives women a chance not to wear black."
The shop's motto is "Size Is Relative." A good percentage of the store's traffic is women getting their Matrushka ready-to-wear altered. Locally manufactured is not just a marketing slogan here. Matrushka's clothes are made at an atelier located a two-minute drive from Sunset Junction.
Gingerly Witty
1710 W. Sunset Blvd.
Erin Lally opened her multi-brand boutique called Gingerly Witty in November 2016 in Echo Park, which is a short drive from Silver Lake. Lally said Echo Park, like Silver Lake, attracts very creative individuals and people inspired by the bohemian life.
"The women here are trendy. They like comfort," Lally said. Her boutique cultivates its own look. "It's not whimsical, but it is playful," she said.
The clothes make concessions to the environment. When it's hot outside, the clothes emphasize keeping cool. Lately dresses, skirt sets and jumpsuits have been popular at the shop.
A top seller has been the summer-fling romper from Étophe Studios, retailing for $88. Also popular are the linen pants by Le Lis, retailing for $78. The Eastern Dreams kimono robe has been selling well. It retails for $98.