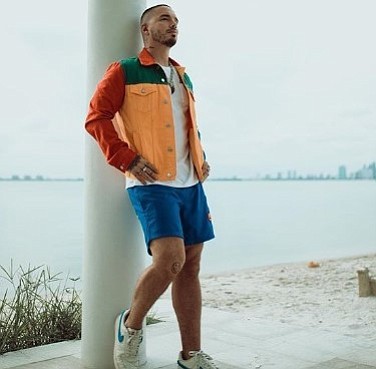 FASHION
Guess Inc. Partners With J Balvin on Tour Merchandise Capsule
Los Angeles-based apparel brand Guess? Inc. launched a partnership with J Balvin, as the Latin Grammy Award Winner kicks off the United States leg of his Vibras tour today in Fresno, Calif. The seven-piece Guess Vibras capsule collection includes Guess denim jackets, long- and short-sleeve T-shirts, a fanny pack, baseball caps and a hoodie. Blending Guess heritage with Balvin's influence, the pieces feature bright colors and tie-dye designs that are reflective of the Colombian-born artist's personal style, in addition to a GUESS x J Balvin Vibras triangle logo.
"My partnership with GUESS, a brand that has strong roots in the Latin community, not only aligns with my personal brand, but with my community and fanbase as well," Balvin said in a statement. "I am so excited to launch an exclusive collection of concert merch on tour and officially bring the vibe of our music to fashion."
Merchandise will be available onsite at Balvin's concerts and select Guess stores located near show venues, beginning with a Sept. 21 performance in San Diego. The final city where the merchandise will be available at Guess stores is Miami, as the performer will hold a concert there Oct. 28, closing the United States tour.
"Working with Balvin we were able to tap into the energy of the 'VIBRAS' album, creating a special capsule transcending music into fashion," Nicolai Marciano, director of brand partnerships said. "The product inspiration and bold colors came from both the GUESS graphic archive and the 'VIBRAS' album artwork, finding alignment in both brands to offer something unique to the fans."
Retail pricing for the capsule collection ranges from $35 for the fanny pack to $108 for a hoodie.