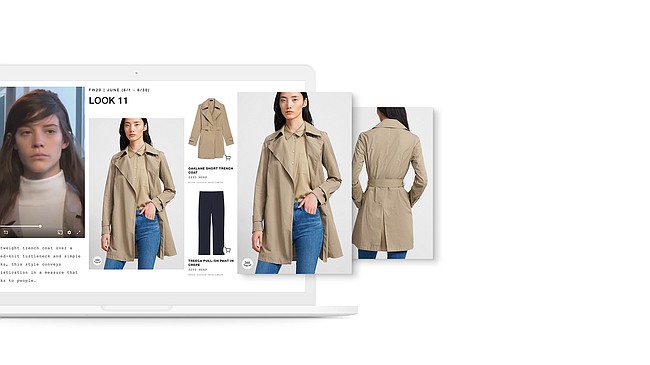 TECHNOLOGY
By Andrew Asch | May 28, 2020
Due to the COVID-19 pandemic, trade shows have been postponing physical events, but that has presented opportunities for business in a virtual-trade-show setting.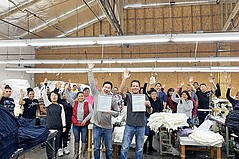 Sustainable design is increasingly important in California, and one factory said it has achieved a gold standard in sustainability. UStrive, based in Los Angeles, was certified by the Global Organic Textile Standard last month.
Epson has developed a reputation for making direct-to-garment printers for manufacturers both large and small to print on T-shirts, hoodies and more.
The digital-printing business has been a contender for more than a decade in the T-shirt industry, but in 2019 it started to become more dominant. Digital printers made by companies such as Kornit Digital, Epson and Roland DGA can be used to make increasingly complex images on T-shirts, hoodies and other imprintable clothing.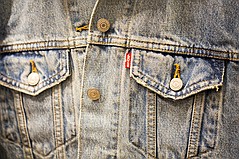 Levi Strauss & Co. has worked for more than 18 years to cut harmful chemicals from its manufacturing process. The San Francisco–headquartered denim manufacturer recently announced that it would work to guarantee higher levels of chemical testing and screening in its supply chain by using a new certification system.
Ram Sareen, founder and chairman of the Los Angeles–based fashion-technology company Tukatech, announced Nov. 14 that he will host a web show and podcast called "Tukatalks," which will be devoted to shop talk and discussions covering best business practices from fashion-industry executives.
Boardriders Inc. confirmed that its computer systems were attacked recently. The Huntington Beach, Calif.–based action-sports juggernaut did not identify the nature of the tech attack or when it happened. In a statement, the company described the attack as one that was quickly contained.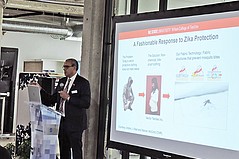 Within its new space, which opened in March, Japanese machine manufacturer Shima Seiki hosted its second G3D seminar in its fresh showroom. The first event in the Arts District space was held earlier this year, focused on a "Yarn to Shelf" manufacturing approach to apparel, while the recent session, hosted Oct. 23 and 24, adhered to the theme "Knitify the World."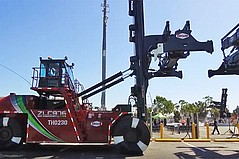 Increasing its commitment to combat the detrimental environmental effects of carbon emissions, the Port of Los Angeles unveiled its new Taylor ZLC976 zero-emissions top handlers, which rely on battery-powered electricity.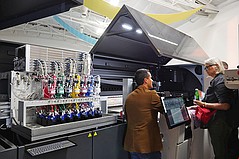 Kornit Digital's Presto S printer is about as big as a limousine and can function as a mini T-shirt factory, said Robert Zoch, a global content manager for the printer company, headquartered in Englewood, N.J.
A new method of paying for goods on digital commerce is entering the U.S. market, resembling a fresh approach to layaway through digital methods.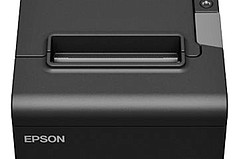 The pace for updating business software is unrelenting. Unless retailers employ a chief information officer, it's impossible to keep up, according to Mauricio Chacon, group product manager, business systems group, Epson America, Inc., headquartered in Long Beach, Calif.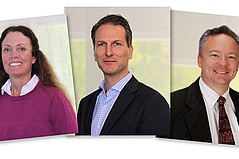 Moving forward with a more customer-centric strategy as it continues to build its position as a leader in innovative integrated technologies and services, Tolland, Conn.'s Gerber Technology announced the promotion and hire of new executives.
Get ready for big changes in manufacturing of all kinds. Factories will be automated. Robots will be a common sight in manufacturers' factories—and many workers will be concerned about losing their jobs.
Building upon its modeling solutions for apparel manufacturers, Paris-headquartered information-technology and digital-solutions firm Lectra announced the launch of Modaris V8R2, bringing the latest advancements in digital patternmaking, grading and prototyping 2-D/3-D solutions to the industry.
Much of the technology buzz over the last few years has surrounded artificial intelligence, or AI. As some brands and retailers wonder how to implement the tools that fall under the AI umbrella, they are up against competitors already lev­eraging these technologies.