Emmy Costumes and More at FIDM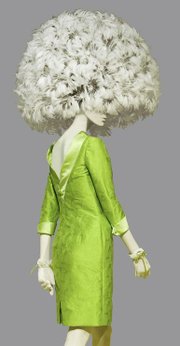 Robert Blackman's costume designs for "Pushing Daisies," the 2009 Emmy Award winner for Outstanding Costumes for a Series, are among more than 75 costumes featured in the fifth annual Outstanding Art of Television Costume Design at FIDM Museum Galleries in downtown Los Angeles.
It's that time of year again—when the Fashion Institute of Design Merchandising hosts its annual Outstanding Art of Television Costume Design exhibition at the FIDM Museum Galleries in downtown Los Angeles.
Now in its fifth year, the TV costume exhibit is much like the design school's longstanding Oscar costume exhibition—except the focus is on the art of design for the so-called "small screen."
Costumes from "Glee" (designed by Lou A. Eyrich"), "The Good Wife" (designed by Daniel Lawson), "The Tudors" (by Joan Bergin), "Georgia O'Keeffe" (by Michael Dennison) and "Return to Cranford" (by Jenny Beavan) are among the Emmy-nominated designs in the exhibition, as well as more than 75 costumes from 13 television shows of 2009, including Big Love"(by Chrisi Karvonides-Dushenko), "Bones" (by Cynthia Summers), "Justified" (by Ane Crabtree), "Treme" (by Alonzo Wilson), "True Blood" (by Audrey Fisher) and "Amish Grace" (by Van Broughton Ramsey).
(The Emmy Awards for costume design will be presented at the 2010 Creative Arts Emmy Awards on Aug 21 at the Nokia Theater L.A. LIVE in downtown Los Angeles. The 62nd Primetime Emmy Awards will be broadcast on NBC on Aug 29.)
FIDM's costume exhibition is curated by costume designer Mary Rose, the president of the Costume Designers Guild and a longtime executive board officer of the CDG, as well as the former Governor of the Costume Design and Supervision Peer Group of the Academy of Television Arts Sciences.
The FIDM exhibition also features a special salute to "The Tudors," now in its final season on Showtime. Visitors to the museum will see Bergin's costume designs for King Henry VIII and all six queens. (Bergin won Emmy Awards for her work on "The Tudors" in 2007 and 2008.)
And for the die-hard costume-design fans, there's even more. Visitors to the museum can also catch FIDM's "Alice in Wonderland" exhibition, co-presented by Walt Disney Studios Home Entertainment and Disney Consumer Products. The "Alice" exhibition features Colleen Atwood's costumes from the recent Tim Burton film, Alice-inspired clothing and products, and "Alice in Wonderland"-inspired gowns designed by FIDM graduates under the direction of designer, "Project Runway" contestant and FIDM instructor Nick Verreos.
The exhibition opens to the public tomorrow (July 27) and runs through Sept 4. The Museum Galleries are located at the FIDM campus in downtown Los Angeles (919 S. Grand Ave.) Admission is free and the museum is open Tuesday through Saturday from 10 a.m. to 4 p.m. For more information, visit www.fidm.edu.