New Retail District La Brea Set to Debut Next Year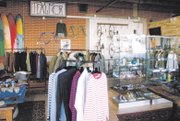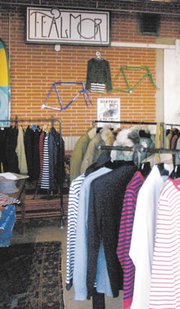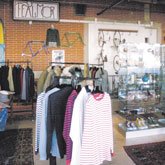 Pioneering fashion emporium American Rag in Los Angeles draws crowds of shoppers to South La Brea Avenue. But across the street, the massive Continental Graphics compound has been vacant for the past six years. It has been a dead zone taking up real estate on one of Los Angeles' most trafficked boulevards.
Washington, D.C.–based developer Madison Marquette hopes to bring the Continental Graphics building back to life with an office and boutique retail redevelopment project called District La Brea, said Tom Gilmore, an executive vice president with Madison Marquette. (Madison Marquette's Tom Gilmore is not related to the downtown Los Angeles developer of the same name.)
"We're looking to expand a little bit of SoHo that has existed on La Brea," Gilmore said, noting the influential fashion and skate and streetwear looks that have been championed at retailers such as American Rag and its neighbors on the east side of the street, such as Undefeated, Stuuml;ssy and Volcom.
Madison Marquette has wrapped up the first stages of redevelopment for District La Brea, most of which is a 90,000-square-foot empty shell of a building located between First and Second streets on La Brea Avenue. The developers plan to have the compound fully leased by holiday 2012. Gilmore hopes that 15 to 20 boutiques and restaurants will be doing business on the first level of District La Brea. Office space will dominate the second and third floors.
The project's first tenants opened shop in December. Pop-up fashion shop Abandoned Treasures debuted at 159 S. La Brea Ave. Independently owned men's fashion brand Feal Mor, a permanent shop, opened a 1,200-square-foot flagship store at 165 S. La Brea Ave., said JP Plunier, president and designer of the brand. Feal Mor offers chino pants, Breton-style sailor shirts and peacoats at retail price points ranging from $100 to $1,000.
"It was the dead part of the street," Plunier said of his building's recent history, adding he is looking forward to his brand's role in revitalizing La Brea. "We are the guinea pigs."
Plunier, a first-time retailer who also owns independent music label Everloving, said he was attracted to the street because he considers La Brea a thoroughfare that attracts shoppers from Los Angeles' far-flung Eastside and Westside. It will be easier to attract a fashion crowd there because American Rag and other area boutiques have been building retail traffic in the area for more than 20 years, he said.Expanding retail community
More independent fashion boutiques have been moving to American Rag's side of the street. Last year, Self Edge, a Gothic-looking two-story boutique specializing in Japanese premium denim, opened in September at 144 N. La Brea Ave. Another store, called Case Study/Unholy Matrimony, opened at 138–140 S. La Brea Ave. in February.
District La Brea will offer a 140-space, three-story parking structure on the corner of Second Street and La Brea, as well as a 45-space parking lot at First Street and La Brea. The project's architect is Long Beach, Calif.–based Studio One Eleven, which worked on projects such as retail centers Lincoln + Rose in Los Angeles' Venice neighborhood and The Shops at The Alhambra in Alhambra, Calif. District La Brea's leasing agents will ask $5 per square foot for space. However, first tenants might get deals for above $4 per square foot, said Jay Luchs, the head leasing agent for District La Brea's retail project.
Madison Marquette has poured more than $50 million to renovate Continental Graphics' 1930s-era compound of buildings. At various times in its history, the buildings hosted a dealership for Ford's Edsel cars and Continental Data Graphics, which served Southern California's high-marquee entertainment and aerospace industries by printing movie posters and album covers as well as blueprints for one of its main clients, Boeing.
Continental Data Graphics was purchased by Boeing in 2000 and got out of the printing-services business. The company moved out of the building in 2005 and is headquartered in Cypress, Calif. Los Angeles–based Bomel Management took over the buildings and planned to turn them into lofts and retail. Madison Marquette bought into the project for an undisclosed price in late 2008, after the loft market ran out of steam after the Great Recession. Bomel remains as a partner in the project.
For more than a year, Madison Marquette assembled plans to redevelop the two city blocks of La Brea, according to Gilmore. In January 2010, construction began to redevelop the compound, tearing out the building's roof and drywall, revealing the building's colorful brickwork and 20-foot high ceilings.
Madison Marquette does not own the entire 100 block of South La Brea. Buildings hosting fashion boutiques such as General Quarters, which opened in December at 153 S. La Brea Ave., and Landon Cole, a furniture boutique at 149 S. La Brea Ave., are independently owned. But General Quarters owner Blair Lucio thought new neighbor District La Brea could revitalize the street. "It could open up some of the empty spaces," Lucio said. "It's going to bring new energy and new life to old buildings. It's going to be mostly fashion and fashionable places geared toward young people."
Mark Werts, owner of American Rag, has visited the District La Brea project and said it was stunning. However, he said he hopes the city of Los Angeles will build a crosswalk between American Rag and the shops and restaurants on the other side of the street. Many people jaywalk across a busy La Brea to get to and from American Rag.Retail development on the rise in Southern California
With the economy improving, there's more retail development planned across Southern California. The developer of The Grove shopping center, Caruso Affiliated, announced Jan. 20 that it will acquire a 7,500-square-foot building located at 230 S. Orange St., adjacent to The Americana at Brand retail center in Glendale, Calif. Caruso hopes the building and another parcel of land will lay the foundation for a 135,000-square-foot space for new retail and public plazas.
In Orange County, Shaheen Sadeghi, developer of The Lab and The Camp specialty retail centers, unveiled two projects in Anaheim, Calif. In December, he announced On Center, which will redevelop three city blocks on Center Street from Anaheim to Harbor boulevards. By January 2012, On Center will offer space to lifestyle businesses and services—barber shops and offices, perhaps.
Sadeghi will redevelop 40,000 square feet in the former Sunkist Packing House complex, a short drive from On Center, and a 2.5-acre parcel adjacent to it. Both are located on Anaheim Boulevard with cross streets of Broadway and Santa Ana boulevards. Sadeghi plans to open the complex for restaurants and music halls where jazz and blues musicians will perform.