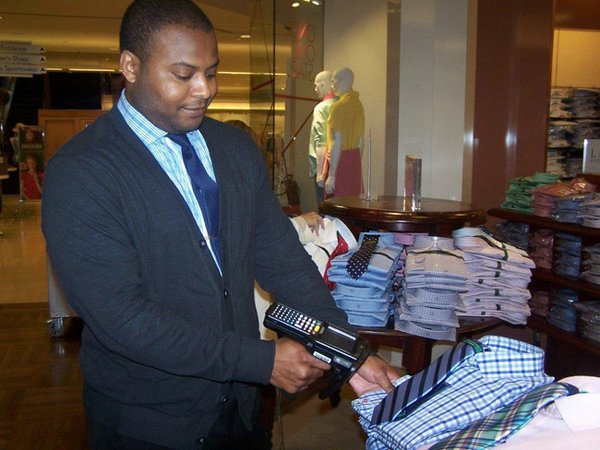 TECHNOLOGY
RFID Key to Omnichannel Commerce
The goal seemed ambitious—even for a major retailer such as Macy's Inc.
The department-store giant will complete a new radio frequency identification (RFID) program at all of its Macy's and Bloomingdale's stores by the end of the summer, delivering on a promise the company made back in 2011.
"Ultimately, RFID will be as transformative technology for our business as bar codes," said Bill Connell, the senior vice president of logistics and operations for Macy's.
Jeff Gennette, Macy's chief merchandising officer, speaking to a group of apparel executives at the American Apparel & Footwear Association's Executive Summit in March, was equally enthusiastic about the technology's potential. "RFID is going to be a huge win for us," he said, explaining RFID's potential for "maximizing store inventory" across Macy's e-commerce and mobile site, as well as in its 850 stores.
The immediate and obvious benefit of RFID is inventory management. RFID tags embedded in hangtags will help retailers realize their omnichannel strategies to create a system that allows them to seamlessly serve customers via mobile, e-commerce and physical store platforms.
RFID tags could tell shoppers' smartphones where the consumer can find exactly the garments they seek, said Jim Wiebe, who leads RFID webinars at Fashion Business Inc., a Los Angeles–based nonprofit education group. The RFID tags also can transmit additional information on sales, loyalty-card deals and details on the garment. "It will create the smartphone experience that shoppers are expecting," Wiebe said.
Tipping point
For more than a decade, RFID has been seen by many of its advocates in retail technology as a revolutionary way to manage inventory. With this technology, RFID antennae are embedded on hangtags in individual apparel items. Sales associates read the RFID tags with a scanning device, and the information of the specific item is placed in an inventory index.
Still, RFID has not become prevalent in retail as was forecast a few years ago. One reason is that it can be prohibitively expensive to buy all of the software and hardware to launch a RFID program, according to retail-tech observers.
However, RFID costs have come down, said Zander Livingston, co-founder and chief executive officer of Truecount Corp., an RFID company based in Dover, N.H. The price of RFID tags has declined below 10 cents, compared with 25 cents per tag in 2005, Livingston said. A Truecount "Essentials" system is priced at $7,500, but retailers will recoup investment by reducing inventory-carrying costs by more than 30 percent, he said.
For retail consultant Jim Crawford, principal of Portland, Ore.–based Taberna Retail, RFID's forecasted scale was all wrong. Retailers dealing with a multitude of vendors have had a hard time implementing RFID on their shop floors. If many vendors do not participate in RFID initiatives, the technology's full results cannot be realized.
"It only functions in a closed-loop system," Crawford said. "RFID has biggest potential where there is a vertical integration between factories and stores, where [retailers] are in control of sourcing."
Inventory control
Chief information officers are obsessed by mobile devices and technology to build omnichannel shopping, said Tom Litchford, vice president of retail technology for prominent trade group National Retail Federation. RFID is not the buzzword that omnichannel is for many retailers right now, but it is the technology that makes omnichannel possible. "I'm not seeing [RFID] pop up on CIOs' top 10 lists," Litchford said. "It doesn't mean that they're not doing anything behind the scenes."
This year all 850 Macy's and Bloomingdale's stores will use the program to manage inventory for their "high-replenishment" items, such as denim and men's basics, said Connell, the Macy's senior vice president. High-replenishment items make up 30 percent of Macy's sales.
Connell said that the technology will give Macy's the most accurate inventory count of its history, driving a speed and efficiency in inventory work never dreamed possible prior to a decade ago.
Without RFID, workers typically can count 250 units per hour by reading bar codes. With RFID, they can count 5,000 units per hour. Instead of counting inventory once or twice a year in a process called cycle counts, which Connell called disruptive and labor intensive, RFID allows retailers to count as much as they'd like. It is not the only benefit of RFID, Connell said.
Peter Longo, president of Macy's logistics, speaking at the AAFA conference earlier this year, described RFID as a tool to help grow sales, consumer satisfaction and inventory accuracy—particularly for the footwear department.
"It's very hard to sell something that's not on the floor," he said. "Technology that allows us to take a 25 percent error rate to 5 percent is nothing short of stunning."
Ahead of the game
Vertical retailer American Apparel Inc. was an early adopter of RFID.
As of the end of February 2013, American Apparel had implemented RFID systems at approximately 213 stores worldwide. Company executives believe that RFID tags boost sales by getting goods onto the store floors faster and stocked in the right departments.
"RFID is credited for helping our business turn around," said Stacey Shulman, chief technology officer at American Apparel. "One of the things that happened is we had a 55 percent reduction in shrinkage. It has been one of the most transformational technologies our company has seen in the last two years."
Right now, RFID alerts retail employees to various things. When a men's T-shirt is sitting in the womenswear department, it is moved back to menswear. If a high-priced item has been misplaced or purposely situated near the store's entryway, it creates a possible shoplifting opportunity that needs to be remedied quickly.
"The other thing we have is an alert for a blocked zone. We sell childrenswear and we sell things that are a little more risqué that shouldn't be in the childrenswear department," Shulman said. "We want to alert the salesperson to remove those risqué items quickly."
If an item has been sitting in the dressing room for too long, it can be returned to a rack, where it can more quickly make its way to a customer's shopping bag.
RFID helps sales staff replenish an item five minutes after it has been sold.
American Apparel also is using its RFID system to monitor which items are selling quickly and which ones are staying on the shelves too long. "We can see which zones in the store are producing better, and it also allows us to test some items," Shulman explained.
Next year, Shulman said, the company will be using RFID to test how various fixtures are helping to sell items.
—With additional reporting by Alison A. Nieder