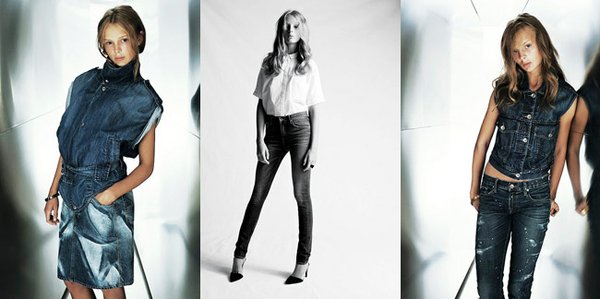 STRÖM
Ström: Model Turned Designer Launches New Denim Line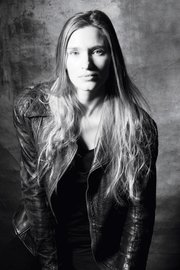 For nearly 20 years, Erika Stromqvist modeled clothing for some of the world's most famous designers—from Karl Lagerfeld and Calvin Klein to Alexander McQueen and Marc Jacobs.
But during all those years, the Swedish model, who was discovered at the age of 17, scrutinized the fashions she was wearing and watched how the designers created and fitted their clothes.
"When I first went to Paris, I was picked up by Nicolas Ghesquiere of Balenciaga," recalled the 5-foot 9-inch model, who lived for 14 years in New York before moving to Los Angeles. "He was a new designer, and I was a new model. He would put me on the runway in his jeans. I really paid attention to the way he did things. And I watched the seamstresses. I learned everything from concept to the creation of the actual garment."
With that wealth of design information in her head, she set out to pursue her passion of creating a clean and simple denim line that appealed to her Scandinavian roots.
This year, she launched Ström, a Los Angeles brand that conveys an effortless chic with a classic appeal. She showed her first collection, for Fall 2014, at the Coterie trade show earlier this year in New York. It was immediately picked up by several high-end stores.
One of those is Heist Boutique on Abbot Kinney Boulevard in the Los Angeles suburb of Venice. It is already on its second reorder of the brand. "We sold out the first time we carried it," said salesperson Nicole Briggs. "It is a basic jean that doesn't buckle in the leg. It is nice and clean and straight."
Ron Herman in Los Angeles is another retailer as is Isetan in Japan.
Stromqvist said her Scandinavian roots guided her to create a denim line that was streamlined and concentrated on fit and high-quality fabrics. "My jeans don't have a lot of bells and whistles. It is part of that Scandy chic movement," she said. "Everything from the fabric to the trims are super premium. The fabrics are from Italy, Japan and America. For a year and a half I searched for the trims. The buttons and the rivets are hand-polished, and nothing on the jeans contains nickel because many people are allergic to nickel. I'm allergic to nickel."
The jeans come in 11 silhouettes. There is everything from jeans with a skinny, cigarette or flair shape to boyfriend jeans and capris. Skinny jeans have been the strongest seller so far, she said.
With production in Los Angeles, that means retail price points are higher—at $174 to $364.
Tops are also part of the equation. For the Spring/Summer 2014 collection, the model turned designer included six tops and one denim dress. "I find it interesting to take denim and use it in new ways," she said. "For Spring I did some denim ponchos and skorts and white denim. I also used some beautiful chambray shirting and did a selvedge vest and selvedge dress."
Retail price points for tops range from $250 to $3,000.
Stromqvist first gained an interest in clothes while growing up on a farm in northern Sweden, where her parents raised goats, chickens, sheep and horses. At the age of 11, she started taking apart the hand-me-down clothes from her older sisters and reworking them to her taste and size. "This I did for years and years, and I did that with my jeans when I was modeling," she said. "All my girlfriends would ask, 'Where did you get those jeans?'"
In her new company, Stromqvist is the creative director while her husband, Matthew Fisher, is the chief executive officer. Before joining Ström, Fisher worked with a private-equity company on the East Coast and in the music and entertainment industries in Los Angeles.
He said the company's goal is to grow steadily and give the consumer time to find out who they are. "We want to build something that is lasting and has integrity," he said. "We are really focused on bottoms, and jeans are really Erika's obsession. But this will be a collection brand."