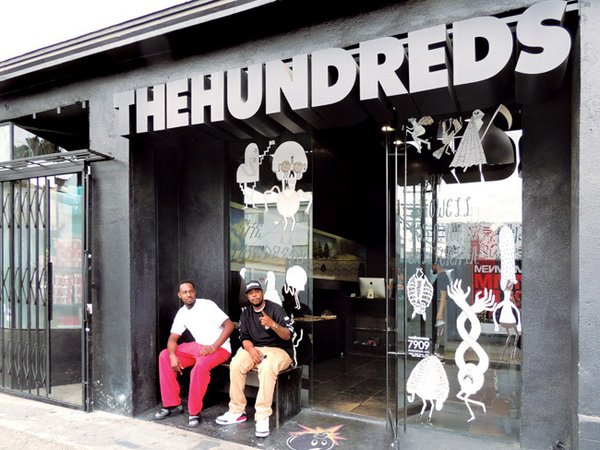 STREETWEAR DESTINATION
Fairfax's Streetwear Cred Goes Global
Photo Gallery
Los Angeles' Fairfax Avenue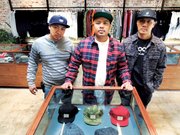 Los Angeles' Fairfax Avenue builds worldwide reputation as streetwear capital. Photos by Andrew Asch
Los Angeles' Fairfax Avenue builds worldwide reputation as streetwear capital
Los Angeles is the address of world-famous shopping streets such as Rodeo Drive, Abbot Kinney Boulevard—and, now, Fairfax Avenue.
The stretch of Fairfax between Rosewood and Oakwood avenues is increasingly acknowledged as the capital of streetwear, the influential youth look that is taking a higher profile at prominent national retailers such as Tilly's, Pacific Sunwear and Zumiez.
Some of America's top streetwear brands—including Diamond Supply Co., Supreme, The Hundreds and Crooks & Castles—opened flagship stores on the street. The more than 15 streetwear stores on the thoroughfare attract people from around the world, as well as its immediate neighborhood, to see the latest in streetwear, said Aaron Levant, co-founder of the Agenda trade show. Agenda produces biannual trade events devoted to streetwear, with shows located in Long Beach, Calif.; New York; and Las Vegas.
"It has a heavier concentration of streetwear than anywhere else in the country," Levant said of Fairfax. "It is known for the most prestigious streetwear."
Neighboring streets, such as the Crescent Heights area of Melrose, just off of Fairfax, so far have not been able to support the same heavy concentration of high-marquee streetwear shops. Cities where streetwear is popular, such as New York and Tokyo, don't have a concentrated strip where high-profile streetwear shops line the road, said trend forecasters Sidney Morgan-Petro, retail editor of Stylesight, based in New York, and Sarah Owen, juniors editor for WGSN, a London-headquartered trend-forecasting company.
Fairfax's reputation has attracted stylists to shop the street, as well as celebrities such as Grammy award–winning musicians will.i.am and Drake, and on Nov. 12 basketball players from the Oklahoma City Thunder, including Russell Westbrook, the team's high-profile point guard, were seen shopping the street.
Fairfax also developed an underground fashion and music scene since influential hip-hop group Odd Future opened the Odd Future/Golfwang boutique, devoted to the group's fashion and creative ventures, in 2011. The shop is located at 410 N. Fairfax. Friends of Odd Future's leader, Tyler the Creator, typically hang out at the store, as well as actors and a steady flow of international streetwear heads. "On any given day you never know who will show up," said Palmer Brown of the Odd Future/Golfwang boutique.
With the vast majority of Los Angeles real estate subject to the city's infamous car culture, Fairfax also is one of the few streets in the city that enjoys a steady flow of pedestrian traffic.
If you want to be part of the vanguard of the streetwear scene, Fairfax is the place to start.
Street pioneers
Dennis Calvero and Rob Panlilio started their prominent Crooks & Castles brand on Fairfax in 2006, when the thoroughfare was changing from a street lined by neighborhood-style businesses, restaurants and nightclubs into a place focused on streetwear. By 2007, they chose to open a branded store. But they wanted to make their boutique a destination, a place that would be a bit removed from the crowd.
Crooks & Castles moved away from Fairfax, first to the Crescent Heights area of Melrose Avenue. The store closed in 2008, and more than a year later, Crooks & Castles opened a shop just off of the Sunset Plaza retail district in West Hollywood. It closed in 2011.
But in September, Crooks & Castles returned to the neighborhood to open a 3,000-square-foot space at 455 N. Fairfax Ave. Designed by an in-house team led by Eames aficionado B.J. Calvero, vice president of sales, the store is a mix of mid-20th-century Case Study House architecture, modernist California style and gangster. The store features mid-century-style couches, Persian rugs and lamp stands molded in the shape of automatic weapons.
Calvero felt something of a homecoming for his brand on Fairfax, which was celebrated with a block party with performances by popular rappers including Pusha T. "Our customer is rooted to this block," he said. It is important for them to see all of their favorite brands in a two-block stretch, he noted. They also get something special.
Each brand typically shows something new in the stores on Fairfax. The brands often collaborate on limited-edition collections that can be hard to find beyond the district. Crooks & Castles and Diamond Supply Co. collaborated on a T-shirt welcoming Crooks & Castles back to the street in September.
Friendly competition, shared authenticity
The close proximity and the shared sense of style fostered a sense of community among the shops not often seen on other retail streets, said Emil Soriano Jr., Crooks & Castle's apparel design director. "Everyone is competitive," he said of the street's scene. "But there's a camaraderie among the brands. It's a friendly competition."
But there is no welcome wagon to retailers or brands perceived as outsiders, said Adam Derry, chief executive officer of ADBD, a creative brand-development agency that runs a storefront at 430 N. Fairfax Ave. He also is the co-founder of streetwear brands CRCL R and ADBD X High Fairfax.
"It's an exclusive block," he said. "You can't just open up a store here. You have to understand the culture." If a store is perceived as not understanding streetwear, it will be ignored and eventually be forced to close because of lack of sales.
Fortunately for the street's current businesses, Fairfax's culture won't change any time soon. Despite Fairfax being located a few minutes' drive from one of the centers for contemporary shopping in Los Angeles, The Grove, contemporary and designer shops most likely will not move onto the street despite prices for commercial space being relatively low.
Jay Luchs, executive vice president for real estate company Newmark Grubb Knight Frank, said commercial real estate goes for around $4 per square foot, compared with Los Angeles streets with a similar bohemian ambiance such as Abbot Kinney Boulevard, where space goes for $10 to $12 per square foot.
"It's only a couple of blocks," Luchs said of Fairfax. "It is cool, but it is very targeted. It has an edgy, Lower Eastside kind of customer. … You won't see a fashion brand from SoHo or Robertson going there."
But dominating the streetwear game doesn't mean Fairfax's reputation is guaranteed, said Owen, WGSN's editor. "I think Fairfax is still really important, especially since some of the big players are there," she said. "The problem going forward is maintaining the area's allure." Streetwear trends change at a breakneck pace, she said.