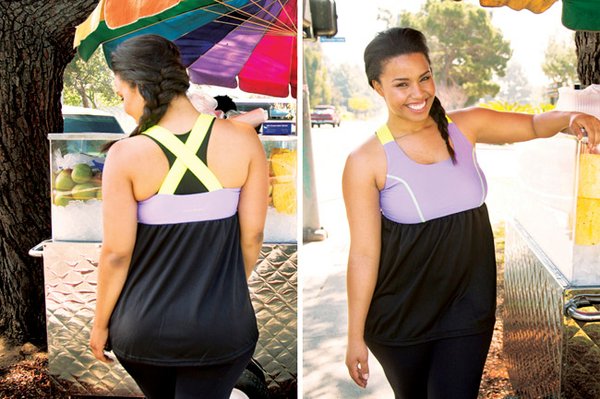 DESIGNER PROFILE
Lola Getts: Plus Size Performance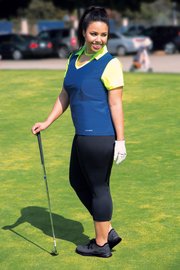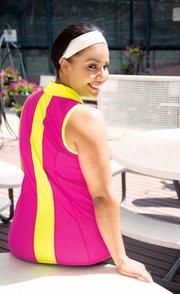 Lola Getts is an activewear company that makes functional sports-performance clothing in plus sizes. Founders Stacey Goldstein and Jodi Geiger saw a void in the activewear industry for plus-size styles. As an avid cyclist and yoga participant, Goldstein noticed that women of various sizes in her classes were wearing baggy sweats and white tees.
Goldstein met Geiger, who is also an avid athlete and has worked in the garment business for 25 years. The two decided to partner up and make clothes dedicated to the "curvy woman," Geiger said. They wanted to create a brand that empowered women of all sizes to appreciate their bodies and help pursue a fit and healthy lifestyle.Geiger has experience in sales, selling trims and novelties to activewear and swimwear companies, which helped the design process.
Lola Getts launched in 2012, selling its first collection on the Lola Getts e-commerce site. The West Coast company makes all of its products in the U.S., with an emphasis on Made in America designs. "We both want to reinvigorate the economy here in the U.S.," Geiger said. The line is designed, cut, sewn and packaged in downtown Los Angeles using some of the finest active and technological performance fabrics available, according to Geiger.
"We use a real woman who is a plus-size model for all of our fittings, along with a patternmaker who has an extensive background fitting plus-size women," Geiger said. "We create styles that enhance her curves and the use of fabrics helps to shape and smooth the problem areas by lifting the rear, flattening the mid-section."
The tops offer stylish fits with razor backs, V-neck fronts and elongated flattering dimensions. The "Lola Club Tee" has a sporty collar, a shirttail for added coverage and mesh sleeves. An added moisture-wicking fabric is inserted to keep the customer dry. There are a jacket and bottoms in the collection, as well. A key element added in the pieces is flat-lock stitching, which gives the pieces smooth lines, better fit and added comfort.
"All of our bottoms and some of our tops use a high grade of weight with compression for added support—however, they are all soft to the touch and breathable," Geiger said.
The pieces in the collection come in three sizes—0 (14/16W), 1 (18/20W) and 2 (22/24W)—with plans to add additional sizes in the future. Lola Getts plans on expanding into other niches of the sports market such as hiking, golf and skiwear.
Wholesale prices range from $28 to $65. In addition to the Lola Getts website, the line is sold at boutiques and fitness centers such as Ganesha Yoga & Adventures in Chicago; Scarlett Boutique, in Charlotte, N.C.; Texas fitness chain Luke's Locker; and Aries Apparel in Hillsboro and Happy Valley, Ore.For sales information, contact Jodi Geiger at (602) 321-4149 or at info@lolagetts.com.