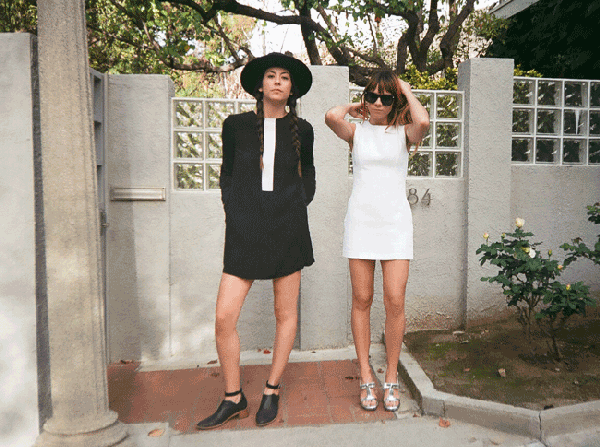 A NOD TO THE 1960S
Sechung Designs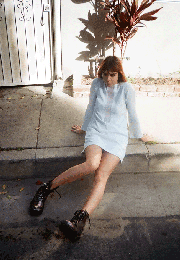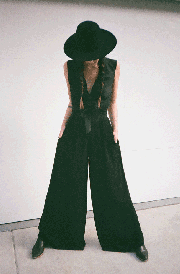 The Spring/Summer 2014 women's line Sechung combines stylish mod pieces with a rocker edge. The cohesive eight-piece collection draws inspiration from a woman's role in the workplace, the affinity for love and mid-century ready-to-wear fashion designer Claire McCardell, who is known for her casual approach to women's sportswear.
The Los Angeles–based line includes classic, functional looks that nod to the '60s, including a dusted baby blue, long-sleeve shift dress with a sheer middle detail, black palazzo pants, a white and black sleeveless, front-tie top, an overall jumpsuit and a navy and white striped cape overcoat.
The collection caters to a wide range of women, with short- and long-sleeve options that can easily be worn at a festival, work or an evening outing. The designer, Sechung, who prefers to go by her first name only, wanted to make clothes that held many options and were sleek yet comfortable. She made a conscious decision to use comfortable fabrics. "I like the use of casual fabrics and clean lines. I like pockets in everything [as well]," she said.
All of the fabrics were sourced and manufactured in Los Angeles. "This season I used only vintage, close-out or American-made fabrics," Sechung said.
Sechung was wearing a dress she made from her home sewing machine when she was approached by a store owner on Abbot Kinney in LA's Venice neighborhood. The boutique owner offered to sell the style if Sechung could make a few more. "I thought this was the most wonderful thing I'd ever heard," she said. But when the store closed, Sechung decided she needed to learn what it would take to produce a line for more than just one store.
Sechung went to work for Los Angeles–based contemporary line Wren, eventually becoming production manager while taking evening classes at LA Trade Tech in sewing and draping. From there, she began to source fabrics and vintage at Reformation, followed by freelance work for lines such as Cult Gaia as well working for fine jewelry and exotic handbag lineOpal Stone. "I finally decided to start my line—at the worst possible time— last year while collecting unemployment and feeling extra down on the fashion industry. [But] I put myself back together while working on this line. I decided it was now or never," Sechung said.
Sechung has made custom pieces for individual clients before and plans to do more in the future. Her friend Rachelyn Remz, with whom Sechung has had the opportunity to work heavily on this line, styled and directed all of the brand's photo shoots. The Polaroid photos chosen for the lookbook gave the garments a soft, vintage finish that reflects the brand's narrative.
Wholesale price points range from $91 to $227. The collection debuted at Tenoversix in West Hollywood, Calif., and Myrtle in Los Angeles' Silverlake neighborhood. For sales information, email info@sechung.com.