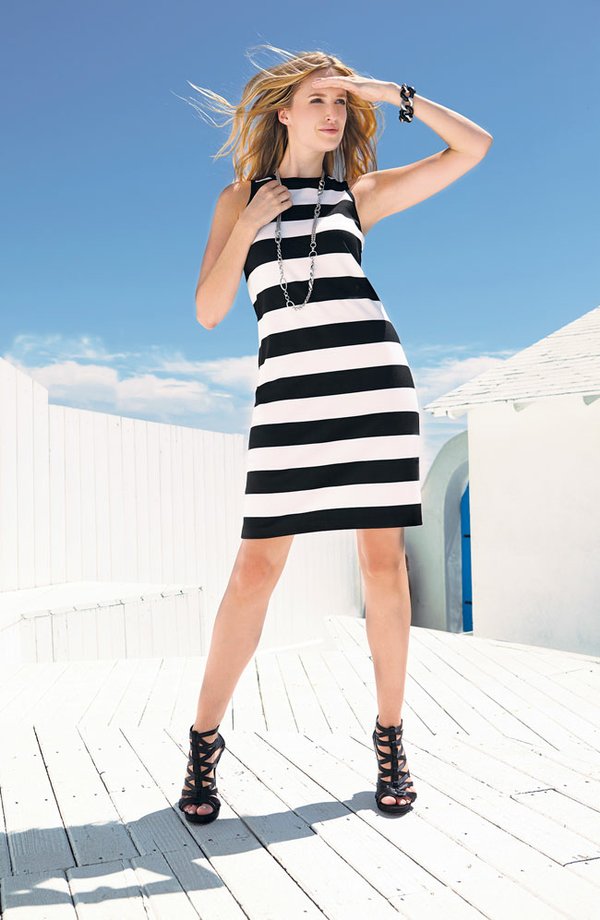 KAREN KANE
Bringing Production Back to the U.S.
When Lonnie and Karen Kane established the Karen Kane clothing line in 1979, everything was manufactured stateside.
Economic shifts that took place during the 1980s forced the Kanes to look overseas for an answer to retailers' increasing pressure to be competitive in pricing. By the late 1990s, approximately 50 percent of Karen Kane's collection was made in the USA and 50 percent was imported.
But, by 2008, a mixture of economic forces reversed that trend. The cost of producing goods overseas dramatically increased while quality standards decreased. Many Chinese workers left the apparel industry for higher-paying jobs manufacturing technology products, which caused a shortage in the apparel labor force and an influx of new workers who didn't possess the same high skill level. At the same time that costs rose, the Kanes noticed the quality continued to deteriorate.
"We paid for endlessly increasing inspection costs and suffered a loss in revenue from products that would come in too damaged to sell," said Michael Kane, director of marketing at Karen Kane and son of the founders. "We decided to bring much of our production to the states in order to solve those issues. Today, approximately 90 percent of all of the items we manufacture are made in the USA." 
The company prefers to produce as much as possible domestically because it allows for greater flexibility with lead time and quality control, Kane said. Ideally, the company would like to manufacture every item in the United States. However, it is not possible to do that currently because of limitations in the domestic resources they have sourced.
"If the on-shoring trend continues, we're hopeful that some of the trade skills we once had will also return," he said. Karen Kane sweaters, for example, are still produced offshore. "It's very hard to find local knitting resources that can produce sweaters at a reasonable cost," Kane said. "If that skill were to come back, we'd certainly try to make them domestically." 
Seasonality plays a huge role in what the company is able to make domestically, as well. Each season, the Karen Kane collection features a wide variety of categories: blouses, dresses, shirts, pants, denim, skirts, structured jackets, and knit jackets and sweaters. During the Spring season, the percentage made in the U.S. can rise as high as 95 percent because there is generally less embellishment on the garments and sweaters are a smaller category. During the Fall, that figure hovers closer to 85 percent because they have more sweaters in their collection as well as items that require more handwork. 
"Generally, if we import an item, the main reason is that the cost to produce it domestically is too high," Kane said. "However, we can also make limited runs of higher price-point items domestically, so you'll find items ranging widely in price made both stateside and overseas."
Since 1991, the Karen Kane company has been headquartered in a 135,000-square-foot facility in Vernon, Calif. The space houses almost all of their operations with the exception of some sewing, including design, production, customer service, marketing, product development, fabric sourcing, cutting, screen printing, sample sewing, inspection and quality control, and shipping departments.
"While it's been a comfortable fit for us over the past 20 years, the building has started to feel a bit cramped in recent months with all of the additional inventory we've been producing to sell online," Kane said. Over the last three years, the company has seen e-commerce rise from 2 percent of total corporate revenue to approximately 20 percent," Kane said. "It's been very exciting to watch that portion of our business grow and evolve in such a short period of time," he said. "If we continue to see that trend continue, we will definitely need some more space very soon."
For more information, visit www.karenkane.com.