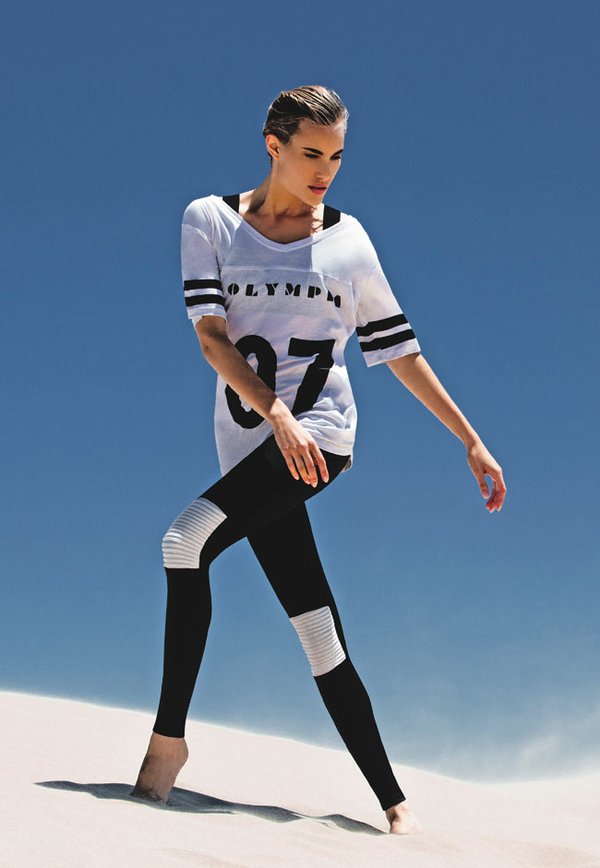 OLYMPIA ACTIVEWEAR
Fashionable Fitness Gear for the Active Minimalist
Look inside any gym and the typical activewear wardrobe is often filled with attention-grabbing neon, bright prints and clothes with a lot of pattern lines to emphasize the apparel's performance features.
As a fan of minimalist home design and fashion, designer Kaili Lickle was turned off by those standard offerings of highlighter-hued tank tops and complicated leggings she saw when shopping for activewear clothes.
"So many of the brands out there were tacky, overdesigned or acid bright," said Lickle, founder and designer of Olympia Activewear. "I created what I wanted to wear when working out. There are no added frills. It's just clean and simple."
The first seeds for Olympia Activewear were planted about three years ago, when Lickle was attending the Academy of Art University in San Francisco, studying fashion and visual merchandising.
"I got really addicted to spin class," Lickle said. Given San Francisco's unique weather, Lickle hunted for one outfit that could get drenched in sweat and go straight home in the chilly evening. "I could find your basic legging, but it didn't have a certain aesthetic," Lickle said.
The idea lay dormant, and Lickle moved on to work as a window dresser for Louis Vuitton in Honolulu. When it came time to finally start her own company, she said, her retail experience was very handy. "There is a psychology, timing, and you have to understand your customer [in visual display]. It's definitely carried over to [Olympia's] business—to really understand our customer, where we belong, so that everything is in line with the brand aesthetic," said Corona Del Mar, Calif.–based Lickle.
In the current trend and cultural movement toward an active and healthy lifestyle, Olympia found a niche in hip online swim and contemporary clothing sites such as Carbon 38, Largo Drive, Bikini Bird, Free People, Revolve Clothing and A Tropical Affair in Santa Barbara, Calif., which caters to fashionable girls that incorporate their yoga clothing into their everyday outfits.
Olympia's spare design doesn't mean that it lacks in performance features. The lightweight 80 percent nylon and 20 percent spandex blend fabric for leggings, sports brands and mini-shorts is also moisture wicking, and some designs feature mesh panels for added cooling windows. Tops in lightweight cotton are cut loose with a boyfriend-like style to be breathable. Olympia's custom plush and wide elastic waistbands have become a signature design detail that also doesn't dig into the wearer's hip.
Wholesale price points range from $30 to $82.50 for tops, sports bras, shorts and leggings. The line is produced in Indonesia. For more information, email info@olympiaactivewear.com or visit www.olympiaactivewear.com.