RETAIL
November Sales Strong Despite Black Friday Disappointments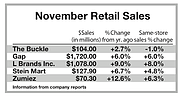 Black Friday sales results disappointed, but overall retail business for the month of November generally pleased retailers and Wall Street analysts.
The International Council of Shopping Centers reported that U.S. retail sales increased 4.9 percent during November, said Jesse Tron, an ICSC spokesman.
"Sales showed a steady industry-wide performance for the month, with apparel showing a strong uptick compared to October," Tron said. "It's an encouraging reading for the holiday season and means we should continue to expect significant improvement over the 2013 season."
Retailers followed by California Apparel News' index showed positive results almost across the board. Gap Inc. reported a 6 percent increase in same-store sales in November, a break from a 3 percent same-store decline in October. Zumiez Inc., a mall-based action-sports chain headquartered in Washington state, reported a same-store-sales increase of 6.3 percent. L Brands, the parent company to mall chains Victoria's Secret and Bed, Bath & Beyond, reported a same-store-sales increase of 8 percent in November. The Buckle Inc., a mall-based contemporary chain headquartered in Nebraska, reported a 1 percent same-store-sales decline in November. However, its net sales increased 2.7 percent during the month.
The first week of December also saw several major specialty retailers report quarterly results. Pacific Sunwear of California, headquartered in Anaheim, Calif., reported results from its third quarter, which ended Nov. 2. Its same-store sales increased 4 percent, and its net sales for the quarter were $212.3 million compared with $202.8 million from the same time last year. For its fourth-quarter forecast, PacSun gave a guidance that its net sales would range from $218 million to $227 million, and same-store sales would range from flat to an increase of 4 percent. However, all is not perfect for PacSun. Its guidance from its fourth-quarter earnings per share forecasted a loss of $0.17 to $0.12 compared with a previous guidance of $0.17.
Guess? Inc., headquartered in Los Angeles, also reported its third-quarter results on Dec. 3. The company reported net earnings of $20.8 million, which represented a 41.3 percent decrease compared with the same time in the previous year. Same-store sales for its North American stores decreased 4 percent. In a statement, Paul Marciano, Guess chief executive officer, noted that the third-quarter results were in the range of the company's perspective. He noted that store traffic and the promotional environment in America remained problematic.