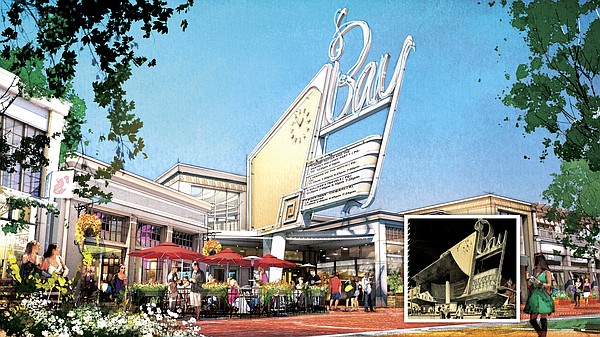 NEIGHBORHOOD DEVELOPMENT
Caruso Outlines Plans for Palisades Village
Reviving a long-gone movie theater; introducing unique, boutique retail; building a park. These are some of the new features that Rick J. Caruso plans to bring to his proposed Palisades Village development in Los Angeles' exclusive Pacific Palisades enclave.
Caruso revealed detailed plans for the proposed 2.8-acre retail and restaurant development at a Dec. 4 standing-room-only meeting of more than 1,000 people at Palisades Charter High School, which is a short drive from the proposed development on Swarthmore Avenue between Monument Street and Sunset Boulevard.
Redeveloping open-air, Main Street–style districts has been a topic of interest at Caruso Affiliated, the Los Angeles–headquartered company helmed by Caruso, who developed, owns and manages popular lifestyle malls The Grove in Los Angeles and The Americana at Brand, located about 10 miles north of The Grove in Glendale, Calif.
The proposed Palisades Village will be Caruso's first run into redeveloping already-existing neighborhoods. On Nov. 25, his company announced that he was closing escrow on Swarthmore Avenue, which brought to a close around two years of real estate deals and anticipation of what he intends to do with the area, which has fallen on hard times.
Swarthmore serves as something of the main drag of Pacific Palisades, but since the Great Recession, many empty storefronts have lined the district, which stands in grim juxtaposition to a community of multi-million-dollar houses. Pacific Palisades has been the address of famous names such as writer Thomas Mann and President Ronald Reagan and currently is the home of Hollywood heavyweights such as "Star Wars" and "Star Trek" director J.J. Abrams and movie stars Ben Affleck and Jennifer Garner. Caruso makes his home in the neighboring enclave of Brentwood.
During the more than 30-minute talk, Caruso said that cleanup of toxic soil around the site of a former dry cleaner on Swarthmore was scheduled to begin on Dec. 8. He also told the Palisades audience that his company intends to demolish the buildings on Swarthmore, which he said had grown rickety with time. The company also plans to acquire the land currently occupied by a Mobil station and relocate a storm drain on the street.
However, his plans for Palisades Village had yet to be approved by the Los Angeles City Council. "I need all of your support to get it done and get it done quickly," Caruso told the crowd of the city's permit process. The enthusiastic crowd, which included Adam Glazer, the president-elect of the Pacific Palisades Chamber of Commerce, broke into applause several times during Caruso's presentation. "You're making my night," Caruso said. "I thought I was going to get shot," he joked.
Caruso Affiliated conducted a series of community meetings in Pacific Palisades earlier this year to find out what residents want in a retail district. Topping the list was a community room, a cinema, a specialty grocer, a park, outdoor dining, unique retailers and increased parking. Caruso told the crowd that he intends to grant all requests.
For increased parking, he plans to build parking lots underneath the proposed village. For a cinema, he plans to rebuild the Bay Theater on the site where the long-gone movie house closed in the late 1970s.
He also plans to install a 1940s-style art deco sign for the Bay. For a specialty grocer, businesses such as Whole Foods and Trader Joe's have been considered, but the field is wide open, he said.
For retail, boutiques being considered for the development will be a "diverse group of specialty independent merchants and unique brands, including some opening their first stores on the Westside," according to a Caruso Affiliated statement.
For boutiques currently doing business in the Palisades Village area, Caruso told the audience that businesses' leases will be honored until they expire in mid-2016. During the construction period, rent will be cut, although he did not say by how much. Caruso Affiliated also will give low-interest loans to boutiques moving out of the neighborhood and will help out those who will move back into the proposed development.
During a question-and-answer session, Caruso declined to state how much rents will cost at the new place or how much it will cost to construct the project. The project is scheduled to take a bow in fall 2017. Before he ended his talk, Caruso also stated there will be outdoor-style dining as well as a village green park, which will include stately trees, a lawn and colorful flowers.