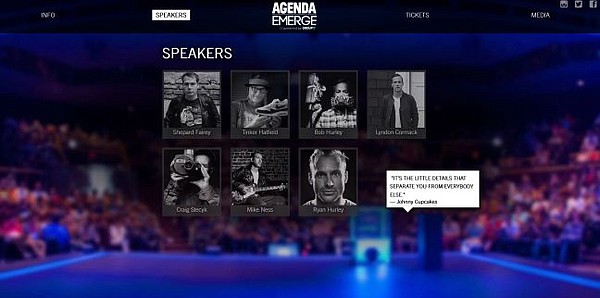 Shepard Fairey, Bob Hurley to Speak at Agenda Emerge
Agenda Emerge is something like TED Talks for the streetwear, action sports and fashion crowds. It's coming up at Jan. 6 after the close of the Agenda in Long Beach. And instead of Sting playing guitar and musing about creativity or Fabien Cousteau urging us to give more thought to the oceans (These were two TED Talks this year), the upcoming Agenda Emerge will feature superstars of the streetwear and action sports worlds discussing what they did with their creative careers, and how they did it, all at the 825-seat Center Theater at the Long Beach Convention Center.
Scheduled to speak, among others,will be Shepard Fairey , founder of Obey, Bob Hurley, founder of Hurley, Mike Ness of influential punk/rockabilly band Social Distortion, and Craig Stecyk, artist, writer and historian of surfing and skateboarding. A single ticket costs $85. Yowza!