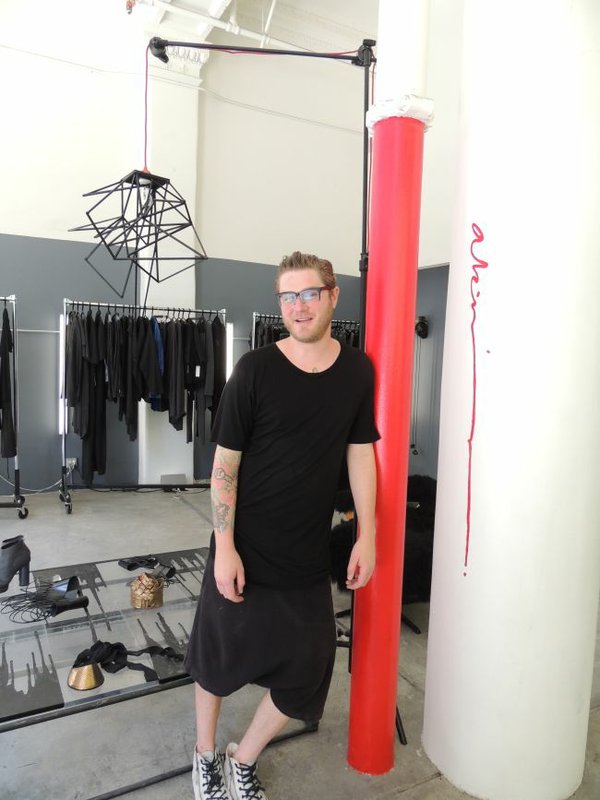 Akai Ito's New Store
Akai Ito opened in 2012, and its mission was to bring high end avant garde fashions to downtown Los Angeles' Arts District.
But Akai Ito recently moved, said the shop's co-owner Jeremy Friend. "We used to say that we were at the edge of civilization, " Friend recalled about the store's old digs at 941 E. Second St. "Now we moved back to the center."
The new space is located at 125 W. 4th St., #106. It is adjacent to a boutique Skingraft, a label which champions Los Angeles' high end avant garde looks, Friend also managed its boutique when it opened more than six years ago. The new Akai Ito is a block away from downtown watering hole Pete's Café, and the spot for the proposed Old Bank District Museum. The area is placed in the Old Bank District, on the edge of Woody Guthrie Square, where the lefty folk singer played gigs in the 1930s.
On July 24, Friend and Akai Ito's Co-owner Douglas VanLaningham will officially unveil the new Akai Ito, which will feature a boutique for the shop's edgy looks, along with an art gallery.
The front half of Akai Ito's new space will be dedicated to art gallery space, which will feature work of artists associated with the brands and designers offered at the shop. The space formerly housed the Blends high end sneaker store.

The back half of Akai Ito also has retail history. It was the site of the subway station-like Comme Des Garçons Guerilla pop-up store. It did business in 2008 and was one of the first designer shops to prospect high end retail in modern downtown Los Angeles.
Akai Ito will offer Los Angeles designed high end avant labels as well as more French and German designers with a high end avant garde edge. Design labels found there are A.F. Vandevorst, Lars Andersson, Isabel Benenato and Antonio Barragan. A big chunk of Akai Ito business is celebrity styling. Some musicians included in the shop's clientele are Ciara, Ne-Yo and Ricky Martin.