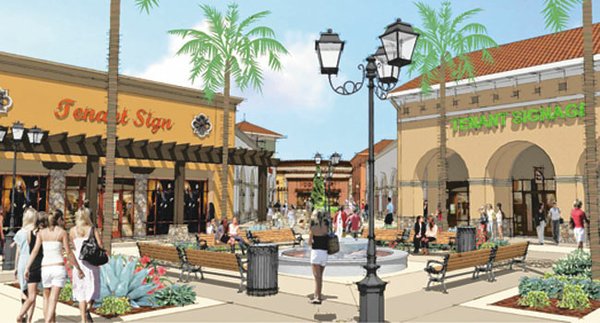 RETAIL
The Outlets at Tejon to Open
More than 70 well-known retailers are scheduled to open stores at the new Outlets at Tejon center on Aug. 7.
Gap, Brooks Brothers, Calvin Klein, Charlotte Russe, Cotton On, H&M, Pacific Sunwear and Michael Kors are just some of the retailers that will debut stores offering a 20 percent to 65 percent discount off their full retail prices.
Juniors retailer Windsor, based in Los Angeles, will open its eighth overall outlet store at the new Tejon complex in California's Central Valley, said Ike Zekaria, co-owner of Windsor Fashions Inc.
"We like the market," Zekaria said. "When we heard about the Outlets at Tejon project, our ears perked up. We liked the proximity to Bakersfield. We liked the tenant mix. It seems to introduce a bunch of retailers that are not represented in this marketplace. We also liked that it is an in-fill opportunity as we make our way north to the Fresno, San Francisco and Sacramento markets."
The new $90 million center, built in a California, Spanish-mission style, is located along a sparsely populated area near the Tejon Pass, which links Los Angeles with the Central Valley. The outlets are about a 30-minute drive south of Bakersfield and about a 90-minute drive north of Los Angeles.
It's near the Tejon Pass Commerce Center along the Interstate 5, where travelers often stop to buy gas or grab a coffee at Starbucks or a hamburger at McDonald's.
Barry Zoeller, a spokesperson for the outlet's developer, Tejon Ranch Co., said the new 321,000-square-foot shopping center, built in partnership with The Rockefeller Group, will draw from more than 3 million people in the Bakersfield area, as well as shoppers from the north San Fernando Valley and north San Gabriel Valley area of Los Angeles County. It will also attract tourists making their way to Yosemite National Park and Sequoia National Forest or heading to Northern California.
The Outlets at Tejon are 100 percent leased, Zoeller said. There will not only be retail but restaurants such as Juicy Burger and Tony's Pizza.
Zoeller declined to estimate what kind of sales the new outlet center would generate. But the outlet industry averages sales of $400 per square foot per year, Zoeller said,
While no full-price regional shopping centers are scheduled to debut in California this year, there's a lot of activity in the outlet-center field. The Desert Hills Premium Outlets in Cabazon, Calif., unveiled a 146,000-square-foot expansion in April.
The Outlets at the Border are scheduled to open in the San Diego area this fall.