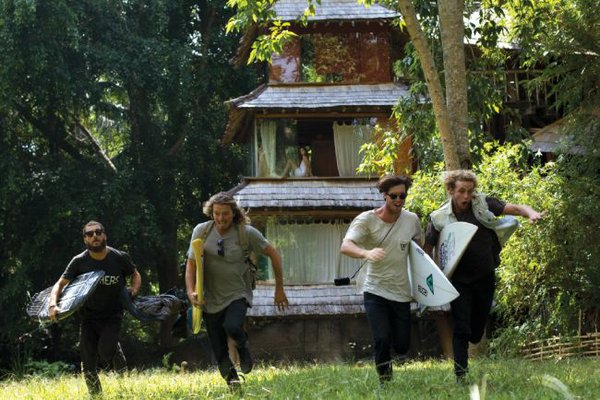 Globe's Old School Surf Movie
Making the surf film was once one of the ultimate roughing it expeditions, now it's easy.
With the relatively affordable and easy to carry GoPro cameras, almost anyone with a board can make a surf film. But the crew of new movie, Strange Rumblings in Shangri La, hoped to defy the current state of affairs. Breaking out their retro surf culture was Strange Rumblings Director Joe G., with brothers Peter, Stephen, and Matt Hill, who produced the movie and also run El Segundo, Calif.-headquartered action sports brand Globe.
They used 16 millimeter cameras to film surf expeditions in places that seem to fall off of the map, like Iceland, Mozambique, Indonesia and an island off of the coast of Brazil.
"This is a throwback to Endless Summer," Matt Hill said of the classic 1966 surf movie which started the big wave (pun intended) of surf flicks. "As a brand and a film production company, we're trying to bring back that high order of films." Matt Hill is CEO of Globe.
Strange Rumblings in Shangri La won't just be action shots of surfers like Taj Burrow and CJ Hobgood taking on the waves, it's a travelogue of the out-of-the-way places these guys go to find the perfect ride.
In Iceland, the Strange Rumblings crew dodged large chunks of ice in waters near the top of the world. In Mozambique, they rode a fabled wave that even the locals rarely encounter. Providing the soundtrack was DJ duo The Dukes of Chutney, which put together their own genre; psycho-tropical, country dub.
Globe will host a world premiere for Strange Rumblings 7 PM, July 31 at the Pacific Air Center, a Cessna airplane hangar, at 2835 E. Spring St. in Long Beach. It's free to the public. There's also a capsule collection of clothes for Shangri La movie. Check it out here.