FINANCE
Los Angeles Retail Rents Rise With the Economy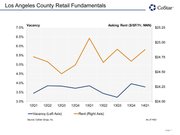 Start looking for that new store location now before rents go up even more, because the retail market is heating up.
By the end of March, rents in Los Angeles County had increased 2.9 percent over the previous year with the average asking retail rent currently at $25.92 a square foot per year. That includes everything from shopping centers to independent retail stores, said Ryan McCullough, senior real estate economist with CoStar Group, a real estate information company.
In areas such as Santa Monica, average retail rents are down because most prime retail locations are occupied. It is the secondary retail market that is up for grabs these days. McCullough said Santa Monica rents at the end of March averaged $47.56 a square foot per year compared with as much as $53 a square foot two years ago.
One of the fastest-growing retail markets is located in downtown Los Angeles. With a wave of new apartment buildings rising above former parking lots and with historic buildings being converted into live/work spaces, there is a growing need for more stores, coffee shops and restaurants.
"A lot of synergy has come into downtown in the last year or two," said Mark Takeichi, a director of brokerage services at Charles Dunn Co., a commercial real estate firm headquartered in downtown Los Angeles.
"There are a lot of younger professional residents moving into downtown Los Angeles with a lot of disposable income. They need places to shop, buy groceries and eat. That is what is pushing up the downtown market," Takeichi said.
He noted that retail rents average about $48 per square foot per year, which is double what it was two years ago.
He pointed to the revitalization of Figueroa Street's FigAt7th mall, which was closed for months. It underwent a total makeover with a new City Target, a Sport Chalet and H&M's first downtown Los Angeles store. Zara is scheduled to open there soon, too.
The Ratkovich Co. is in the midst of a $160 million renovation of Macy's Plaza at Seventh and Hope streets in downtown Los Angeles. The developer is opening up the cube-like shopping center to have a huge open-air plaza surrounded by food establishments, lots of retail and other amenities. The renovated center, to be called The Bloc, should be ready for prime-time viewing in the latter half of 2015.
Meanwhile, store chains such as J. Crew, the Gap and Banana Republic are circling the streets, checking out the downtown LA neighborhood.