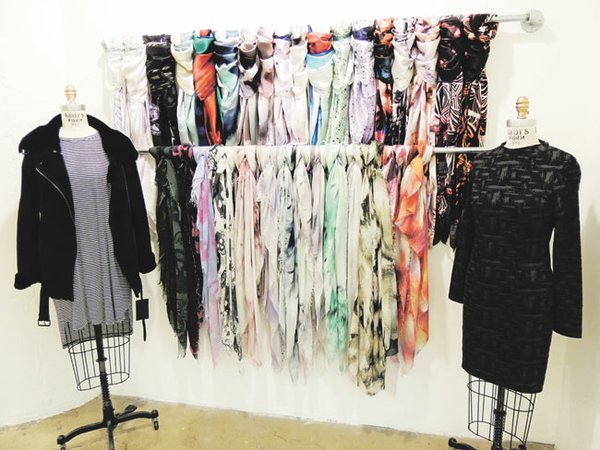 SHOWROOM PROFILES
Showroom Profile: Cooper Design Space Research and Development Bloom Showroom
Research and Development
Cooper Design Space, Suite 212
(310) 487-2513
Bloom Showroom
Cooper Design Space, Suite 212
(626) 534-5625
After working in a space shared by several showrooms at the Lady Liberty Building in downtown Los Angeles, Candice Clark and Jennifer Dermer joined forces to open a new showroom at the Cooper Design Space. Their joint showroom will take a bow at the upcoming LA Fashion Market, scheduled to run June 8–11.
In the front of suite 212, Clark runs the Research and Development showroom, where she represents Danish fashion line Just Female. Dermer's section of the space is called Bloom Showroom, and she represents accessories lines such as Shai Shanti and Joanna Morgan Designs.
Clark said the two showrooms complement each other. "She has accessories and I have clothing, so it's a good fit. We don't have any lines that compete with each other," Clark said. "The space is more intimate than our last," Dermer said.
Just Female was recently introduced to the American market, Clark said. It's a full collection with outerwear, dresses, skirts and tops. The line's website bears the mission statement: "We have a dream of creating designs with a minimalistic aesthetic and a strong identity shown in every piece in the collections." Wholesale price points range from $26 to $60 for the collection and $80 to $150 for the collection's leather items.
Dermer's clients include jewelry lines crafted by artisans who make small runs of jewelry pieces. Another client is Shai Shanti, an Ojai, Calif.–based scarf line. The line features designs from artists based around the world. Their prints appear on silk satin and silk Modal-blend scarves. Wholesale price points for the scarves are $135.