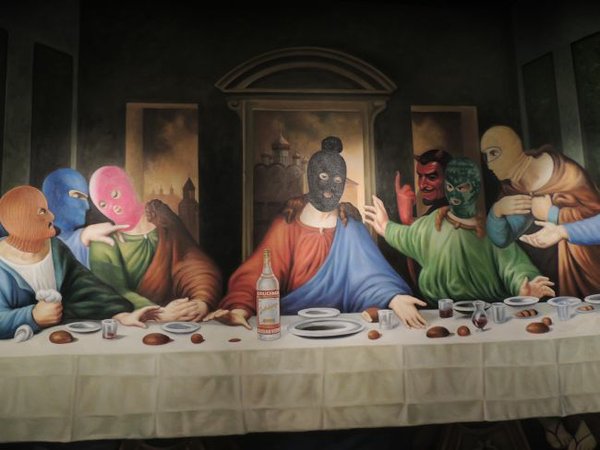 SSUR's New Shop: From Russia With Streetwear Love
The new SSUR flagship was not dropped in the wrong place.
Sure, the flagship store for the prominent streetwear brand is more than five minute drive away from the Rodeo Drive of streetwear, Fairfax Avenue. It's where all of the major brands have their flagships. But that is the way SSUR founder Ruslan V. Karablin likes it.
"I'd rather build a destination," he said of his new space, located at 7710 Santa Monica Blvd., in West Hollywood. Like the brand's New York City shop, it is a bit removed from the main fashion retail streets.
There was a debut party June 5 for SSUR shop, which is filled with Russian style tchotchkes, objets d'art and fetishes. It also features a special take on Russian pop culture from Karablin, who was born in Odessa, Ukraine and immigrated to New York with his family in 1974.
In a store hallway, there's a huge painting of Pussy Riot –like figures in Last Supper poses of Jesus and the apostles. They're not only wearing Pussy Riot style balaclavas, but they're also toasting the last supper with vodka. Also think of pop culture take offs of Russian style caviar cans and of course shirts which bear the word "Caviar," all from the SSUR line Caviar Cartel.
"I appreciate my culture," Karablin said at the June 5 opening. "I appreciate the richness of the culture and the gaudiness of it. Russians love to dress loud. They love to make a statement. Some of it rubbed off on me. But I apply it with different methods." Hence the streetwear ready art and clothes, which has gained fervent fans from Los Angeles streetwear brands such as Crooks & Castles.
Some of the chiefs of Crooks & Castles partied at the SSUR debut, and they applauded the SSUR's West Coast move. Emil Soriano of Crooks & Castles, which runs a flagship on 455 N. Fairfax, said "It helps us as a community to have more brands here… (Karablin) comes from a true street background."
And Karablin will be taking SSUR to his homeland. He plans to open a SSUR flagship in Odessa this summer.