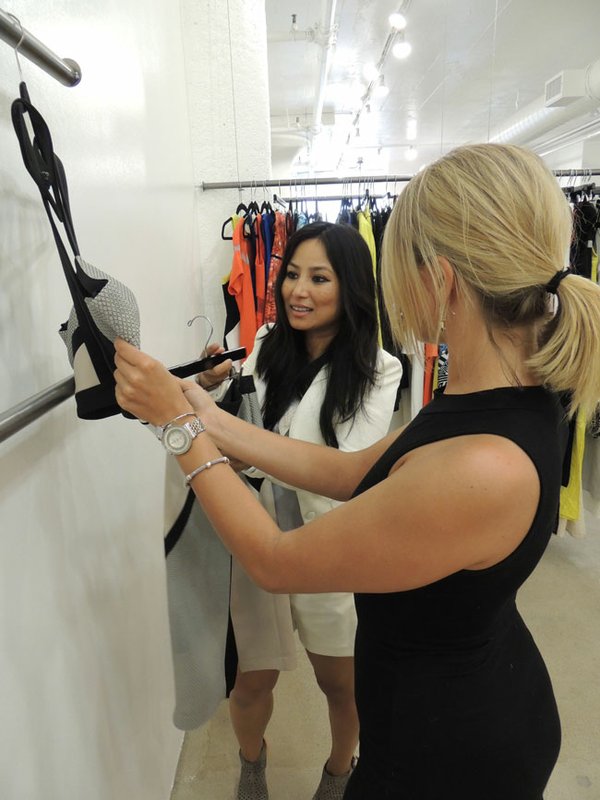 TRADE SHOWS
Immediates and Final Fall Orders at LA Fashion Market
Los Angeles Fashion Market was busier than expected for many showing at the California Market Center, The New Mart, the Cooper Design Space, the Gerry Building and the Lady Liberty Building, as well as exhibitors showing at Designers and Agents, Brand Assembly and Select.
Some reported strong interest in Immediates as buyers replenished their inventories while others said buyers who had placed light orders for Fall goods earlier in the year were back to finalize and increase their buys.
Clicking at the CMC
June may spell gloom when it comes to the weather, but many showrooms at the California Market Center felt that the recent Los Angeles Fashion Market was anything but gloomy.
While buyers weren't breaking down the doors, there was a constant stream of store owners filling in their inventories with Immediate orders while they were placing orders for Fall.
"It's been a steady flow of stores," said Joyce Snyder, national sales manager for the vintage-inspired women's line Stop Staring! "The market for a June market has been good. I have opened some new accounts in Atlanta; Billings, Mont.; and Kansas City, Mo."
Snyder made several appointments with existing customers, but new accounts wandered in to her second-floor showroom, strategically located near the elevators. The Fall/Holiday collection for Stop Staring! was invigorated with some bright new colors, such as peacock blue and jewel tones. Longer sleeves were making their way into the Fall/Holiday 2014 collection, whose wholesale prices average around $80.
The line, designed by Alicia Estrada, is popular for its 1950s-vibe dresses and because it is manufactured in the Los Angeles area. Snyder said just about every order included a peplum dress.
On the CMC's third floor, Jenna Fisher, the manager of the Coin 1804 showroom, had seen bursts of business during the four-day market. Sunday was very busy, but buyer traffic had thinned out by Wednesday.
She said buyers were placing orders for Immediate goods. Doing well for the Coin 1804 line, headquartered in Los Angeles, were maxi skirts and tank tops. "We sell across the board, from young contemporary to misses." Fisher said.
Even though Immediates were foremost on many buyers' minds, Coin 1804 was previewing pre-Spring knit tops in gray, blush, white and black to get feedback before producing the line, mainly made in Los Angeles.
Matt Gill, head of West Coast sales at the XCVI corporate showroom for the California lifestyle clothing collection, said he was pleasantly surprised by the June market. "Usually, June markets are slow in anticipation of MAGIC in August, but this has been a great market for us. It is better than last March and last June," he said. "There have been more sales, and new accounts are finding us."
Not far down the hall at the Hale Mary Showroom, Haley Miller and Mary Cesario-Soflio saw buyers from some of the large stores they work. Reorder activity was fairly brisk. Particularly popular were faux-fur scarves, both long and short, for Fall, wholesaling for $15 to $19, and a one-size-fits-all lace swing top that wholesales for $13.
"It was not a negative Nellie market," Miller said.
The New Mart: More specialty
For Eme Mizioch of the Joken Style Showroom, the Fall II/Holiday '14 market was a revelation.
She forecasted a steady market, but foot traffic seemed up, and many buyers hailed from an unexpected source. She saw more specialty retailers than she had since the beginning of The Great Recession.
"I really thought that specialty was a dying breed," she said. "But they seem like they were back, and they were buying pushed-out deliveries." Texas-based Kalcorp Enterprises Inc., parent company of specialty chain Aggieland Outfitters, shopped at Joken Style as well as Sassy Prints, a retailer from Georgia.
Mikey Herlo, director of men's sales for Cotton Citizen, a Los Angeles–based men's and women's collection where every garment is dyed by hand, said that market was great for his brand. It exhibited at the Cohen Showrooms in The New Mart. "Orders and traffic were up," Herlo said. Retailers browsing Cotton Citizen looks included Ron Robinson and American Rag as well as representatives from various Japanese retailers and distributors.
Vishaka Lama of The New Mart's ShowroomFive21 showed Australian dress line Lumier by Bariano. She had appointments with her regular clients, who viewed her Holiday dresses. "There's always new people who walk in," she said.
Liza Stewart of the Liza Stewart showroom in The New Mart's suite 900 also noted greater traffic compared with the June 2013 LA Fashion Market. The showroom exhibited lines including Butterflyzebra and Only Hearts during the market.
Cooper: June is for beginnings
June may be the second quarter for many businesses, but it represented a new beginning for Andie Verbance.
On June 1, she opened the By Land + Sea showroom in suite 205 of the Cooper Design Space. It's a co-op effort with the Agent Icon showroom. Verbance worked as a showroom manager at the Cooper for the past five years, and, by her account, she hit the ground running with her first show helming her own showroom.
Immediately after opening the showroom, she flew to the East Coast for some appointments. When she returned to Los Angeles, it was time for the market. "We had a great market. It was busy," she said.
Perhaps it was a case of beginners' luck. Like many markets, different showrooms fielded varying degrees of traffic and business.
For Michael Moshi of the Los Angeles–based Lauren Moshi brand, June was a market defined by steady growth. "Orders were as usual—nothing out of the norm—but overall, it was good," he said. "Traffic was at the norm."
For men's showroom The Foundation, traffic was a bit slow because the market was focused on women's fashions, said Brian Heslop, the showroom's West Coast sales manager. However, the foundation's eyewear representative, Michelle Mills, saw retailers such as Revolve, Black Market and American Rag for her client Super by Retrosuperfuture.
Lien Vets of the Noella showroom said the show was good, but she thought that buyers were not focused on new lines. Rather, they were embracing lines that had performed well for them in the past. Her showroom exhibited SB47, a New York–headquartered line that made its debut for Fall '14.
Another line making a debut at the Cooper was Vere Verto, a multi-functional accessories line designed and manufactured in Los Angeles, said Paige Smith, the designer of the handbags, which also could be used as backpacks and fanny packs. "It's still a new concept," she said of her line. "This show was about educating the buyers."
Low gear at the Gerry Building
Even though traffic was slow at the Gerry Building showrooms, a few new accounts were opened during market. Sunday was the busiest day of the four-day show.
"I did open a few new accounts, and my appointments came in, but I felt it was quiet. Yet the people who came were buying," said Karen Kearns, whose ninth-floor Karen Kearns Showroom carries five clothing lines, including Ruiz by Yolanda coats, Olsen Europe, Ciao Milano jackets and Amy Brill sweaters.
A floor down at the Impulse Showroom, owner Lori Marchand said the show was challenging because there really weren't that many buyers wandering through the building. "Generally, June is a good market for me, but this one was definitely challenging," said the showroom owner, whose lines include Ball of Cotton sweaters, Amma tops and Olivi's lace dresses.
Solid business at Lady Liberty
Mary Joya relocated her Mary Joya Fashion showroom to the Lady Liberty just two weeks before LA Fashion Market. The new space is one floor up from the showroom for Free People, which Joya also represents.
The Mary Joya showroom represents Trunk Ltd., which recently relaunched, and Artisan Deluxe, the new collection from the founder of Antik Denim.
Trunk has already been picked up by Kitson, Dash and The Den, and Artisan Deluxe has been picked up by M. Fredric and Ron Herman.
"Our June market is about getting caught up with my accounts for Fall and Holiday," she said. "People will come and revisit their Fall order—and beef it up because they find out that certain categories are selling."
Joya said she saw buyers from Alaska, Hawaii, Colorado—"the whole West Coast"—as well as several Japanese accounts that she sees every market.
"We do appointments, so we know if it's going to be busy ahead of time," she said.
Many buyers weren't ready to buy true Fall items such as sweaters and jackets until now, she added.
Joya's showroom shares space with three other showrooms: The Bar, the Hanger Showroom and the McMillan Showroom.
Selena Slogar, owner and director of the Hanger Showroom, said she was expecting June to be a smaller market but said some buyers skipped Los Angeles market because many downtown LA hotels were already booked because of the E3 convention. Plus, for her retailers, Fall has already been booked.
The Hanger showroom carries Los Angeles–based Karen Zambos; Ministry of Style; Ringuet and Lola vs. Harper, both from Australia; and Shilla, which she described as her "under-$100" line.
Sabrina McMillan, owner of the McMillan Showroom, said buyers were looking for the "next, new, different—but at a good price."
Buyers are also asking for Immediates, she said. "I'm selling leather more than anything. It's been my shining star this market."
McMillan carries Bel Kazan, Boxy T's and Donna di Eleganza, as well as Suzywan Deluxe, a new jewelry line from Sweden.
Upbeat at Designers and Agents
The mood was upbeat during the June 9–11 run of Designers and Agents at The New Mart, which drew buyers from Fred Segal, Nordstrom and Anthropologie, as well as boutique retailers from California, Colorado, Texas, Kentucky, Tennessee, Minnesota and Alaska.
"The mood has been really good, really positive," said Barbara Kramer, co-owner of D&A.
Anna Menitskaya of Los Angeles–based Mijo by Michelle Jonas said the first day of the show, in particular, was busy, although by the second day of the show, she had primarily seen only California stores.
"People come to see us from all over California," she said.
Most retailers were asking for Immediate deliveries, Menitskaya said.
"That's the need—to fill shelves right now," she said. "It is a trend, to have the purchase date as close to delivery as possible. We produce domestically, so we are able to meet the demand, and we sell to small boutiques."
This was the first time at D&A's Los Angeles show for Juliane Camposano, owner of Brooklyn, N.Y.–based Rosel, a collection of natural, organic and recycled-fiber fashion made in Peru, New York and Los Angeles.
"It's been amazing," Camposano said.
The designer had tried to land West Coast orders by directly contacting retailers but found the setting at D&A much more successful.
"This [show] has been a much better opportunity," she said.
Rosel was showing in D&A's Green Room, the annual showcase of new ethical and sustainable brands. The section is open to brands that have never shown with D&A before, and many go on to participate in some of the larger D&A shows, Kramer said. In addition to meeting with buyers, the Green Room provides a place for these designers to meet and network.
"This is the opportunity for them to connect with other designers, so many friends and collaborations get made here," Kramer said.
Returning D&A exhibitor Anita Arze was showing her Anita Arze collection of high-end artisan sweaters handmade in Bolivia. Wholesale priced from $224 to $284, the pieces have a relaxed, easy fit and a look Arze calls "casual luxury."
"It's not mass produced," she said. "It's that special heirloom piece in your closet you're going to pass on to someone someday."
This season, Arze introduced separates to go with the knits. Made in Los Angeles, the pieces are designed in eco fabrics such as Modal and Tencel.
Arze was showing her collection in a booth with Marie Shaffer, who was exhibiting American Dress Code, a new line from the former owners of Blue Cult.
The men's and women's premium-denim line featured novel details such as an offset hidden zipper on the "Mary Jane" jean or the cargo pockets on the "Skinny Sailor" style. In addition to denim, the collection features corduroy, sateen and engineer-stripe fabrications. Wholesale prices range from $89 to $129 for women's styles with stretch and $119 for men's rigid denim styles.
Shaffer, who previously ran the Tool Box showroom in The New Mart for many years, said she knew June market was one of the slower of the year but had appointments with Bloomingdale's and Nordstrom.
Select opportunities
Traffic was light at the Select show, held June 9–11 in the CMC fashion theater, but exhibitors reported seeing a few key buyers.
Los Angeles denim line Grace LA has a showroom on the fifth floor of the building but also decided to show at Select.
Sales rep Beth Amoah said June is typically a slow month, but she met with local buyers as well as two from Canada and another from Colorado.
Grace LA is known for its embellished pockets and had several new designs, including an Aztec-inspired pattern in crystal.
This was the second time showing at Select for Miami-based accessories line By Lilla. The company makes hair accessories that can also be worn as necklaces and bracelets. The current top seller for the company is a leather hairband/bracelet made in Colombia, where the founders of the company are originally from.
Sarah Zane Moore, director of sales for the company, had just returned from markets in Dallas and Atlanta. She said the company had shown at Select in March and had an "incredibly fantastic" show.
"[This] show is not super busy, but we did just fine," she said. "We need to do all the shows. If we build it, they will come."
The accessories are wholesale priced from $3.50 to $18 for styles with antique lace, and all the pieces are handmade to order in Miami.
Brand Assembly celebrates milestone
The Brand Assembly trade show celebrated its first anniversary during its June 9–11 run at the Cooper Design Space.
More brands did business at the most recent show compared with its June 2013 show. There were 21 booths at the most recent Brand Assembly, compared with 15 booths at the June 2013 show, said Hillary France, co-founder of the show. However, whether the show hosts more booths or less booths is not important, France said. "It's a tightly edited show, and all of the brands work together," she said. "We want to make sure that buyers don't feel overwhelmed and that brands have the time to work with the buyers and not feel rushed."
She said retailers such as Ron Herman, Nordstrom, Nasty Gal and Gap Inc.'s Piperlime visited the most recent show.
Jennifer Waycott, a sales rep for the Gorjana label, based in Laguna Beach, Calif., said the show went beyond her expectations. "Shows in June are more of an appointment-based business," she said. "But we established new business through walk-ins," Waycott said. Gorjana took more than 20 orders during the show.
Many of the vendors at the show, such as Anna Boggs of Los Angeles–headquartered line Rachel Zoe, said traffic followed a certain rhythm. "The first day was steady. The second day I was slammed. The third day was quiet," Boggs said of the show.
Most of the vendors showed Holiday collections at the show. Some showed styles that had delivery dates of Dec. 30.