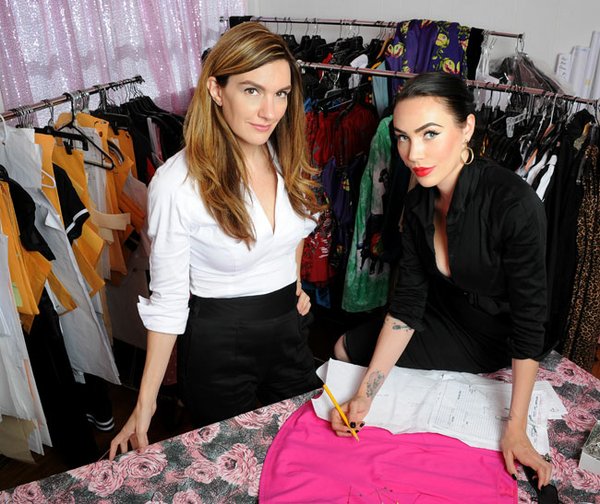 PINUP GIRL CLOTHING
How Retro-Style Clothing Formed a Multi-Million Company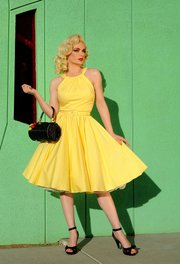 Inside a sewing factory in South Central Los Angeles, mounds of colorful fabric are piled high as the buzz of sewing machines punctuates the air.
Rows of garment workers adroitly shape the yards upon yards of yellow, red and polka-dot cloth into dresses, skirts, tops and pants for Pinup Girl Clothing. The company produces clothing that takes its cues from the 1950s and 1960s, which has helped it grow from a small cottage industry started by Laura Byrnes in her living room to a $10 million venture celebrating its 15th anniversary.
"I've always worn vintage fashion," said Byrnes, who shuns job titles but does call herself the "Supreme Overlord" of the concern. "When I went to the prom in 1986, I wore a vintage dress. I took my love for vintage and made it into a company."
In 1996, Byrnes was given a sewing machine that had been bought at a Liberace estate sale. With the machine and a few rudimentary sewing lessons, she started creating childrenswear for her recently born daughter, Milena. Then it was on to clothes for herself and her friends.
Things and ideas kept expanding to the point that in 1999, Byrnes decided to launch a website that took custom orders for the 1950s-era styles so cherished by the Rockabilly culture. Think dresses with full-circle skirts and tight waists, wiggle dresses, and capri pants. By this time, she had six seamstresses working for her.
"People could select a style, a fabric from 50 selections and then put in their measurements for bust, waist and hips," said Byrnes, sitting in an office above the factory and wearing bright-blue capri pants with a 1950s-style short-sleeve white blouse knotted at the waist.
That first year as an online company was tough. Byrnes said her capital outlay was $6,000. Her revenues were $3,000. "But we kept going," she noted. To beef up sales, she started selling third-party jewelry, accessories and shoes to go with her online styles. The second year, revenues rose to $28,000.
The website and the fashions were perfect for the woman who loved the more ample skirts popular in the 1950s or who loved vintage styles in modern-day fabrics with a little spandex. Byrnes made sure she included larger sizes in her merchandise.
That's because a full circle skirt flatters just about any body shape. The 1950s look is popular at Tatyana, a collection and retail chain founded by Tatyana Khomyakova, who previously designed the Bettie Page Clothing brand. "Nowadays we find a lot of things in fashion are really small and really short," said Candace Rosales, assistant manager of the chain's San Francisco store. "Some women don't feel comfortable showing off certain body parts."
She said many of her customers feel the vintage look of dresses such as those made by Pinup Girl Clothing can be classy but still sexy. "It's get-up-and-go glamour," she observed.
Every year, there is an event called "Viva Las Vegas," billed as a Rockabilly four-day extravaganza, held at The Orleans Casino in Las Vegas. The show features a classic-car show, disc jockeys playing rock 'n' roll and oodles of people decked out in 1950s styles. Pinup Girl Clothing is always front and center at the event.
Renewed interest in 1950s-era clothing also has been sparked by television shows such as "Mad Men," now in its seventh season, observed Shareen Mitchell, an expert in vintage clothing and owner of Shareen Vintage. Who wouldn't want to look like Joan, played by actress Christina Hendricks, the show's bombshell secretary turned advertising-company partner, who wears a lot of wiggle dresses and fills them out nicely? "Joan has brought back the appeal of the wiggle dress," Mitchell said.
Shelly Erdmann, a sales associate at The Way We Wore, a Los Angeles vintage store on La Brea Avenue, has been seriously collecting and wearing 1950s-era clothing for the past five years. As a size 12 to 14, she feels the style is flattering to a woman who has hips not shaped like those of a 12-year-old boy. "With most vintage clothing, it is hard to find something that is in a size 12 or up," she said. "What I see Pinup Girl Clothing doing is a fuller skirt and tighter top, which gives leeway for different body types."
To accommodate different body types, Pinup Girl Clothing creates clothes that range in size from extra small to 4X. Byrnes said the company's average customer is around 18 to 28 years old, but there are customers in their 40s, 50s and upwards. "Often our customer is a jeans and T-shirt girl who doesn't feel she fits the average look of a model in a fashion magazine," Byrnes said. "We have converted girls who didn't know how to dress."
In 2003, Pinup Girl Clothing started selling its collection to retail stores, which tend to be smaller specialty stores in smaller towns. And the company has an international following. Australia is the brand's second-largest market. Two stores in Dublin and one store in Cork, Ireland, are stocking the line as well as boutiques in New Zealand. Pinup Girl Clothing also sells its styles to websites in England, the Netherlands, Canada and Australia.
About 80 percent of sales now are done online with the rest to mom-and-pop retailers, said John Flores, the company's president and Byrnes' ex-husband. Two years ago, Pinup Girl Clothing opened its own store on Magnolia Boulevard in Burbank, Calif. The 4,000-square-foot shop is the prototype of what Byrnes hopes will be a franchised concept.
Made in USA
One of the driving forces for sales is that the majority of the line is made in Los Angeles. Micheline Pitt, vice president of design and special projects, designs the label's prints. The "Made in USA" label is a selling point that attracts a number of customers who increasingly look to see where their clothing is made.
But Byrnes did experiment with manufacturing in Asia. In 2002, she worked with a middleman to produce her line in Vietnam. Shipments arrived late and were getting delayed at customs.
Even though it is more costly to produce in the United States, Byrnes prefers to take less of a markup on her collection, which retails from $48 to $200.
She now works with an independent factory with 40 workers who deal exclusively with her label. It has worked out well. "There was a cost savings producing in Vietnam, but if something was wrong, it was a hassle," Byrnes said. Being a perfectionist who closely oversees how things fit and look, being closer to production was essential. "If something goes wrong here," she said, "it can be fixed at no extra charge."